While everyone is busy setting themselves new resolutions for 2014 – Focusing on change – Did you give a second thought to any of the amazing things you accomplished last year in 2013?
Maybe a resolution you set 12 months ago actually happened!
Did you stop and give yourself any credit for that?
Have a little gloat that you aren't all show and no substance – you are indeed true to your word and one project (at least) has made some headway?
Regular followers of my blog will know how for the past four year I've kept a Year at a Glance sheet (Click the link to see the finished sheets for 2010, 2011, 2012 and the first half of 2013!)
As time speeds up and memories fade I'm loving more than ever that at the end of each month I've taken the time to stop – be in the moment – and acknowledge one small thing that has moved forward in the preceding 30 days.
As we constantly race ahead striving to achieve goals, which at times can feel illusively distant – I believe its important for one's "happiness" to celebrate even minuscule steps on the journey, that carry you closer towards your vision and are part of your life's purpose.
July 2013
In July we sent out our 5,000th order!
 And fantastically it was to one of our very first customers, (from nearly ten years ago!) the historic Daly Waters Pub in the Northern Territory.
August 2013
August was a dream made in heaven!
I won a trip to the Northern Territory 
To ensure our stockists were sufficiently stocked up to tide them over, while we went off gallivanting the Northern Territory highways, we worked doubly hard during July calling all our retailers, who we'd usually have called during August, and once we knew they were all cared for… we shut up shop and hit the road!
It was a magical trip and I've only started to skim the surface with the posts I've written so far which include:
September 2013
Back on the east coast, I attended the ProBlogger Conference at Surfers Paradise.
The line up of speakers was great – and for me possibly even better was finally meeting face-to-face bloggers I'd only "met" and interacted with on-line.
From left to right:
And having a bit of fun in front of a green screen!
October 2013
In October, we sold our quarter of a millionth product!
Now that's a landmark worth pondering upon for well… a moment… before I dash off to start getting the next quarter of million on their way out the door 😉
November 2013
And in November I was interviewed by Hotels Combined – Here's the link:
Mapping a Unique View of the World: A Q & A with Linda of Journey Jottings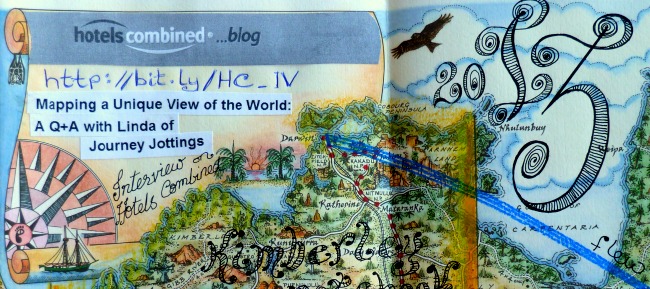 And my three tips for someone wanting to map out their own trip?
Start small: Don't put pressure on yourself by taking a big blank journal – Pick up a small notebook locally (so at least you'll end up with a souvenir) and whenever you're sitting in a bar/café enjoying a drink, jot a short postcard-like note to yourself.
Integrate your jottings into the journey – make your journalling part of the story by using it to note train times, draw mud maps, ask a local to write the name of the attraction you can't spell – these messy scribbles will magically reveal the trip in a way no neatly laid out account could ever do.

Don't rely just on words – We all understand the language of symbols such as an aeroplane silhouette for airports and  male and female figures for toilets – incorporating simple stick-like cartoons will express your experiences faster, and more emotively. Even wobbly doodles

will bring grins of joy when seen afresh in years to come, bringing back to life fun times otherwise forgotten. The feeling is priceless.
And so… another year comes to a close…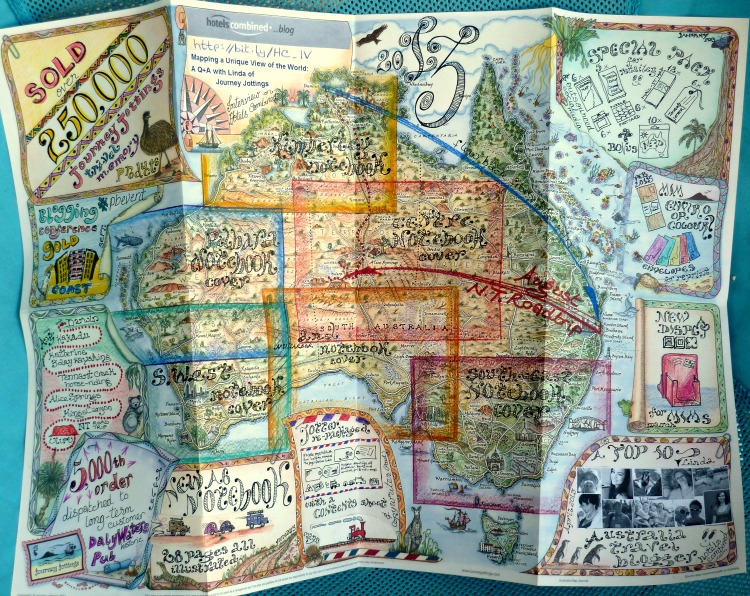 Do you give a second thought to your year's highlights?
Do share in the comments below how you encapsulate them.
Grab a Map Journal here (Family Pack is the best value!) and jot down a highlight a month so at year's end you can enjoy your achievements on your Year at a Glance 🙂