Backpacking in the Outback
I love the idea of slipping on a backpack, fully self sufficient for a few days and heading out into the wilderness…
Totally away from it all.
Away from the daily toil of work.
Away from the hum-drum of life.
Away from civilization
Away from social media inter-connected-ness.
But…
And, this is quite a big but….
While I love the getting out into nature and even doing the walking, the hiking, the rambling, the trekking, the tramping, the traipsing… call it what you will…
I'm not so keen on the carrying part –
The bit that involves the heaving of a 20kg backpack full of self-sufficiency stuff (essential if you're going to have a comfortable night with a nice full tummy), and the inevitable huffing and puffing struggle under its leaden weight.
So when I read I could spend 3 days heading out into the wilds of the Northern Territory outback without even having to carry a day-pack…
I think you can safely say – I was in 🙂
Kayaking the Katherine River
So here we were – Phil, me and our guide Matt – on the banks of the River, about 12km (7miles) to the west of Katherine in the Northern Territory, (Nitmiluk – Katherine Gorge is about 30km (18miles) the other way to the east of Katherine) with the early morning mist gently steaming off the glassy water, surrounded by a pile of camping gear – none of which was even going to get close to touching my back!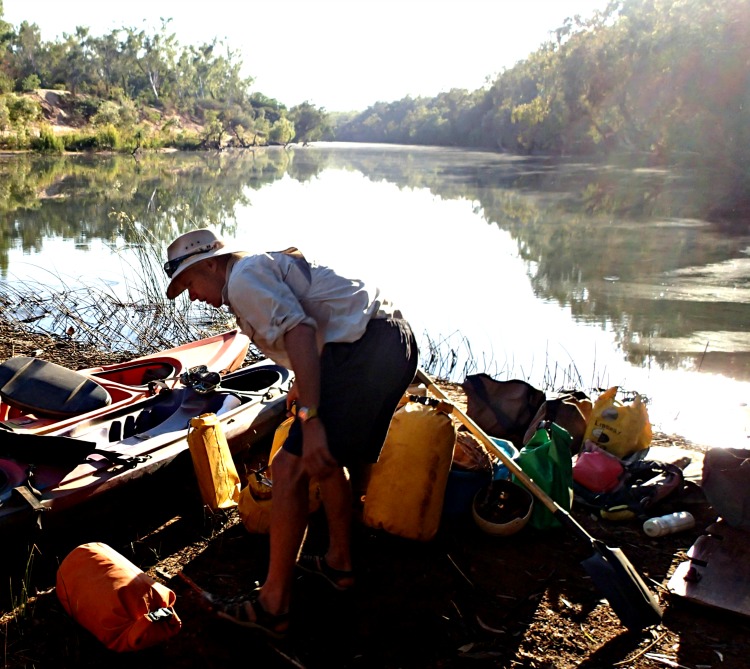 It was all going to be lodged into the canoe and kayaks where effortlessly it would float down the river for three whole days, and be on hand as needs arose whenever we felt like a little snack, or needed our bed roll to spend a night out under the stars.
The Katherine River is spring fed so water flows freely all year round – although in the Wet season (Nov- March) it flows between (a hard to imagine) 12 to 18 meters deeper (39 to 60 feet)  – So its definitely a Dry season (April – Oct) expedition.
Having said that we see plenty of evidence along the way of the previous wet season's force –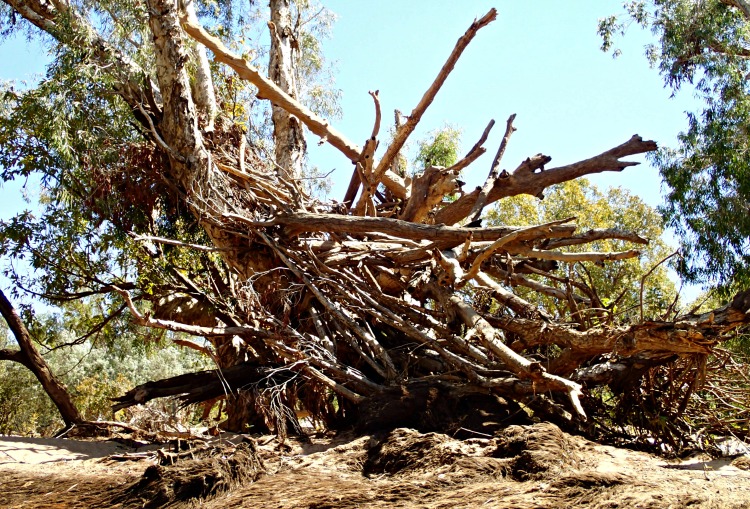 We come to refer to these piles of flood debris as Dinosaur Nests – What else would have the power and strength to create such plunder?
But our journey into the wilderness is in more peaceful times, being mid August.
So, its not long before we pull up onto a relaxing white sandy bank and grab the billy from the kitchen equipment in Matt's deep (and what at times seemed to be bottomless, with all the goodies that appeared) canoe –
He gets the fire going in a matter of seconds and plucks a few Melaleuca leaves from a nearby Paper Bark tree to add to the mix.
The delicate taste of eucalypt with black tea is divine – particularly when standing immersed in the Ozzie bush and the leaves are so fresh and fragrant.
Crocodiles in the Katherine River
Shortly after pushing off again, we spot our first young fresh water crocodile (Crocodylus johnstoni) sunning itself on a log.
Its barely distinguishable from the surrounding sticks and logs.
And then another one…
Fresh water crocodiles (referred to as freshies) are unique to Australia and unlike their not so friendly cousin the saltwater crocodile, Crocodylus porosus, (referred to as salties – although the term estuarine crocodile is becoming more prevalent to reflect better their habitat), freshies do not generally pose a threat to man – especially these littlies that are more like a lizard.
For a starter, as a species they're smaller than the salties. Females reach a maximum of 2m (6.5 feet), and males generally no more than 3m (10feet) and unless cornered or defending territory will not be aggressive. And their slender, more pointed snout with needle like teeth restricts their eating to smaller prey such as fish, snakes, freshwater crustaceans and unfortunately the cane toad, which has now penetrated this area and is proving deadly to them.
However, its not long before we pass a crocodile trap, definitely aimed at catching something bigger than we've just seen.
Estuarine crocodile traps are part of Katherine Parks and Wildlife Management Plan to be CrocWise.
Baited, generally with a dead chicken, the Parks team remove saltwater crocodiles that could be in sections of the river, such as this, where there's human activity – and once caught are generally transferred to a crocodile farm – re-release in a more distant area of the Park isn't an option due to their finding their way back!
Not surprisingly, swimming in deep murky sections such as this should never be contemplated – So, being CrocWise, any pit-stops we make on our down river trek are either where the water is running very shallow and clear, or close to rapids, which are not good spots from a croc's point of view when on a hunting expedition!
Birdlife on the Katherine River
There's an amazing array of bird-life to be seen in this savannah country.
There are 78 known bird species you can see on this section of River (as per the Eremaea Birdlines list put together by Mick Jerram) –
On the first day we spot 16 different varieties (without really trying) including the blue winged kookaburra who kept catching our eye as he flashed through the sky flitting from tree to tree with his stunning turquoise blue wings.
And the Rainbow Bee Eaters who aren't only eye catching with their stunning colours, but can't be missed with their aerobatic antics above the water.
And this beautiful Snake Neck Darter
Pandanus Screw Pines
The river landscape varies from wide and meandering to narrow channels and the final section for the day took us through a wonderful shady-glady pandanus grove.
Which was just gorgeous.
After pulling up our kayaks on a sandy beach at the base of a small falls, where the water rushed past to rejoin the main river we set up camp. 
Matt immediately set to to get the fire going and prepare a dinner of Barramundi with a delicious array of salads.
While I walked back up the side of the channel a little way to do a sketch of this beautiful vegetation – definitely one of my favourites – Pandanus screw pines, which are often referred to as Pandanus palms, despite being no relation to the palm family.
And then a quick dip in the fast flowing stream before dinner.
That's my little head on the right bobbing down the fast flowing natural waterslide that poured back into the main river past our camping spot.
It had been a wonderful first day –
For a quick recap here's a page out of my travel journal showing my story-map recording Day 1's adventure kayaking the Katherine River and listing the first 16 bird species we'd spotted:
Shooting Stars – Perseid Meteor Shower
And after dark we were spoilt with a light show of shooting stars.
Lying in our swags under the night sky we'd managed to pick the best two nights for seeing the annual Perseid's Meteor shower!
We were treated to a wonderful spectacle of light bursts flash – and in one case literally explode – across the sky.
Have you ever tried a journey into the outback
without having to carry a backpack?
Do share in the comments below
Click here to Read on about Days 2 & 3
Kayaking the Katherine River
And if you'd like to be notified when I publish future new posts simply enter your email below and I'll give you a cooeee!