You know the feeling you get when you think about a past trip and a smile spreads across your face?

That's Journey Jottings for you!
Travelling and holidays are all about the memories and I want to be sure you can enjoy them in years to come as clearly as the day they happened.
I share tips and tricks in my Blog Stories showing you how to savour your special memories for future reminiscing, as well as illustrating how to create simple 'story-maps' of your adventures for sharing with family and friends.
If travelling Australia I've produced a range of travel memory products for highlighting your holiday adventures whether that be a weekend away or you're on a 3 month trek doing the big lap (a road trip taking you all the way around the island continent) –
Map Journals for personal reminiscing, Mail-It Maps for keeping family and friends posted as well as quirky puzzle postcards, map magnets and notebooks.
I founded Journey Jottings in 2003 when I realised how great it would be to combine a map with a journal for recording travel memories so set-to drawing the pictorial map by hand in pen and ink, which I tinted with watercolours.
This first Australia Map Journal was published a year later and in its signature plastic travel wallet is now in its 4th edition.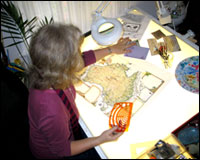 I have since produced a Special deluxe version in a tactile textured card travel wallet for those of you who love the feel of quality stationery!
I published the Australia Mail-It Map in 2005, which I now supply with an enviro envelope for you to post home to family and friends.
And for those of you spending time in the Red Centre I drew a regional Map Journal and a Mail-It Map for Central Australia to fit the bill.
We have a small team in our island office where we catch up with our retailers who are spread far and wide in all manner of tucked away corners of Australia; and where we pack up their orders for daily dispatch.
I continue to beaver away developing new ways to help people like you
record your travels… simply, succinctly and expressively.
I constantly create fresh content for my Journey Jottings travel blog where I publish a range of posts to
inspire you to dream of places to go
inform you sufficiently to get those plans rolling and
entertain you with ways you'd never considered to make travel journalling fun and an integral part of your holiday…
keeping that holiday grin on your face, forever!
I'm working on a curiously quirky new series:
How to Travel Journal Like a Map-Maker
Everyone tells me they can't draw, and they're not arty…
Did I hear you mumble… 'me neither'?
Well this is for you –
Can't have me having all the fun 😀
If you'd like a cooeee as new posts are published pop your email in the box below –
I promise I won't be flooding your Inbox as that drives me mad too!
Interview with Linda
Here is an interview I did with Career FAQ as part of their Entrepreneur career stories segment, I talk of how I got started:
In The Press
'Giftrap' Magazine
"Australian made products" feature

'Australian Traveller' Magazine
Feature (below)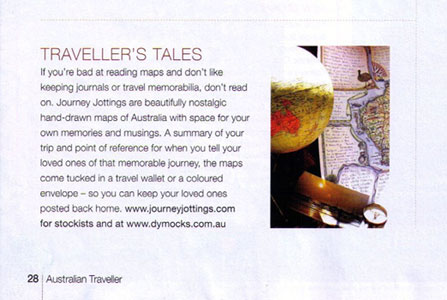 Awards
Receiving an award from the Hon. Dr Craig Emerson M.P.
Testimonials
Check out our Journey Jottings Testimonials page to read what our users have to say and… see some photos of how they highlighted their holiday memories… forever 🙂
Radio Interview
I was interviewed on ABC radio by the Coodabeens in the final segment of this one hour broadcast of their programme The Idlers. Listen to this podcast on the ABC website:
www.abc.net.au/coodabeens/stories/s1489420.htm
Hear the Idlers on "Recording your Travels" – with Ted Egan.
About Journey Jottings Australia Maps
Most maps tell you where to go, Journey Jottings reminds you where you've been!
Hand drawn in pen and ink these pictorial maps of Australia are printed with vegetable inks on a textured 40% post consumer waste recycled paper.
Drawn with you in mind, I left the roads open so your journey can be dotted inside your winding way, and I've created space in the surrounds so your memorable moments can be jotted.
Forming a great summary sheet for personal reflection they're the perfect visual complement to your written journal (if you're one of the few who remember to keep it up for the whole trip!); and they're also great for illustrating where that photo was taken when showing and sharing your adventure with family and friends (without having to pull out a mammoth road map)
Map Journals come tucked in the front pocket of a travel wallet leaving the back pocket free for ticket stubs and memorabilia; while the Mail-It Map comes with an enviro envelope so you can keep family and friends posted en route.
Most maps are synonymous with navigation, but as Sir Francis Chichester said,
"To a man of imagination, a map is a window to adventure".
Some people have likened our Journey Jottings maps to an antique treasure map –
They certainly exude a feeling that somewhere an 'X' marks the spot…
But its discovery, of course, lies in the hand of the traveller whose journey is encapsulated in this, their visual keepsake!