When Patti left a comment on a blog post telling me how she created her travel journals in a scrapbook/photo format I asked her if she'd like to show and share with us the why, what, when, where and how she goes about it. 
The scrapbook images in this post are all from her Route 66 adventure in July 2008, when she and Abi drove from Chicago, IL to San Jose, CA. Each state they passed through was highlighted in the album with text, photos and assorted memorabilia.
This is part of a series of interviews with travellers who share their individual and inspirational ways of recording travel memories.

Patti…
1. Why create a scrapbook travel journal?
I love the craft of working with photos and text, and when I create an album it gives me the opportunity to relive the memories.

Also, I create the albums for posterity.
I believe it has become a lost art for families to keep records of important events; this is my way of leaving a small legacy for our son and his family.
Along with creating travel albums my crowning achievement has been the creation of our family history album.
Basically, I just think it is important to provide memories for those who follow us.
2. What do you include in your scrapbook travel journal?
I include the text I've written from our travels, photos, memorabilia, (such as ticket stubs, play programs, postcards, sections of maps) and I use decorative stickers, labels, ribbons, etc.
Sometimes I find things as we travel.  For example, while traveling through Kansas I came across a package of background paper – 1 sheet for each state on Route 66 – I was ecstatic when I found it!
Other items I buy once we've returned home.
When I begin the process of laying out the pages, I make a list of specific things I'll need and then head for the local craft store.
3. How and When do you create your scrapbook?
I use my laptop to keep a daily written record – in a Microsoft Word document – as we travel and I try to capture special moments, bits of conversations and any highlights of the day.  I draw from these notes to write the actual text when I create the album.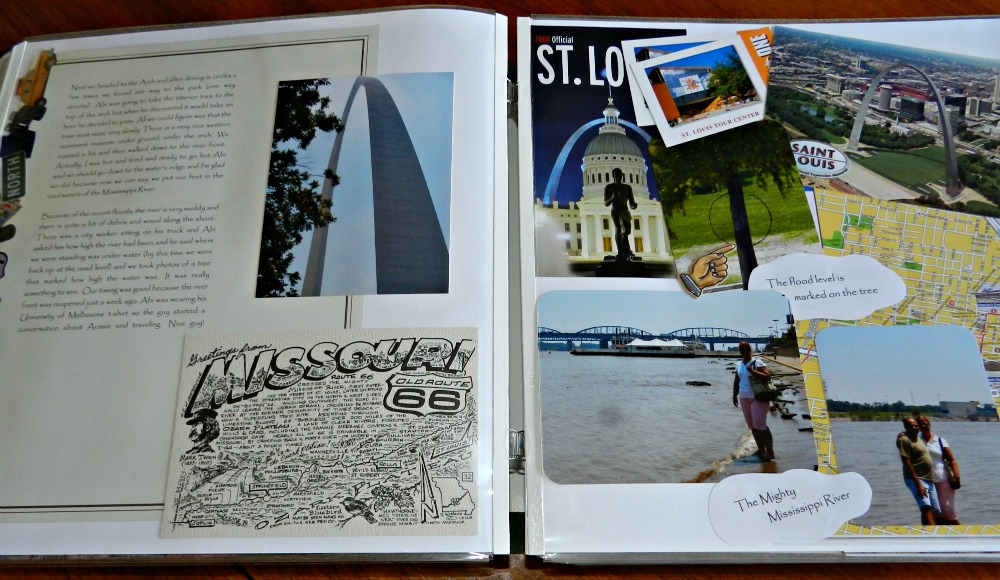 Most of my albums are 12″ x 12″ (305mm x 305mm) in size.
I create pages individually, laying them out side-by-side, so I have an overall visual as I design the pages.
Once all of the pages are finished and covered in sleeves, I assemble the album.
The actual process of creating the album is always done after we've returned home.
4. What is your favourite piece of scrapbooking equipment?

My camera is my favorite piece of equipment because I can capture moments in time.
5. Why does this type of journalling work for you?
This type of journal works well for me because I am "old-school" and a very visual hands-on person.
I like the feel of the different textures I work with and I like the written word; telling a story through text and photos alike.
I like being able to put one of my albums into the hands of another, it is a tangible piece of history.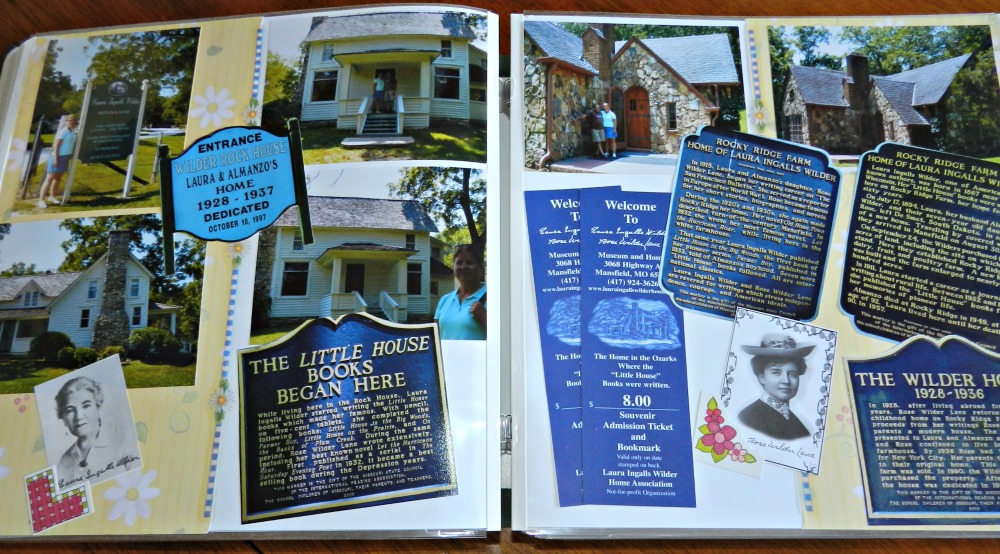 And aside from the fact that I absolutely love the process, it may take me a year before I even have time to start an album. I have to have the space to spread out and know that I've got a good chunk of time with which to work.
And lastly, by creating the album I get the enjoyment of reliving the experience.
Check out Patti's blog 'One Road at a Time' to see where her latest adventure has taken her ~
Patti's Blog: One Road at a Time
Connect with Patti on Twitter & Facebook:

Do you keep any form of travel journal?
Contact me if you'd like to share how *you* recount your travel memories –
Allow us to take a peek in *your* 'journal 🙂
OR
Share a few tips in the comments below