"This bush 'ere…" he said, pulling up his horse and swinging his leg over its rump to step out of the stirrup and grab a handful of leaves
"I show you" he muttered softly as he slipped his water container off from his back, poured a few drops of liquid gold onto the leaves and rubbed his hands together, opening them to show me the soapy lather that had formed in his dark coloured hands.
"This is soapbush"
He smiled.
Turned towards his horse 'Cliffy' and got back on. 
[Soap bush (Acacia colei) is a natural soap found in the outback and when rubbed together with water produces a soap like lather with antibacterial and antiseptic properties.
It will also deoxygenate water and stun fish]
This was no regular horse trail ride!
I was in the bush outside of Tennant Creek (980km/600miles south of Darwin – 520km/320miles north of Alice Springs) horse riding in the Northern Territory, across the Barkly Tablelands with a local Warumungu man, traditional owner and experienced stockman.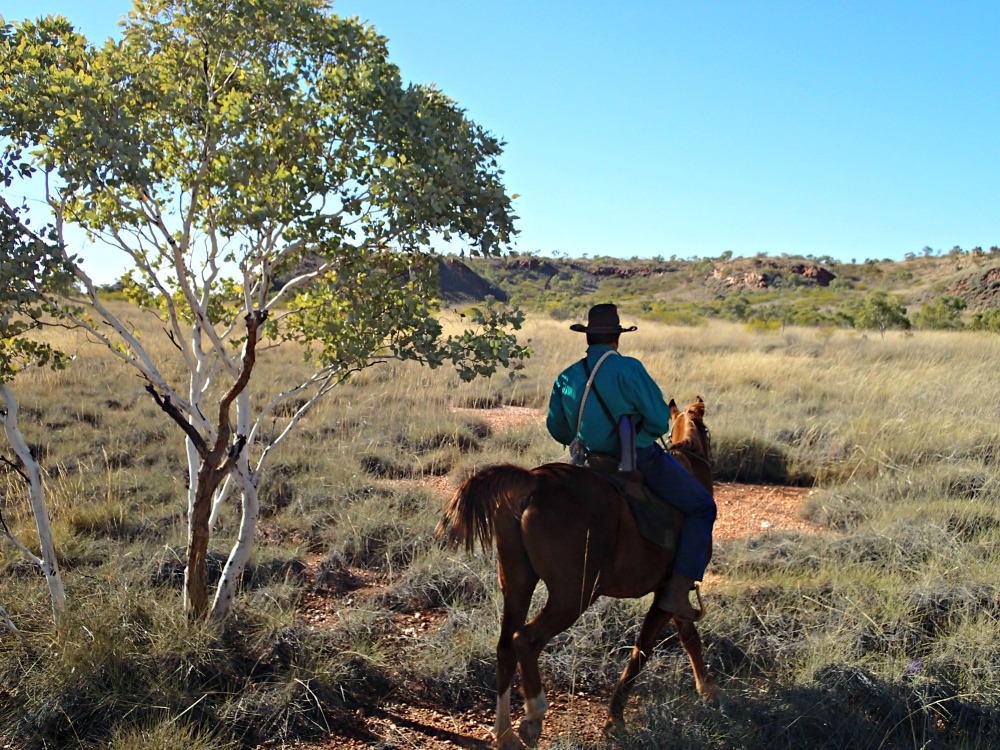 Jerry Kelly was born on Alroy Downs Station where his mother, who was a cook there, taught him his knowledge of bush foods.
Spending his childhood on Banka Banka Station, north of Tennant Creek, the older aboriginal stockman had shared their station skills, enabling him to get work on cattle stations across the Barkly region.
"This is like Vic" he said as he offered me a bunch of pale seedy headed flowers that he'd spotted on an innocuous little bush that my horse, 'Spin', had been about to step on.
I took it from him and breathed in deeply to smell the Vic vapour rub aroma!
With eyes constantly scanning the country for plants that would offer life giving sustenance, physical comfort or remedies for ailments, he was seeing a very different view of this environment – a view that my Western eye was ignorant and blind to.
Dismounting again he picked up a lump of spinifex resin from the sandy ground.
"This 'ere keep you warm at night – On the station you use cattle dung – Out 'ere you use spinifex resin"
Back in the saddle, the bush oranges we passed were at perfect horse height to inspect –
But they still had a long way to go before being edible –
I sensed him making a mental note for future harvesting!
We'd left Jerry's property, Kelly's Ranch on the edge of Tennant Creek, early to beat the heat.
And had set off down a red dusty track that was dry to the bone having seen no rain for months.
However, his intimate knowledge of the country meant it wasn't long before we'd veered off this man-made track and Jerry was leading the way across-country, delving deep into the heart of the bush.
Picking our way across the stony plain our horses Spin and Cliffy occasionally kangaroo hopped to avoid the spiky spinifex grass from pricking the front of their legs.
When we'd set out, the country had been flat as far as the eye could see, but now red rocky outcrops were starting to pop up on either side of our trail.
An escarpment like ridge appeared rising ahead of us and Jerry turned to ask with a grin –
"You wanna see the view?"
Loosening the reins, we gave the horses their heads urging them into a trot and then a canter to create the momentum to scramble up the steep rocky incline.
I lent forward over Spin's neck to help her get us both to the top.
As we came over the brow of the ridge, Spin snorted to clear her lungs.
And I got my first glimpse of the view below, and out to the distant outcrops on the horizon.
At our feet was a shimmering carpet of alternating shades of glittering gold and then silver as the gentle breeze caught the long slender fronds of seedy grasses that rose above the spiky balls of ochre'y tinged spinifex.
We dismounted, spending some precious moments taking in the expansiveness of this outback landscape.
Even Spin, who had seen it all before, pricked up her ears to peruse the view!
It had been a wonderful few hours, on so many levels, but it was now time to head for home.
Jerry not only shares his outback knowledge of bush tucker and horsemanship with travellers by taking them on trail rides –
He can also be found at Nyinkka Nyunyu (pronounced ny-ink-a ny-oo ny-oo) the aboriginal art and cultural centre in the middle of Tennant Creek, where he shares his Warramungu history and ancestory.
And just as the older stockmen of Banka Banks had shared their skills with him, Jerry also offers his wealth of knowledge and leadership by running stockman skills programmes for the local indigenous youth. 
I thought I was just going for a horse ride –
Instead, I got to not only experience the power of the NT outback, and learn about its arid landscape fruits…
But the best part?
Being in the company of a true blue local personality –
If you're passing through Tennant Creek, meeting Jerry Kelly is an opportunity not to be missed ~
And if you like animals you'll love his dogs Billy Can, Quart Pot and cheeky Pannikin!
Do you love horse riding?
Or been on a trail ride in a stunning region?
Do share in the comments below 🙂
Post script Nov 2013: Here's the latest project Jerry Kelly is working on with local indigenous school kids