Do you hear yourself saying…
"Where did that time go to?"
"What happened to that month?"
Me too!
But lets be honest, there comes a time when you can't keep saying something, and not do anything about it.
So, three and a half years ago, I did!
I made a change.
I began a simple, new end of month ritual.
I stop
I take stock of what has been happening over the previous 30 days
I acknowledge one thing (sometimes small) that has in some shape or form inched its way forward, even if only by a smidgen.
And then I record it…
….. Not in a diary
………. Not in a journal
…………… Not in a list… *yawn*
But by simply summarizing it on a single sheet –
So, when December comes around, it's all laid out before me –
Where my year has gone ~
My Year at a Glance 🙂
To create my Year at a Glance
I use one of Journey Jottings' Australia Journal Maps.
These are A2 in size, which is the equivalent of 4 sheets of A4 computer paper put together.
With eleven boxes surrounding the central map, metaphorically symbolizing life's journey, I use one box per month (with a one month let off!)
It's surprising how even when you think absolutely nothing has happened – and you're feeling quite hopeless that a month has slipped away with no real important work being tackled, that by stopping… and consciously considering what you've really been up to – something comes to the fore – and you can say –
"Hold on! I did get 'that' project a little further on its way!"
So, just as I'm getting to hear myself say –
"What? Half the year gone already?"
Its time for a re-cap!
January 2013
In a country as large as Australia the busy tourist season is not at the same time of year in the north as it is in the south.
The northern part of the country is buzzing during the dry winter months, while the south ramps itself up over the hot summer holiday months.
Adding products to the range can't always fall into everyone's 'season' so before you know where you are some retailers can get out of sync with stocking the latest lines.
To make sure everyone keeps abreast of what we have available, in January, we started offering a Season 'Special', so when their season starts to heat up they can try a small quantity of each of our lines, and receive a once off Bonus of the 12″ Australia map.
Also, merchandising a neat little group of themed products together, with a fun display copy standing up concertina'd out behind the boxes of goodies can't help but create a display that will draw in prospective customers 😉
February 2013
By February our stocks of Mail-It Maps were running low, so we needed to prepare for another print run –
The first editions of the Mail-It Maps had had coloured envelopes.
Then, two years ago we introduced the 100% recycled environmental envelopes –
To be sure we were offering our customers what they wanted, we put out the question on Twitter, Facebook as well as via Newsletter to all of our retailers –
The overwhelming response was
80% of *you* wanted 'Environmental' envelopes 🙂
March 2013
In March we produced a new display box for the Mail-It Maps.
You may remember, towards the end of last year we created a new sleeker display box for the Journal Maps. We removed the header board making the box cleaner looking and more stylish.
With the Mail-It Map re-print in February it was a perfect time to freshen up their display box too to match their big brother!
April 2013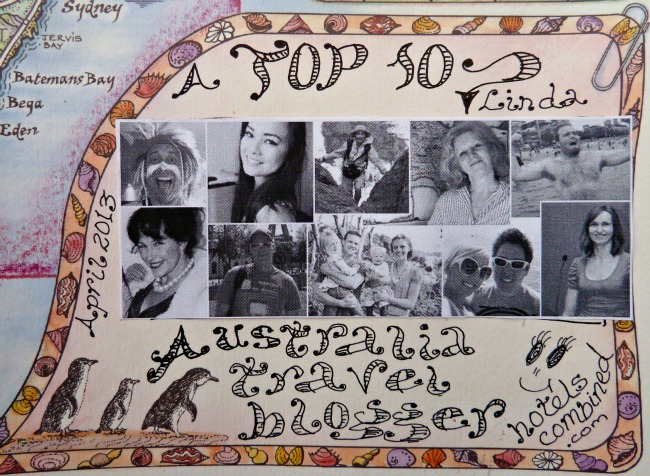 In April I was thrilled to bits to be announced as one of the Top 10 Australian Travel Blogs by HotelsCombined
What more can I say? *blush*
May 2013
In May I had to go back to the drawing board with the luggage tag shaped travel Jotter I published last year.
Designed for jotting postcard like notes to record your holiday highlights, it comes with an envelope (enviro of course!) so at trip's end you can post it home (adorned with pretty local stamps), which postmarked with the date, forms a neatly filed chapter to your life.
But… The packaging wasn't right 🙁
So… I decided to incorporate a Contents Sheet illustrating some of the page layouts to insert in the back of a crisp shiny cello envelope to complete the presentation ~
Voila! Success 🙂
June 2013
But the biggest excitement, so far this year.. We published a NEW A6 sized travel notebook.
I love it! And the response so far indicates that you love it too 🙂
It has 28 pages, each illustrated with one of my hand drawings of Australian animals, plants or one of eight mini-maps.
Then, to ensure it was the most perfect of mementos, and reflect where it was bought, I created seven different notebook covers showing various regions across Australia (marked out on the image below) plus one for the whole of Australia (with a kangaroo in the corner!).
So, here we are – half way through the year!
And this is how my Year at a Glance 2013 so far stacks up.
How has your year been going?
Have you considered summarizing your year on a single sheet?
Do tell in the comments below 😉