We had an almighty storm roll in.
So dramatic…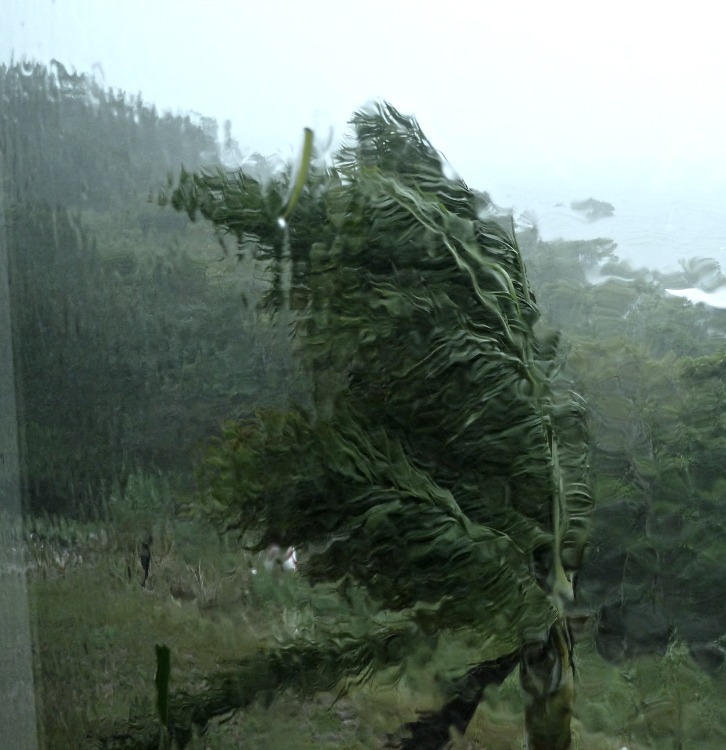 The palm trees were battered,
trees were brought down,
all resulting in no power for 3 days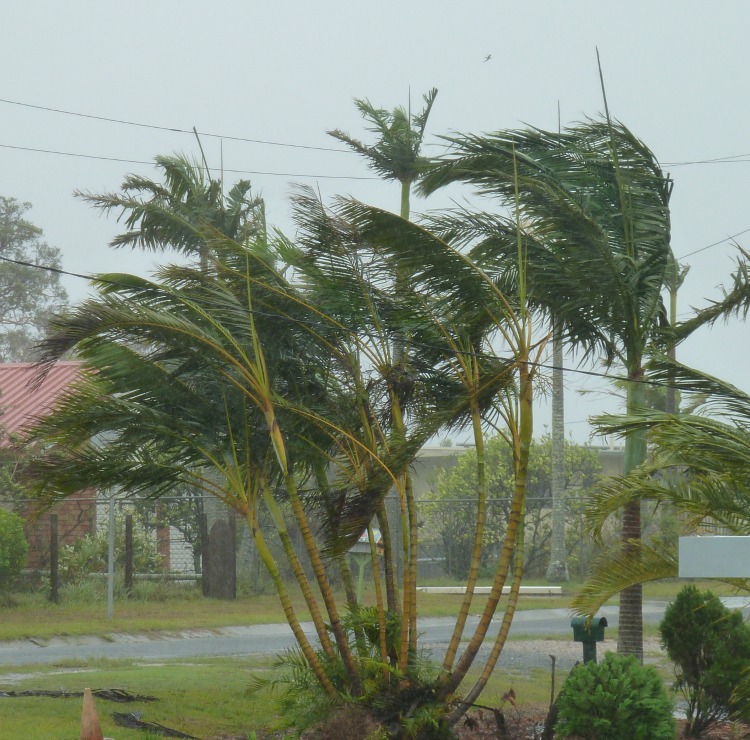 Wind and Rain
Wind and rain pounded the house blasting water up under the eaves, where it regrouped into rivulets reappearing as huge splodgy droplets on the inside of the sliding veranda doors.
But when the weather cleared and life appeared to have returned to normal something had changed.
Across the evening sky we saw what first appeared to be a huge flock of birds.
But instead of the group thinning out and coming to an end, another stream came into view and the mass thickened.
They continued to thicken on the horizon, when
looking up, we saw part of the group flying directly overhead… it was
a colony of  flying foxes.
Flying foxes are not only bats -They're mammals
In fact, they are the only flying mammal.
After a 6 month gestation the female flying foxes give birth to a single young who attaches itself to one of her two nipples located on either side of her chest under her wing pit.
Remarkably, for the first month the young hangs onto their mother's underside while she goes out to feed each night – At about a month old they are capable of maintaining their own body temperature so can then be left in the colony's camp during the night, with the mother returning at sunrise where reunited the baby can again suckle.
With the timing of the flying foxes' appearance, directly after the storm, we assumed the two events must be connected (?)
Watching from the veranda we debated this hypothesis coming up with a variety of scenarios!
What if the power of the storm had blown them inland from their Stradbroke Island 'home' camp, so this evening spectacle was them having to head back across the Bay to their home base feeding grounds?
But, if that were the case, they'd go over and stay there now the weather had cleared…
But they didn't.
Each night for about a month we were privy to this sight –
Swarms of flying foxes, darkening the evening sky as 1,000's headed out across the Bay to feeding grounds in the east.
There are four flying fox species native to the mainland of Australia –
Black Flying-Fox
Grey-headed Flying-Fox
Spectacled Flying-Fox
Little Red Flying-Fox
The Black, Grey and Spectacled flying foxes have similar habits and lifestyles including the time they birth their young, which is in the Australian spring – September to November. But the Little Red flying fox is different – It's smaller, has translucent wings and gives birth in the autumn – April to June.
The first three also live in fixed camps from where they set off each night to feed –
I remember when living in Darwin the sky would turn black as the flying foxes left their day time hangout and set off in the evening light for their nocturnal feast.
In Brisbane city there are five permanent flying-fox camps located in the suburbs of Indooroopilly, Coorparoo, Hemmant, Stafford and Sandgate.
However, the largest camp in south-east Queensland is located at Woodend, Ipswich where at varying times of the year there are between 50,000 and 200,000 in residence.
If visiting Brisbane and you want to experience this wonderful evening performance there are river cruises at dusk taking you to Indooroopilly Island (6 km from Brisbane CBD) to see the flying foxes take off for the night.
But it is the Little Red Flying Fox that is more migratory, following a trail of flowering eucalypt trees that are rich in pollen.
My guess is therefore that for a month we had a colony of Little Red Flying Foxes on their migratory travels who set up camp on our island while some variety of eucalypt was flowering in our South Moreton Bay Islands region.
Flying foxes feed off plants – primarily the pollen and nectar.
They are therefore extremely important to the ecosystem, carrying pollen on their fur between eucalypts, which are dependent upon receiving pollen from another tree of the same species to be able to form seeds.
Flying foxes weigh up to about a kilogram (2.2lbs) and have a wingspan of up to 1.2 metres (47″).
In the wild they are thought to live to about 12 years old although one cared for at Ku-ring-gai Bat Conservation Society died at 22 years old.
Their evening jaunts can take them on a 100km round trip, although generally most feeding occurs within a 30km radius of their campsite.
The campsites of flying foxes are generally formed near a creek or mangrove swamp – They can be noisy, smelly and the trees become denuded!
But for us – It was all pleasure, as each evening against a sky illuminated by the setting sun we watched the clouds change colour with these transient feeders fanning out as they set off on their night time search for pollen…
Down to the very last one
So are flying foxes bats?
Well…
Flying Foxes aren't just bats they're Megabats 😀
Sometimes, they're called Fruit Bats – despite their primary feeding being pollen and nectar rather than fruits.
There are about 1100 species of bat worldwide, which amazingly makes up about 20 per cent of the mammal species.
Have you seen a colony of flying foxes heading out in the evening light?
Where?
Post Script: If you're visiting Northern Queensland go and check out the Tolga Bat Hospital on the Atherton Tablelands, inland from Cairns.