I love travelling by camperbus… or is it called a campervan, or even a motorhome?!
I'm not sure what the exact difference is?
(If you know do tell in the comments below!)
But the bit I love the most about travelling this way is when you feel a tad peckish, a tiny bit thirsty or even in need of an afternoon nap…
Pull over… and its all sorted 😉
Standley Chasm
After a magical few days visiting Uluru and Kata Tjuta), we picked up our 5 berth motor-home in Alice Springs, pulled out of town and at the first opportunity pulled over for breakfast!
Replenished, our first real stop for the day was to be Standley Chasm, just 50km to the west of Alice on Larapinta Drive.
The Way into Standley Chasm
It's only a 20 minute walk into the chasm from the car park up a delightful path.
Starting out under classic eucalypts…
The Eucalyptus trunks are a tree-huggers' dream (3 guesses what I am!)
While the tree trunks satisfy the eye-level-eye-candy, the rocks underfoot satisfy the textural-underfoot-tactile-foot-candy.
The Sheer Red Sides of Standley Chasm
After a little bit of clambering up a predominantly dry creek bed…
Standley Chasm opened out before us.
The Eucalypt helps to give it a little scale…
…and stunning colour contrasts.
It's an artist's paradise…
So we sit ourselves down with sketch pads in hand, to take in the ambience and breath in the atmosphere.
And this is what I saw and felt…
Red rugged rocky sides flaming up the perpendicular chasm walls…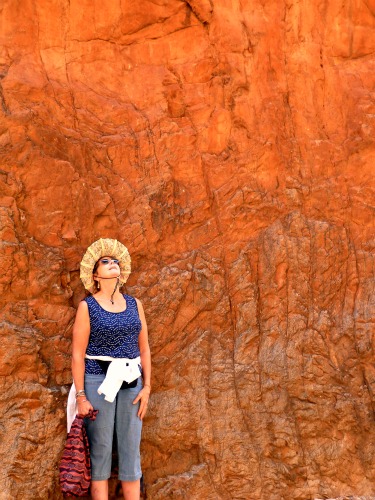 …to the blue sky above
where the sun at midday penetrates the close chasm walls and simultaneously lights up both sides as it passes overhead.
Wild-flowers and grasses cling on perilously to survive in the dry craggy crevices.
Long-Nosed Dragon
Returning back down the path we see amongst the leaf litter a Long-Nosed Dragon
Also known as the 'Ta-Taa' lizard as when scurrying off they'll often stop momentarily and lift a front leg, appearing to wave goodbye… ta-ta 😉
It's particularly long nose, as well as a long tail, help it balance when running at high speed. (Official name: Lophognathus longirostris)
So first stop of the day in the West MacDonnell Ranges, Standley Chasm is plotted…
 …& the route dotted on my pictorial map of Central Australia🙂
If you want one to record your trip to the Red centre you can buy a Central Australia Map Journal during your visit to Standley Chasm at the Kiosk there –
Don't forget to ask!
Or, if you missed the opportunity ~
Next stop, 80 km (1.5 hours) to the Ochre Pits
Have you visited Standley Chasm? Or is it still on the 'To Do'?
Do share in the comments below