If the 'Ochre Pits' sounds like the 'pits' to you, you're wrong!
I have to be honest, when one of our group on this trip to the Red Centre said they particularly wanted to stop off at the Ochre Pits, in the MacDonnell Ranges west of Alice Springs, my heart didn't particularly sing 😉
Scanning the Internet prior to our visit to the Red Centre I'd found a somewhat uninspiring non-descript image and these 'Pits' looked like…. well, the 'Pits' 🙁
Were they just a bit of old mud on the banks of a creek bed?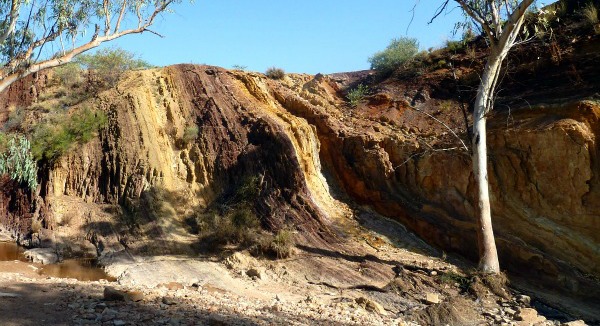 So… next stop, 80km west of our first stop at Standley Chasm was the Ochre Pits!
And it just goes to show you can't believe everything you see on the Internet! Some places really have to be experienced to appreciate their cultural influence and their colour in the flesh!
"The colourful curves and swirls of these soft-stoned and fragile cliffs tell a story rich with tradition and geological history. Since the beginning of time they've played an important role in the culture of the local Aboriginal people, the Western Arrente."
While the photo above of Arente women 'painted-up' with ochre and feathers ready for a ceremony was taken over 100 years ago (by the anthropologist Walter Baldwin Spencer) ochre is still widely used in religious ceremony and for decoration.
In traditional western Arrente society ochre was an essential daily household item, and was central to the preparation of many medicines.
"The different coloured layers are caused by the presence of iron oxide in varying amounts. The more iron oxide present, the darker and redder the colour. The whiter stone has little or no iron and a high level of kaolin, a white clay mineral"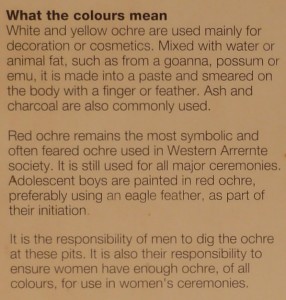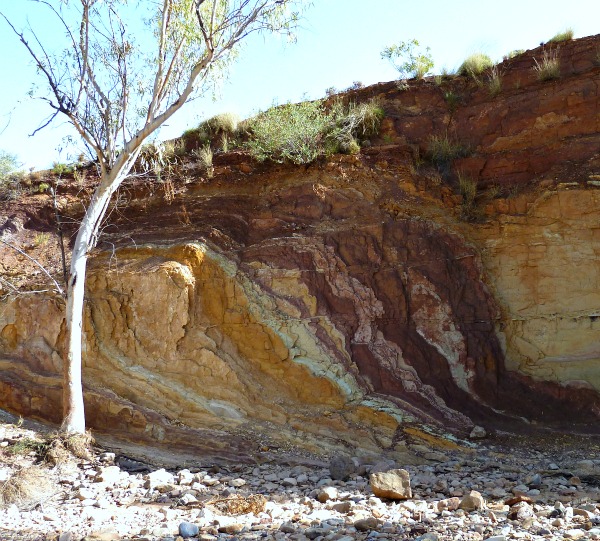 The colours in the ochre cliff were every bit as attractive as colours seen in other geological delights from further afield such as the Coloured Sands on Fraser Island or Rainbow Valley, NT.
Ochre deposits are found across Australia but in varying qualities so was frequently traded with pituri (bush tobacco), boomerangs, spears and down feathers used in ceremonies. Trading has always been an important part of Aboriginal society.
Today, ochres are used in Aboriginal artworks from certain regional communities in Australia.
The Warmun Art Community in the Kimberleys are renowned for their artworks painted with ochres, where each artist personally collects their medium from the surrounding country and prepares it with pestle and mortar.
As an example of this technique is the above artwork by Nancy Nodea, from Warmun at Turkey Creek, WA.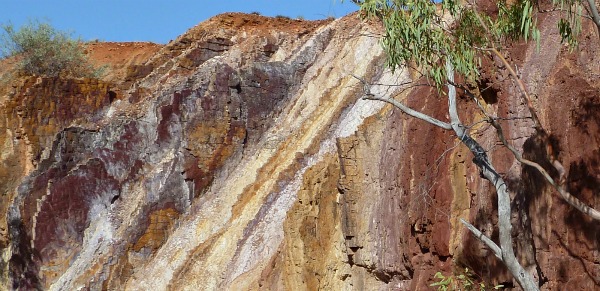 Beautiful seeing the medium of coloured ochres come to life on the canvas in her work against this image of them in their natural environment 🙂
So, with our route plotted and dotted to the Ochre Pits on my Central Australia map…

…Next stop, Orminston Gorge (which I'll post next Tuesday)
Have you seen ochres in their natural environment?
Or aboriginal artworks in this medium?
Would love to hear in the comments below 🙂