5 Families of Lizards in Australia
There are five main families of lizard in Australia making up over 500 species ~ 
Geckos
Skinks
Goannas or Monitors
Legless or Snake Lizards and the 
Dragons

.
Geckos
Geckos are seen the most frequently if you inhabit a tropical home in Australia, as with sticky padded feet they run up and down walls seeking out insects to feed on. They lay the cutest little eggs, about the size of a little finger-nail ~ Geckos make their presence known with a chirping sound when on warm balmy nights they're active hunting out insects.
Skinks
Skinks are the largest and most diverse family of lizards not only in Australia, but the world. In Australia they make up about half of all lizard species. They're distinguishable with generally glossy scales and small legs. The blue tongue is a skink.
Skinks, like geckos, sometimes take up residence in Australian homes as this one pictured below who lives in a friend's house in northern NSW, coming out to warm up in the sun before seeking out breakfast!
Skinks can be the most disconcerting to those who have a reptilian aversion in that the way they move is the most similar to the way a snake moves. Due to their small legs (and in some cases no legs) they can be easily mistaken –
The skink below popped out of a tree when visiting Milla Milla Falls up on the Atherton Tablelands, northern Queensland and gave the friend I was with a big shock who at first glance assumed it to be a snake peaking out 😉
Goannas & Lace Monitors
When living in northern NSW we had a resident lace monitor we called Dino. He was large and very dinosaur like! Monitors range in size from 20cm up to 2metres – Dino was certainly a meter and a half.
Goannas lay eggs, are carnivorous and as can be seen from the photo below have sharp claws for hunting and for ripping apart garbage bags! Being a rural property, with no weekly rubbish collection, you'd have to be sure to secure the rubbish in sealed containers or he'd rip it apart for tasty morsels and leave a disgusting mess for us to clear up!
The Perentie can grow to be one of the largest Monitors – The one pictured below is not a large example but was exciting to spot nonetheless when out at Uluru.
Always a thrill to see wildlife in the flesh when seeing only their tracks can be more common!

Dragons
I saw a few different Dragons on my trip to the red centre –
The lizard below is a Central Military Dragon. We spotted him at Kata Tjuta.

And the Bearded Dragon below we spotted at Simpson's Gap in the MacDonnell Ranges, west of Alice Springs.

"Dragons usually have long back limbs, small scales, and large heads.
"They lay eggs and live in the warmer areas of Australia. Notable dragon species in Australia include the Thorny Devil which as the name suggests, are covered in thorns; and the Frilled Lizard that stands on its hind legs, opens its mouth, and extends a flap of red and orange scaled skin that encircles its head."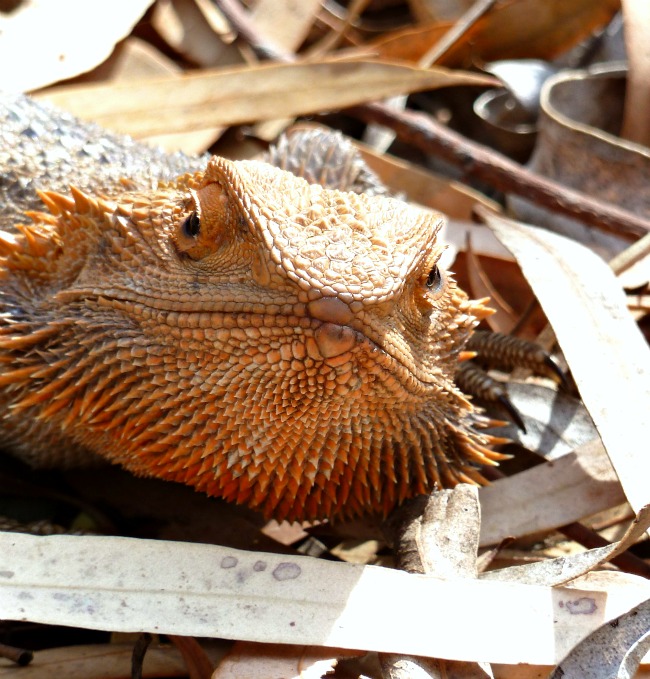 He really was a handsome chap!
There's more photos of that Bearded Dragon and my encounter here.
The Ta Ta lizard above is also a dragon.
I saw him at Standly Chasm.
Perenti illustration in my A6 Notebooks
I love lizards!
If you look closely along the bottom of one of my Journal Maps you'll find a Perentie lizard sitting on the border…
And also included him to illustrate one of the corners in my A6 Travel Notebooks 🙂
There's such an amazing variety of lizards in Oz ~
Which ones have you seen?