Continuing along the West MacDonnell ranges, after our stops at Standley Chasm and the Ochre Pits we travelled the last 25 km to Ormiston Gorge, which after leaving Namatjira Drive crossed several dry creek beds adorned with stately eucalypts.
It had been a long hot day and the sight of the water in Ormiston Gorge was welcoming 🙂
It took no time at all to immerse ourselves in it!
Delicious 🙂
The early evening light enhanced the classic red centre colours looking down the gorge to the escarpment.
There were trees perilously embedding themselves in the red rocky gorge walls…
…and clinging onto the sheer sides high above us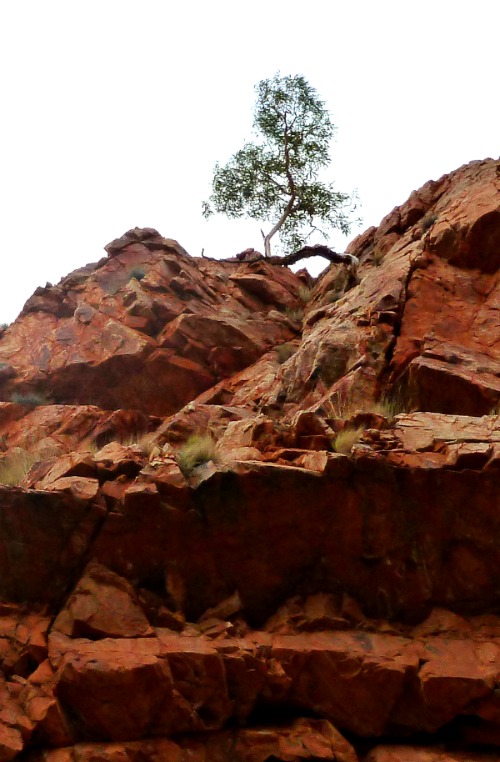 …a twisted eucalypt grappling for life.
Leaving this piece of paradise…
…we were heading back to our camperbus (motorhome) when we spotted a Grey Crowned Babbler busy probing beneath the bark of a tree with its scimitar-like bill.
But just before we left Ormiston, we looked up to the rim of the gorge behind us and saw this upside-down rainbow!
I couldn't work out how this was possible – particularly since there appeared to be no rain about!
I've since looked up how this phenomena occurs and came across the term 'Circumzenithal arcs' – The only tricky part of the description is there are supposed to be ice crystals up there for the sun to refract off, so it's generally a sight only seen in places such as the Arctic circle – So, what was an upside-down rainbow doing in central Australia?
The colour order is correct for a circumzenithal arc, as the violet is at the top and the red at the bottom –
Do we have any scientists in our midst who can elaborate or…
please explain!?
 Have you ever seen an upside-down rainbow? 
Do share in the comments below 🙂
 Next stop (next blog post) Glen Helen Gorge
Don't want to miss it?
and receive the next post in the comfort of your Inbox 🙂