Who doesn't love stunning travel photos?
Photo Roulette is an ongoing game and an opportunity for travel bloggers to show off examples from their travel photo portfolio –
Earlier this year I won Photo Roulette #97 that had the theme "Frozen" –
As the winner, I selected and hosted the next round, It's all in the Detail"
Click through to see the 14 entries I received, and whose image I chose as winner!
Well, I've done it again!
In the last round hosted by Dare2Go the theme was Reflection.
Here is my winning entry 🙂
 A reflection of Kings Canyon in Australia's Red Centre.
The theme for Photo Roulette #114 is
Thirst Quenching
While we all have to drink for survival…
Quenching our thirst is tied into cultures across the globe through ceremonies and social gatherings. We meet in cafés and pubs to talk and share ideas, and raise a glass to celebrate beginnings, unions and ends –
Many a travel memory is formed partaking in a local beverage …
And our thirst for travel adventures is permanently being quenched as we view wonders of the world – Such as cooling luscious waterfalls in luxuriant rainforests.
And

the winner is…
I received thirst quenching entries from Australia, Morocco, Thailand, Hawaii and New York all illustrating luscious images of waterholes, waterfalls, water speckled flowers, coconuts, coffee making and Japanese slipper cocktails that all quenched my thirst in different ways so it was tricky selecting one!
But the winner of this round is:
Travel Photo Roulette Guidelines
One submission per blog, so sites that have 2+ authors only get one entry.
Post processing is permitted, but photo altering (i.e. using Photoshop to remove elements) is not.
Abstract submissions welcomed as long as it fits within the interpretation of the chosen phrase – And the connection is comprehensible!
Keep your images medium-sized and web-optimized (800 pixels wide is good)
If you win, you will host the next round (runs for 7 days) and so choose the next theme: Keep phrases general so that all bloggers can participate. Specific items like "Eiffel Tower" should be avoided but rather made open-ended like "monuments" or with a dash of focus such as "monuments at night", which most of us have pictures of. Phrases can be generic 'signs', or abstract 'religion', but keep it within the realm that all readers will understand. No "Kafka-esque," or "Overlooking Creation." Themes can be reused after 1 year, however new photos must be submitted.
No obscene pictures or phrases allowed. Suggestive phrases and photography can be accepted, but please keep it within reason.
Keep the ideas and photos fresh!
Pictures from your entire portfolio are fair to submit. You do not have to take the photo within the week of the contest period to submit it.
Most importantly, all photographs must be your own.
One last rule, since this is a competition for travel and photography bloggers, you must have a travel/photography blog to enter. Sorry!
How to Submit Your Entry
To enter the Travel Photo Roulette competition simply leave a comment below with:
a link to the image (whether Flickr, 500px, Trover, Smugmug, etc. or your own site) and
a short description/background/caption as to where/why/how this image quenches your thirst.
I'll be uploading *your* photos into the post during the week so check back to watch the competition grow.
Submissions closed on Sunday October 25th at midnight GMT.
I'll select and announce (plus notify by email) the winner on Monday 26th October.
The winner will then host the next round of Travel Photo Roulette #115.
And don't forget to show the love sharing on your social media channels
with the hashtag #photoroulette
The more participants, the better the array of images and the more fun for viewing 😀
The Entries for this round are now closed 🙂
"The day was hot and muggy as only the sub-tropics can be.  Then the shimmering reflections of the melaleucas in a little lake behind the beach drew me closer – and tempted me to quench the thirst threatening to overcome me.  And feet in the water, camera in hand, water dancing before me, my thirst magically disappeared!"
………. ***** ……….
"Sitting by the camp fire makes me want to have a drink and a good old chat!"
………. ***** ……….
"Here I am drenched by waterfalls and ambushed by monkeys. Ouzoud Falls, located 150 kilometers from the homes of my coworkers and me in Marrakech, looks like a set for yet another Indiana Jones movie to be filmed in Morocco. These super-sized cascades crashing from rocks where monkeys rule quench my thirst for adventure, beauty, and relationship. The Atlas hideaway hydrates with adrenaline, awe, and laughter each time we row into the spray."
………. ***** ……….
"With blistering hot summers and (apparently) more sunshine per day than any other city in Australia, Perth can be hot and hard on flora. When I see morning droplets of rain or dew on flowers I feel as if their thirst for life is being quenched and it makes me feel at peace with the world. This photo was taken on an early morning walk in a stunning botanical park, Araleun, 30 mins from Perth where shady glades and tulips begged to be photographed at every turn."
………. ***** ……….
"I had to choose between two photos: one of immense amount of water pouring over the impressive Iguazu Falls in Argentina or almost the polar opposite, a beautiful hibiscus by the side of a busy street in Honolulu (Waikiki) after one of the fleeting, sudden showers common on the Hawaiian island of Oahu. I chose the more subtle rain kissed hibiscus—just enough thirst quenching rain to keep the flowers blooming year round."
………. ***** ……….
"We had just driven across the centre of Australia from the Northern Territory to the border into Queensland. The landscape was flat, dry and barren without a creek or river in sight, as the outback was undergoing a severe drought. We arrived at Camooweal and the Georgina Billabong which was bursting with waterbirds and beautiful water lilies. Such a delight after so much dry terrain."
………. ***** ……….
"In the bustle of Bangkok's massive Chatuchak Markets, my friends and I stood staring at this coffee maker and marvelling at his ability to mix the drinks without spilling a drop. And then, just as we too were jostled by some of the crowd walking by, he actually did let a little spill over the sides. Sadly we'd just come from a cafe and didn't need to buy a drink, but next time our first stop would be his stall."
………. ***** ……….
"Feeling the summer heat in NYC, these three compadres are refreshing their systems with coconut water sipped from a coconut purchased at a Chinatown produce stand. Even with that plastic wrapping, the coconut still manages to do the job."
………. ***** ……….
"It was taken recently on a weekend break with the kids up at my girlfriends house on the Atherton Tablelands. As you can guess, having kids can be thirsty work & it's nice to chill with friends & be able to unwind & let the kids play freely (you can see them in the background saying hi to the cow)"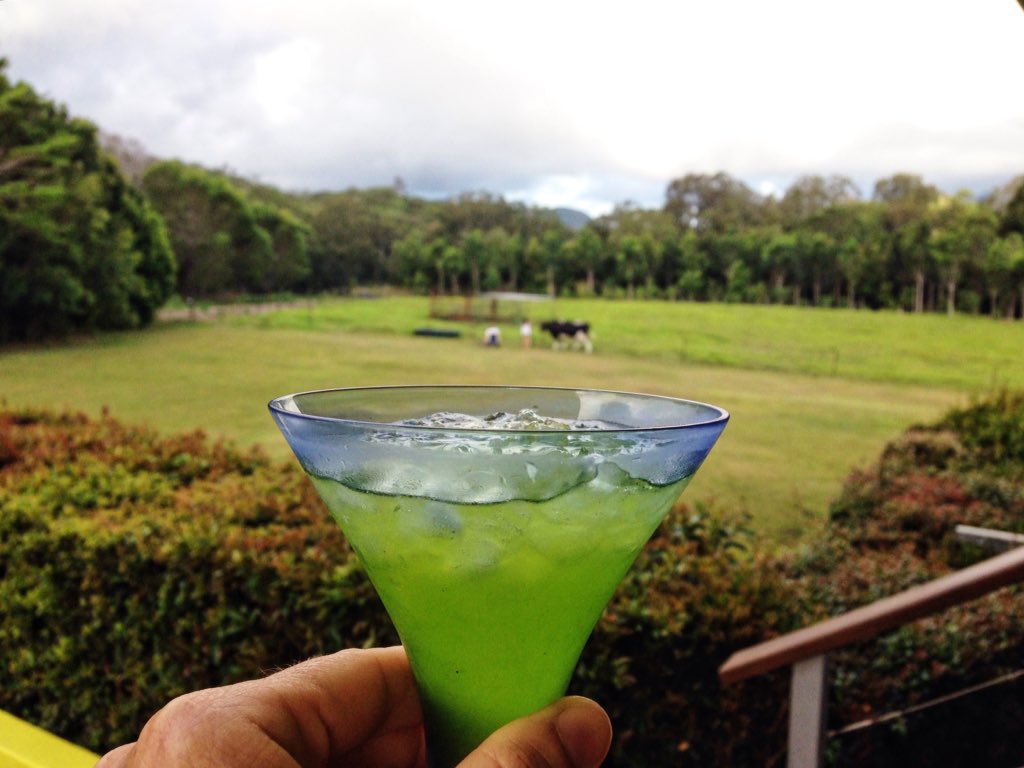 ………. ***** ……….
"After weeks of driving across the dusty Australian outback, we came to an oasis in the Northern Territory: Katherine. Sweet and refreshing as her name would suggest, this town is home to stunning, magnificent gorges. In an area where many lakes and rivers are infested with saltwater crocodiles, the Katherine Gorges remain a place free of danger where the most blissful swim awaits."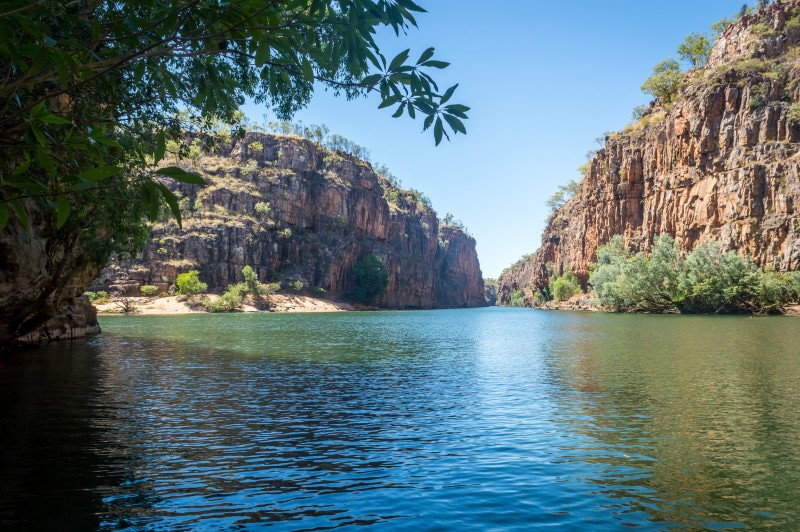 ………. ***** ……….
Previous Winners…
This list was re-formatted by dare2go.com. If you like to use this two-column layout in your post please
download the code here
and follow instructions on same page.
The winners and themes in 2015. Click the link to go directly to that entry to see some fab photographs.
Jan 2015 Adventures of a GoodMan: WOW!
Jan 2015 ZigZag On Earth: Roads and Tracks
Feb 2015 Where's The Gos?: Street Art
Mar 2015 Ice Cream and Perma Frost: Frozen
Mar 2015 Journey Jottings: Detail
April 2015 House Sitting Travel: What's your Angle?
April 2015 JetWayz: Spiritual Beauty
April 2015 The Trading Travelers: Celebrate
May 2015 Street Food World Tour: Epic
May 2015 Next Stop Who Knows: Landscape
May 2015 We Travel Together: Wildlife
May 2015 Vagabond Way: Festival
June 2015 Travel Addicts: Landmarks
June 2015 TravelnLass: Wrinkles
July 2015 Anita's Feast: Food Markets
July 2015 Dare2Go: Dry
August 2015 Travel Past 50: Home
August 2015 Barefoot Nomad: Door
September 2015 House Sitting Travel: Shapes
September 2015 Berkeley and Beyond: Cemeteries
October 2015 Dare2Go: Reflections
October 2015 Journey Jottings: Thirst Quenching