Have you heard of Travel Photo Roulette?
Because we have a new WINNER for this round!
(Scroll down to see the winning entry!)
It's a friendly fun game between travel bloggers who put up fabulous travel photos over the course of a week, focusing on a theme, where the prize for the winner is to host and select the theme for the following round.
And guess what?
I won the previous Travel Photo Roulette Round #96, hosted on Jess' site Ice Cream and Perma Frost, with the following photo – where her theme was:
Frozen
"On my recent visit to Scotland we woke on this cold January morning to a crisp white hoar frost coating the hedgerows and the top of our stone wall and gate."
As the host for round #97, the theme for…
Travel Photo Roulette #97 is…
Detail

You often hear it said – It's all in the detail!

And to my mind, that is where the true travel story of where you are and what you're experiencing is being told –
While big open vistas inspire and enthral us with their magnitude, it's the little details of daily life that form the backbone of cultures and demarcate the charming regional idiosyncrasies we encounter and so form our memories.
By noticing the local craftsmanship of a dry stone wall, the embellishment on a piece of traditional fabric, or quite simply what lays beneath your feet as you walk upon the forest floor…
These are the details that enrich our journey –
So what intricacies have you observed on your travels?
What little nuances have caught your eye and grabbed your attention that you can show and share with us here?
Whether it be a detail that tells the story to a bigger picture –
Or a piece of minutia that drew you in to take a closer look –
How detailed or micro you go is up to you…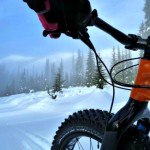 I'm so looking forward to seeing your
photographic eye for
Detail
This round is now closed – But what a ride!
I had fourteen entries highlighting holiday details from the USA including Alaska and Hawaii; Canada, Egypt, Italy, Spain, India, Australia, Thailand and four detailing Mexico.
Details of flowers, embroidered fabric, reflections of nature, Mayan monuments, butterfly's wings in macro, fashion accessories, architectural details of windows, doorways, Thai temples and Totems, which all fulfilled the brief of enriching our life's journey…
And the Winner is….
Judge's Comment:
As my eye skimmed across the painterly surface my focus fell upon fallen floating leaves seemingly suspended by yellow sunshine –
And it was this detail that then quietly and gently drew me in to fathomless depths of timeless tranquillity.
Focusing on Details can transpose you to a state of mindfulness, and this photo certainly took me on that journey.
The Entries
My "Detail" photo is a close up of an orange hibiscus I found along a busy street in the Waikiki section of Honolulu, Hawaii. It was just after a light rain and I loved the way the droplets were like little magnifying glasses
………. ***** ……….
This round's topic was difficult for me from the point of view that I didn't really know which direction to take; I have a large number of very detailed nature shots, mostly plants or rocks, but also an equally large number of photos depicting architectural details. In the end I settled for something different: a display of traditional hand-embroidered women's tops for sale at the annual artisans fair in Uruapan in Mexico. I loved the colours and intricacy of these blouses – each requires countless hours of work. Despite that you see many women going about their daily business in these tops. Read more about Uruapan in Michoacan (not far from Patzcuaro) here
 ………. ***** ……….
Entitled "October Reflections ll," my detail photo was taken on a still, sunny fall day while hiking on the NCR trail in Maryland, U.S. Here is a list of the details I love about it:
1. The surface of the lazy river was so cooperative and quiet.
2. The deep blue sky shown through the trees making a nice balance of jewel tones, plus an impressionistic wiggly corner.
3. The reds and yellow reflected leaf colors spread around in a pretty collection of real and abstract bunches.
4. Floating colored leaves on the water's surface pop.
5. Boulders on the river's bottom glow green.
………. ***** ……….
Taking a bite out of Chitchen Itza –
This was taken at Chitchen Itza in Mexico. I came around the corner and was amazed how this shot just lined up perfectly. Like the snake's head was taking a bite out of the pyramid.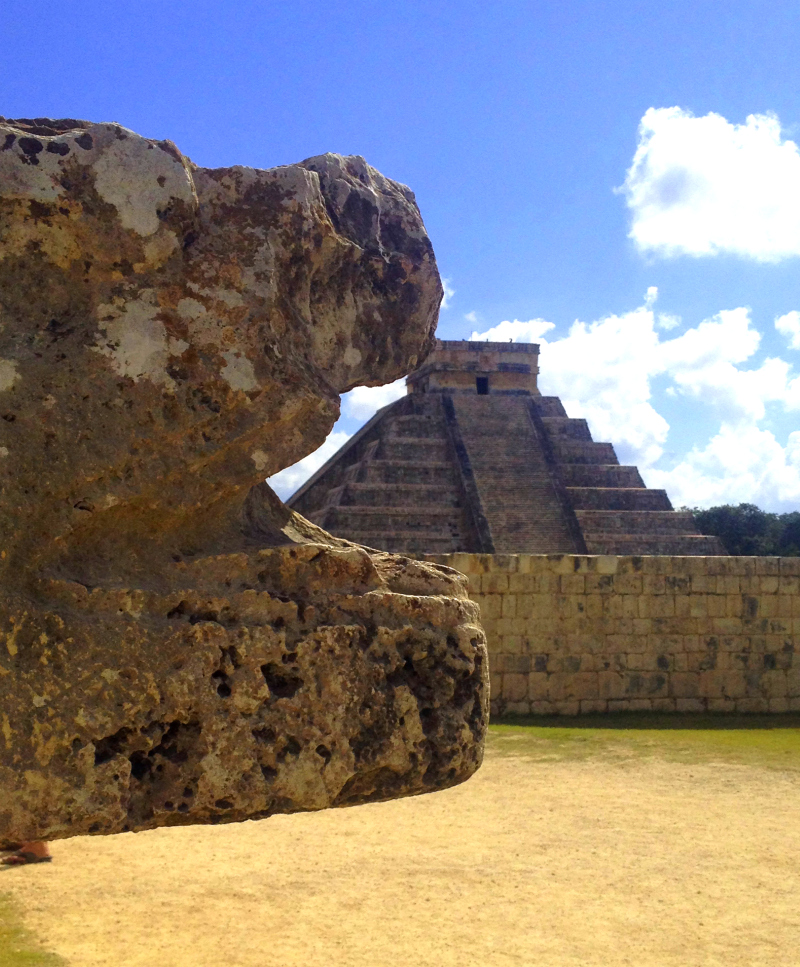 ………. ***** ……….
Here is a macro shot of a butterfly's wing that we took at the Butterfly Conservation House in Niagara Falls, Canada.
[Editor's Note: You need to click on the image for this one to see its true detail]
 ………. ***** ……….
On my first visit to Egypt a few years ago, I spotted this woman in a burka and was surprised to see her chic silver high heels and matching purse–not to mention cell phone and bottle of water. She looked just like a lady you'd see on Rodeo Drive in Beverly Hills except she was wearing a black tent over it all. And it was really hot.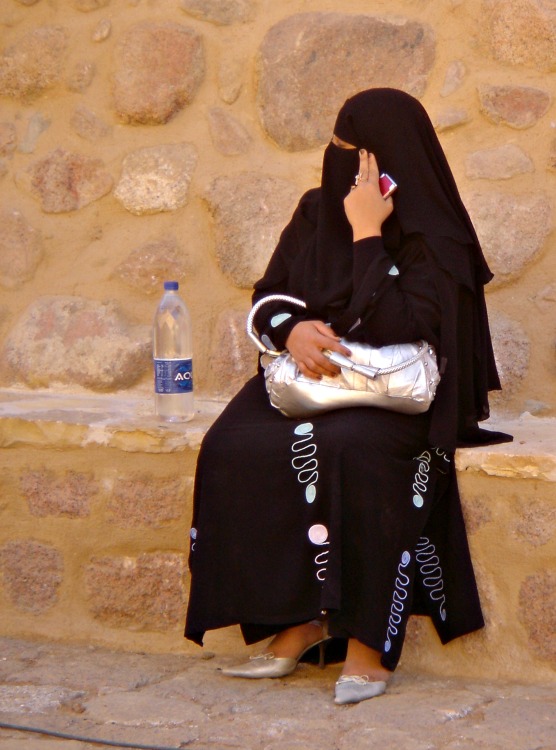 ………. ***** ……….
I just did a post on doors and portals while exploring the magnificent city of Verona, Italy. I'll be submitting the 2nd to the last image with the yellow walls and Venetian style windows and a face on top to boot!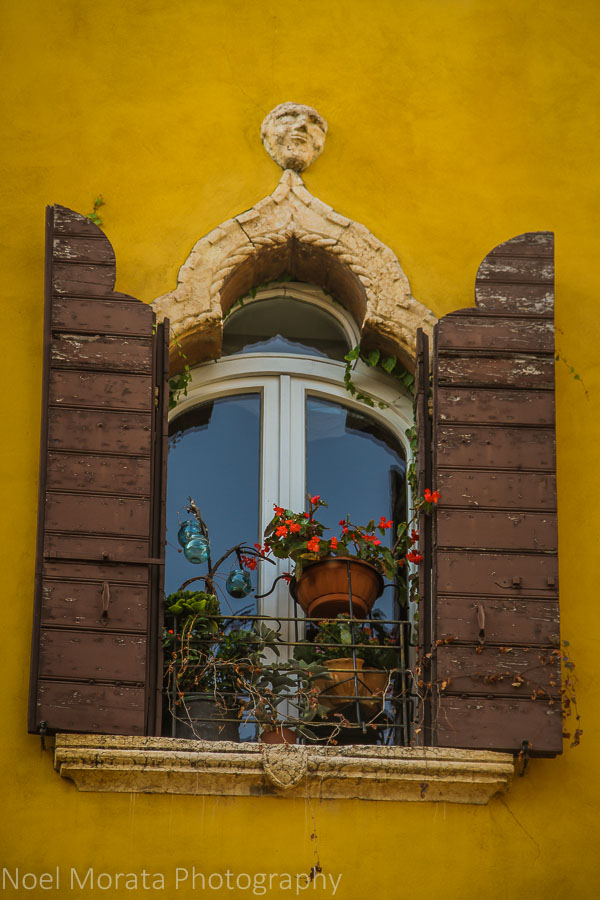 ………. ***** ……….
A narrow backstreet in Cordoba, Spain and tucked between some uninspring modern houses was this little nook. I love the detail of this painted bright blue border around the old wrought ironwork and the tiny window that would be almost unnoticeable without its adornments.
 ………. ***** ……….
When it comes to detail, I can't think of any place better than the palaces of India. It seems like every room becomes more ornate and intricate than the next and is really quite impressive. One of my favorite details was the Peacock Door at the City Palace in Jaipur. The photo really does not do this one justice!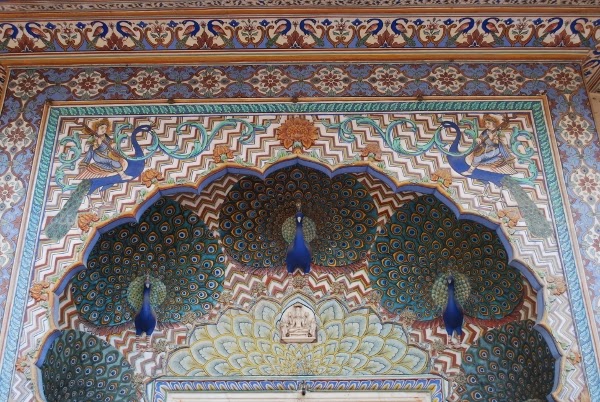 ………. ***** ……….
Gum-tree moon, Morton National Park [Australia]: As friends and I settled down to enjoy a glass of wine at our campsite after getting the children to bed, a full, yellow moon rose above the horizon. I wandered through the bush and found these leaves silhouetted against its wondrous glow. Through this detail both the moon and the trees appeared in a new light – literally!
 ………. ***** ……….
This metal grillwork caught my eye at Zoetry Paraiso de la Bonita in Riviera Maya [Mexico] —both for the exquisite craftsmanship but also for the beauty of the sky behind it.
 ………. ***** ……….
This shot is part of the front wall of one section of a colonial hacienda in a neighborhood called Santa Maria del Obraje in San Miguel de Allende, in central Mexico. I have been parking nose-in in front of this wall twice a week for over a year and I never really looked at it until a few weeks ago. I was staring, kind of mindlessly, out my windshield when this scene just came into focus for the first time. It was just before noon and the bright Mexican sun was casting stark shadows. I love the lines in this, and the slim trail of bougainvillea vine seemed to balance the composition perfectly. Thank God I had my camera with me.
………. ***** ……….
I loved the ornate detail and repeating pattern of the temples of Thailand.
[Wat Ratchabophit]
………. ***** ……….
This is a detail from the Raven totem pole at Sitka National Historical Park in Alaska.
I like looking at these poles up close because that lets you see the little bits of craftsmanship that come together to make something magnificent – here there's the tool marks in the eye, the grain of the wood, and the way the paint is still bright but starting to weather.
 ………. ***** ……….
Travel Photo Roulette Rules/Guidelines
One submission per blog ie sites with 2+ authors get one entry.
Post processing is fine in this round.
Abstract submissions are interesting – As long as I can comprehend the connection.
Keep your images medium-sized eg 800 pixels wide is good.
If you win, you will host the next round (runs for 7 days) and so choose the next theme – Remember to keep phrases general so all bloggers can participate. Specific items like "Eiffel Tower" should be avoided for open-ended topics like "monuments", or for a little more focus try "monuments at night". Phrases can be generic 'signs', or abstract 'religion' – Themes can be repeated after a year.
Keep it PG-13 – or at least safe for work
New photos, or old photos from your archives are fine, as long as not previously entered in a TPR round.
ALL PHOTOS MUST BE YOUR OWN
Since this is a competition for travel and photography bloggers, you must have a travel/photography blog to enter. Sorry!
And last but not the least, talk about Photo Roulette! and spread the word on Facebook, Twitter, LinkedIn, Google +, Stumbleupon…
Its way too good to keep to ourselves! Oh, and don't forget to use the hashtag #PhotoRoulette.
How to Submit a Photo
Just leave a comment with a link to your image below!
And tell me a little about what compelled you to zoom in on this detail ~
If you have a post that elaborates leave that link too so I can include it.
I'll be adding the submitted pictures into this post throughout the week, so please check back to see them all and tell me which you think has an eye for DETAIL 😉
The contest ran for 7 days,
ending on Sunday March 22nd 2015
When I announced the winner, who hosts the next round
Want to see more awesome photos from previous rounds over the four years travel photo roulette has been running?  Here's a list of…