As part of my series on How to Travel Journal Like a Mapmaker…
Arrows are Lifesavers
Arrows have been a part of human survival for over 20,000 years and amazingly we still rely on them today for our existence.
Not in the traditional sense of course, of going out to hunt for food, but relying on their directives to ensure our safety on the roads.
Arrows are also lifesavers for creating fun story maps!
This simple symbol of a line with a triangle ——> is the perfect expressive tool for illustrating:
direction

movement, between two points

passing of time
So, first things first –
How to Draw an Arrow
For our purposes, a straight lined arrow is, well… dull.
By giving the shaft a curve it creates a sense of life and the illusion of movement. So…
Draw a curved line, and below it another following the contour of the first but ending so the two lines meet.
The arrowhead needs to be at right-angles to the shaft so it continues to take the eye in the direction you want it pointing – Extending the shaft a little can help you see where it should sit.
Colour in the arrowhead.
As a final touch you can create a sense of depth by adding a third line below the two you have currently representing the shaft, again following the contour you've created, then colour this lower section in and it will form an optical shadow.
Arrows to Show Direction
Think of using an arrow wherever there is direction to be conveyed –
They're wonderful for whooshing from A to B… whether that's getting you from Home to Work… or even Brisbane to Sydney.
They can have you doing an about turn because you literally went the wrong way, or it can mean you did the U turn figuratively, because you changed your mind 😉
Arrows can have you climbing to the top of a hill or a mountain.
Or have you going down, down, down, into the depths of a valley.
Arrows Showing Movement over Landscape
Arrows eliminate a multitude of fluffy words to convey all manner of travel manoeuvres. 
The illustration on the right is a section from one of my very first story maps. I used the most basic types of line + arrowhead yet it succinctly illustrates how we went both up this section of railway line and later in the day returned down it.
You can either add arrows alongside your mode of travel –
– Such as here beside a railway line, or
– Bedside a footpath, or
– Incorporate triangles within the line type.
Arrows to Illustrate Direction & Movement in Your Travel Journal
The illustration on the right shows an arrow representing both direction and movement.
I flew from Brisbane, down to Sydney –
I usually draw my arrow shafts freehand but in this case there was quite a space between where the arrow started to where it finished and it was fairly imperative I landed on the spot I'd already marked as Sydney –
So I drew this along the edge of a plate!
I drew the left hand line, then by keeping the plate in position in Sydney, I slide the top edge down the page a little to draw the second line – Creating an arrow shaft that is thicker at one end gives the illusion of whooshing through the air from one spot to another!
In the last post I talked of using different line types and suggested dotted lines are great for walking trails –
The Kings Canyon Rim Walk takes you down a series of steps to the Garden of Eden –
To show direction and add movement I added a wiggly arrow pointing down, which conveys the frequent twists and turns the steps took as they hugged the steep cliff face – And the straight arrow for the ladder like steps to clamber back up to the canyon rim on the other side.
On the Kata Tjuta Valley of the Winds walk I used the combination of dots to represent the path we took, which I inserted with squiggly arrows to illustrate both direction and movement around the 7.4km circuit.
The example below, brings together elements from my last post where I spoke of making the most of line types and this post that has focussed on arrows –
Here, I used:
red arrows alongside the road to show the sections that we drove
a blue arrow for the ferry ride up the river, and
red dots to indicate the sections we walked.
I slipped a little black arrow in to link some information to where it happened.
Combining a variety of line types and arrows not only indicates direction and the illusion of movement – It's beauty is in its clarity –
At a glance it's immediately understood where we drove, where we walked and where we ferried.
Arrows to Express the Passing of Time

Arrows are also great for expressing the movement of the intangible. 
Such as time!
Even on days when we feel we've been nowhere, we will have remarkably spun 40,000 km (25,000 miles) through the universe at a speed of 1,600 kph (1,000 mph).
While we may think all we've done is watch the sun rise in the east, traverse our blue and fluffy white clouded skies to set in our west…
There's movement and change in our world every day –
Arrows can even illustrate our life journeys!
I've used the story map below as a final illustration in this post on how arrows are great for creating the illusion of movement, as it possibly contains my most dramatic use of them!
Not only the two large swooping arrows to indicate the flights I took, but notice the split arrow head on the road (on the left) showing how upon landing we drove right around Uluru to see it from all angles, before watching the sunset.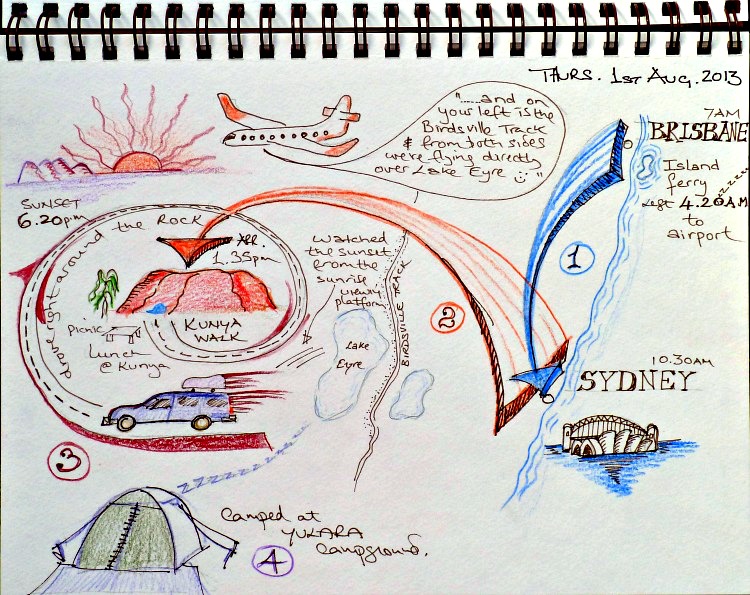 This example also touches on the layout of story maps, which I'll be talking about in more detail in a few posts hence –
But as you can see story maps are not to scale, nor are they in perspective –
They combine side views and aerial views and three-quarter views, so there's nothing that you have to "get right" artistically – Its a total mish-mash – which is somehow why they work – and why I love them!
The overall effect successfully draws together highlights of the day, which can then be viewed as a whole – simply summarizing the adventure on a single sheet.
No wading though pages and pages of alphanumeric symbols, no sorting of photos, no sticking of scraps – The story is merely mapped out during your evening's reminiscing.
And in years to come will bring that same smile that you experienced there, back to your face!
In your travel journals –
Do you use arrows to illustrate which direction you went?
Or to show movement between places… or time?
Will you give it a go now? 🙂
Do share in the comments below!
The next post will be on Pictogram type symbols –
I'll be illustrating symbols for landscape, vegetation, food and drink, transportation and stick figures with personality.
If you don't want to miss it enter your email below and I'll give you a cooeee when it's published 😉