As part of my series How to Travel Journal Like a Mapmaker…
The Key to your Story Map
When is a line not a line?
When it's on a map!
As every line and symbol on a map is representational.
Every line has a meaning that can, in some cases, require a 'legend' or a 'key' to translate these meanings and offer an Explanation.
In our daily lives we rarely mix up our line types, breaking solid lines into dashes or breaking down dashes into dots.
But on a story map the types and variations of lines we can make is taken to the max –
Solid lines, dashed lines, dotted lines and combinations of these are each used to represent different elements of both our physical world and our senses.

From the basic line types illustrated above you can create –
Hard bitumen roads represented by solid parallel lines.
On printed maps these double lines are created mechanically to ensure they remain equi-distant but when drawing by hand they don't need to be so precise –
In fact a wavy wonky line adds a sense of movement and spontaneity so are to be encouraged.
It was illustrating such roads in a post I wrote 'Why Write When You Can Make a Travel Story Map' that formed the nucleus to this current series, in which I'm taking you on a journey to create your very own pictorial story maps for recording your travels.
It was in that article that I initially threw down the gauntlet, and asked –
Can you draw a wavy line?
And if you can draw one…
Can you draw another crossing over it?
I also gave step by step instructions as to how to create a car (including whooshing speed lines coming off the roof at the back) so before we knew it, we were all racing along a road travelling from home to work 😉
But we're getting ahead of ourselves…
I'll be moving onto symbols (and symbols for modes of transport) further down the track…
First things first – Lets get back to the basics of line types…
Dirt roads represented by dashed parallel lines
To convey a dirt road, by making the lines dashed you're suggesting the road has a broken surface rather than being solid bitumen.
I like to give the additional feel of the gravel so add some speck-like dots for the dirt and a few larger dots for the stones along its edges.
In the above illustration I added the dust and gravel to the curves, which gave me a further minds-eye image of the gravel building up on opposite sides of the road as vehicles swoosh along throwing up clouds of dust!
This is a major take-away for creating great story maps –
How do you picture something in your minds eye?
What mental associations do you have with what you're portraying?
Incorporate some of the details associated with your pre-conceived images and your story map will come to life for you.
Footpaths represented by single dashed or dotted lines
Footpaths leave an even fainter mark on the surface of the landscape and being accessed by only two feet as opposed to four wheels, a single line of dashes or dots conveys this lighter feature perfectly.
Summary of Road Types
In this introduction to line types my main message is to ensure the line type that you use has a mental association to the feature you are conveying –
Note, I don't use the word portray here.
You're conveying your experience, your perception, not portraying a life like rendition.
So I used:
solid lines for rock hard solid bitumen roads
broken lines for dirt roads that have a broken surface
dotted lines for footpaths that barely leave a mark on the landscape.
Representing water features with line types
For water features, use a solid line where the under water world meets the land –
And to convey the watery surface add two or three bands of broken lines of varying lengths.
By using shorter line lengths for each succeeding band away from the solid coast-line gives the illusion or the mental association of water ripples or waves slowly dissipating –
What comes to my mind is the image of a pebble being thrown into a pond and seeing the ripples gently flowing outwards until they level.
On coastlines, you can also add some wavy dotted lines to insinuate the wet rippled sand where the tide ebbs and flows, with ad hoc dots further up the beach where the sand is drier and gets blown by the wind.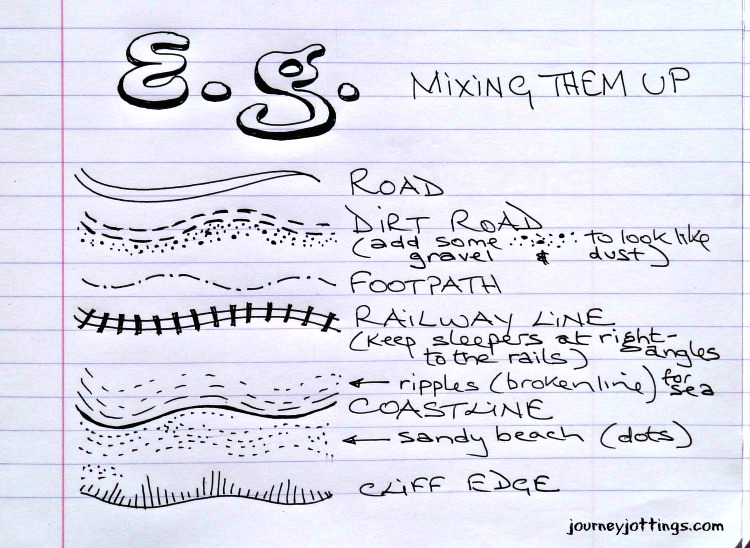 Its surprising how a humble line can represent such a variety of physical features.
Unless you're a regular map reader I wonder, have you stopped to consider this before?
In the little section of story map above, I used:
Solid parallel lines for the road
Red dots inside the road lines to show where we drove.
Dashed lines for a walk we did through a palm forest
Coloured blue pencil lines for the river bank
Little dots where the road crosses the river over a causeway
Do you mix up your line types when expressing yourself?
Or will you now consider giving that a try?
Do share in the comments below 🙂
My next post is on How to Create the Illusion of Movement with Arrows in your Travel Journal 

If you don't want to miss it enter your email below and I'll give you a cooeee when it's published 😉