How did your 2012 unfurl? Did it blossom?
What were your monthly highlights? 🙂
For three years I've stopped at the end of each month to contemplate (and acknowledge) just one thing that's moved forward (in any shape or form) in amongst the fun and games going on at Journey Jottings.
Using an A2 (59.4cm x 42cm) sized Journal Map of Australia that symbolically represents the journey I enter each selected achievement in one of the boxes around the outside so at year's end I have 12 months simply summarized on this single sheet – creating our Year at a Glance.
Mid way through the year I re-capped the first 6 months ~
January – June 2012 Year at a Glance
Where I celebrated:
adding a download page on our website (check out the free download to Find the 27 animals on the Journal Map)
creating some short videos of Journey Jottings products to give a fuller view of what we offer you
and produced an on-line magazine to illustrate our full range of ways we help you highlight your holiday adventures
Big excitement in June when we published our new luggage tag shaped Journey Jotter for writing postcard like jottings to yourself and posting home at trip's end
and I headed off to Europe for the northern hemisphere summer
Since then?
We sourced some super-duper crisp and shiny hangsells for our 12″ (305mm square) pictorial Australia maps – so they're now super schmick!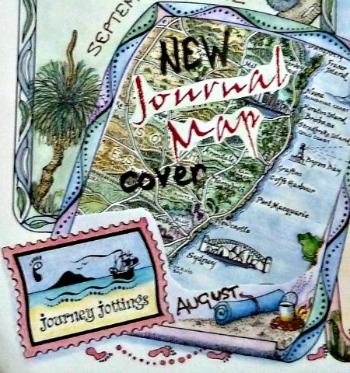 Liaising from across the globe (isn't modern technology brilliant!), I was able to converse with Michael, our fabulous pre-press guy in Brisbane, and we updated the Journal Map cover, which now shows a section of the south-east of Australia on the front – It previously highlighted the Kimberleys in NW WA –
A new batch was then printed by our Brisbane printers (who've been with us since day 1) on our signature eco-label textured paper with vegetable inks.
It's sometimes the little things that can save so much time!
We re-designed a packaging label so we could select the product being sent out with a simple tick on the box!
We re-designed our Journal Map display box so when folded flat for packaging it fitted inside the shipper that carries the product –
Soooo much neater – and its also a brighter, funkier colour –
I really should have a photo to show you for this one! 😉
Now you didn't seriously think I'd go to Europe and then not do annyyyyyy travelling?
My sister and I took off for a fabulous fortnight together through the mountains of Switzerland, the lakes of northern Italy and the icing on the top… Venice!
(I put up a fun photo post showing 12 highlights from 7 European Countries 🙂 )
In December, back in Australia we applied a CDN (Content Delivery Network) to our website, which has halved loading time… Anyone notice how much quicker you can now access our fabulous site?
We then pulled out all stops to contact as many of our retailers as possible in the run up to Christmas – And so many needed more stock, it meant we had the best December ever – Sales were up, uP, UP! 😀
And in case you're curious as to what happened in 2010 and 2011 here's the snapshot!
Do you stop and take stock of your achievements?
How do you acknowledge them?
Are you going to keep a Year at a Glance for 2013?
If you want a Journal Map for the job you can get one here!