If you'd asked me this time last year
"What are your travel plans for next year?"
I'd simply have replied –
"Scotland…
I'm going to visit my Mum who lives in Scotland"
That's it. full-stop
But the magic of travel highlights is their serendipity –
Travel Highlights
By way of example, I'd never have imagined a few years ago that at the eleventh hour, an opportunity to tick off one of my top bucket list wishes would arise – And that I'd finally get to set eyes on Uluru in the centre of Australia.
If you remain open to opportunity its amazing where you can end up!
12 travel highlights, 7 countries
So, while this adventure started off on the premise of a purposeful single visit to visit my Mum in Scotland – A series of peculiar events had me stopping over in Paris, which threw me off at a tangent and had me hurtling down to the south of France, when…
[Spoiler alert: I visited Scotland, Wales, England, Germany, Switzerland & Italy]
1. Flying at 85% the speed of sound
Half way across the globe from Australia to Paris (in an A380 Airbus) –
That's about 900 km/h or 560 mph) –
Which is quite fast when you stop to think about it!
And then jumping aboard the TGV (Train à Grande Vitesse, meaning high-speed train) which reaches 320 km/h (200 mph) to shoot me across the French countryside down to the south of France, where my brother lives.
2. Wandering classic Provencal village markets
Full of soft creamy cheeses, black salty olives and sweet crunchy croissants. Drove though medieval stone villages with terracotta tiled roofs to see where Romans fought gladiators and view the landscape Van Gough painted.
There were nights full of music and exclusive art gallery openings, making fascinating fresh acquaintances who invited us to their geranium filled patios where we savoured local French wines and drank in the Provencal drenched air.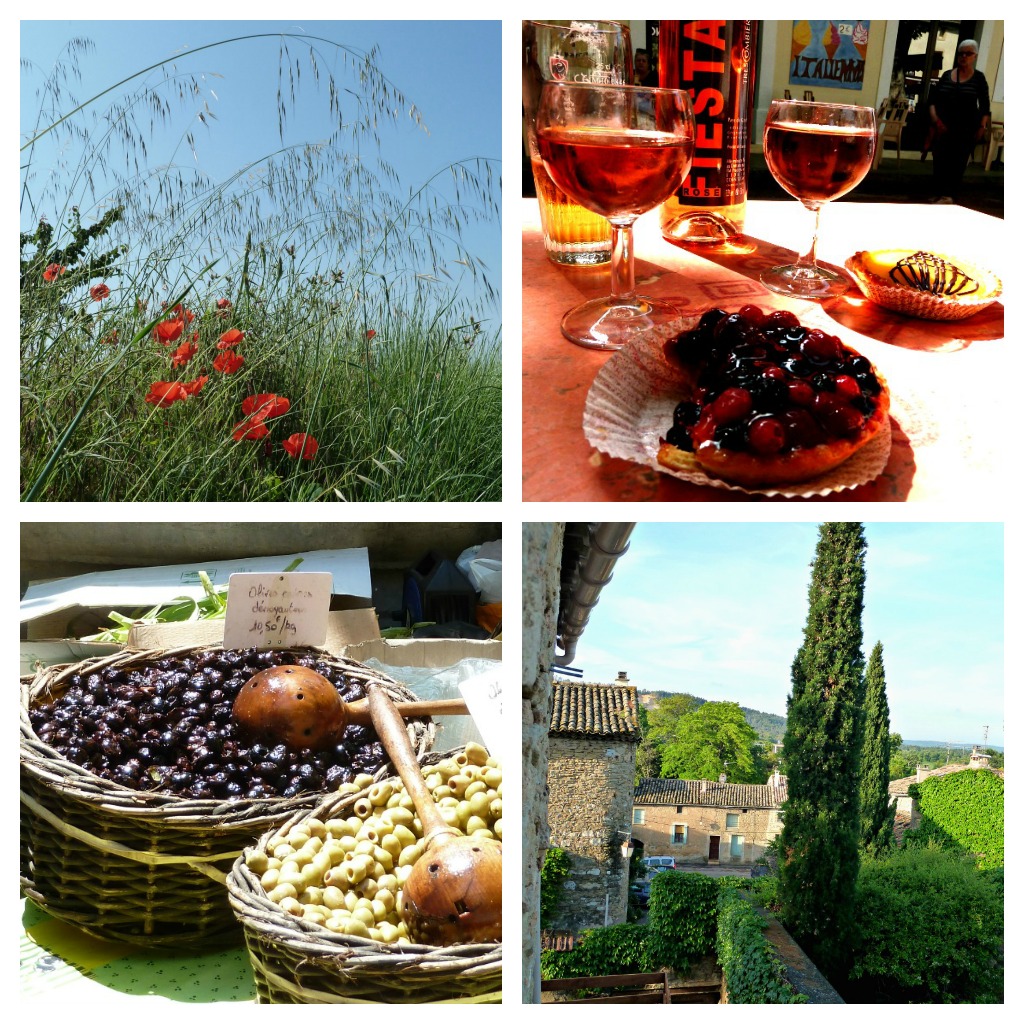 3. Roaming the Bonnie Hills of Scotland
Across Scotland's rolling hills, rugged mountains, languid lochs and hushed harbours where my mother (in her late 80's) and I went on intrepid en plein air expeditions scribbling in pen and ink and sloshing watercolour washes in our visual journals, endeavouring to capture the ambiance of the air.
The memories are way more impressive that our masterpieces.
4. Feeling the rapture of ancient oak forests
And the rapture of being alive while walking Tess (my mother's exuberant collie dog), across the wind swept hills at Barclye, where the RSPB are re-planting 140 hectares with new woodland and creating 80 hectares of wood pasture.
Situated beside the Wood of Cree (the largest ancient deciduous wood in southern Scotland), it lies below the remains of the historical chambered tomb – Drumwhirn Cairn.
It is uplifting to be in a place that has a 200 year vision.
5. Imbuing the company of a 90 year old friend in north Wales
We took in the history of a 13th century Castle in Harlech and the beautiful windswept Bay across to Snowdon (Wales' highest mountain); went on outings to the local auction room to strike deals on antiques, and in front of her roaring open fire enjoyed afternoon teas of freshly baked scones and home-made fruit cake.
6. Rolling down rolling English roads
When my old friend Jenny then suggested I visit her in SW England giving me directions via her 'short-cut'.
I arrived wilted in Wiltshire hours (and hours) later with a first hand insight of:
G.K.Chesterton's poem 'The Rolling English Road'.
Before the Roman came to Rye or out to Severn strode,
The rolling English drunkard made the rolling English road.
A reeling road, a rolling road, that rambles round the shire,
And after him the parson ran, the sexton and the squire;
A merry road, a mazy road, and such as we did tread
The night we went to Birmingham by way of Beachy Head.
7. Beer sampling at the Hofbrauhaus in Munich, Germany
When my sister suggested we take off an escapade to Europe! 
We flew to Munich, Germany, where we had a night at the infamous Hofbrauhaus sampling tankards of malty beer, watching men in lederhosen slap their knees and crack whips, while girls in bodiced costumes with full skirts swirling, twirled like whirling dervishes.
8. The Magnificent Mountains of Switzerland
When…
My son (who'd been working as a tour guide in Europe for the summer) said he was going to Switzerland, with his girlfriend, so we all headed to Switzerland.
With Swiss passes for the trains in the Jungfrau region, we train and cable car hopped up and down the mountainous valleys (with miles of marvellous walking in between).
From Interlaken, at the bottom of the map in between the two lakes, we took the train up the right hand valley to Lauterbrunnen where we stayed in a cute wooden cabin at  the base of Staubbachfall, one of the 72 waterfalls that pour down the sheer sides of the valley walls.
Lauterbrunnen was the inspiration for Tolkein's Rivendell, home of the Hobbits.
The train ride up to Kleine Scheidegg, below the north face of the Eiger and down into Grindelwald was simply breathtaking – As was the cable car ride up to First –
Which, as luck would have it, we did on my sister's birthday.
Happy Birthday Sis 😀


9. Tunnelling 7km through Mt Eiger
And then…
we made the trek to the Top of Europe on the Jungfraujoch railway.
At 3,571m/11,782feet it is the highest altitude railway station in Europe.
From here you can see France, Germany and Italy, whilst looking down onto the UNESCO World Heritage Aletsch Glacier – the longest in the Alps!
It took 16 years of construction to make the 9.3km of line, which involved 7km of tunnelling through the inside the Eiger – Finally opening in 1912.
It was from one of the tunnel's gallery openings that the Eiger North Wall drama in 1936 was played out when rescuers tried, in vain, to save mountaineer Toni Kurz, after his mountaineering companions had already died in their attempt to conquer the peak.
10. Visiting Venice…
So…
It seemed only logical when so "close" to a bucket list destination that we hop over the Alps and tick off Venice!
Not to mention the opportunity of catching up with Twitter friend Michela, of @rockytravel who I'd met and taken on a rainforest adventure when she was in Australia the previous year ~ A traveller's tweet-up in the rainforest.
So we travelled by train through stunning Swiss countryside, catching a bus from Lugano across the border into Italy and down to Lake Como where we spent a night at a charming pension in Menaggio situated above a family run restaurant.
And the next morning we took the ferry across the Lake to Verrena, picking up the train again on the other side…
And so it was, we entered Venice.
Venice 😀
It was everything I'd imagined
11. Lolling around Lake Garda in northern Italy
When…
Millie, my friend from years ago when we met travelling overland from Australia, across SE Asia and the Middle East to Europe, said but you're so close, you must come and stay awhile with me at Lake Garda.
So we stayed with Millie at Portese and ate freshly made pasta with fish caught from the Lake; enjoyed apperativos in the sun, and explored the Vittoriale Delgli Italiani.
On our last day we took the ferry right up the Lake to Malcesine, where it was market day, so we snapped up Italian leather bags and coloured scarves (which we later swapped with each other!).
12. Flying over the Alps
When finally…
We boarded a plane in Bergamo (northern Italy) and in classic finale style took off as the sun was setting over the mountains and from the air we looked down on the terrain we'd just traversed –
Check out the pictures from my Storyboard Travel Journal that I kept on this trip.
And so…
Where to this year?
Do you have plans?
Where will they take you? 😉