Do you need reminding?
The middle of the year is nigh?
This week, in the southern hemisphere it's mid-winter's day and so the shortest day of the year or… in the northern hemisphere the 21st June is mid-summer's day and is the longest day of the year.
Either way, half the year has gone!
I used to get to the end of the year, roll my eyes and say –
What have I 'done' with the time ~ Where did the year go?
And apart from recalling a few generalities, many achievements flowed away in the stream of time never to be seen, heard nor appreciated ever again –
To rectify this, I now stop at the end of each month and recount just one thing that has moved forward in some small way or another –
In other words, I don't just value the blockbusters of achievement (which only come after months of toil 😉 )
I'm often surprised that even when a month feels to have been a bit of a dead duck in terms of activity, if I rummage around for long enough something finally raises it's head and says – Hang on there – don't forget me!
This year has been no exception!
In January I created a Journey Jottings Downloads page for our website.
It had been on my 'To Do'list for… I'd rather not say how long, so I felt very puffy chested that at last a fun (and free!) 'Find the Australian Animals' game is now uploaded and available.
I also put up a variety of jotting boxes, which can be printed out at home for cutting and pasting and journalling when collating photos of Australian holidays. There's a small pictorial Australia map (190mm x 190mm) too, which makes a great title page.
In February I created some videos to demonstrate our range of traveller's accoutrements!
Uploaded to our Journey Jottings YouTube channel, I then added all the links to our Australia mementos page so you can see each product being physically demonstrated… opened, closed, being taken out of the travel wallet, then folded and put away – This gives a much clearer idea as to the size of each Map Journal or Mail-It Map, as well as being able to hear the crinkle of the quality paper and even see what's on the back!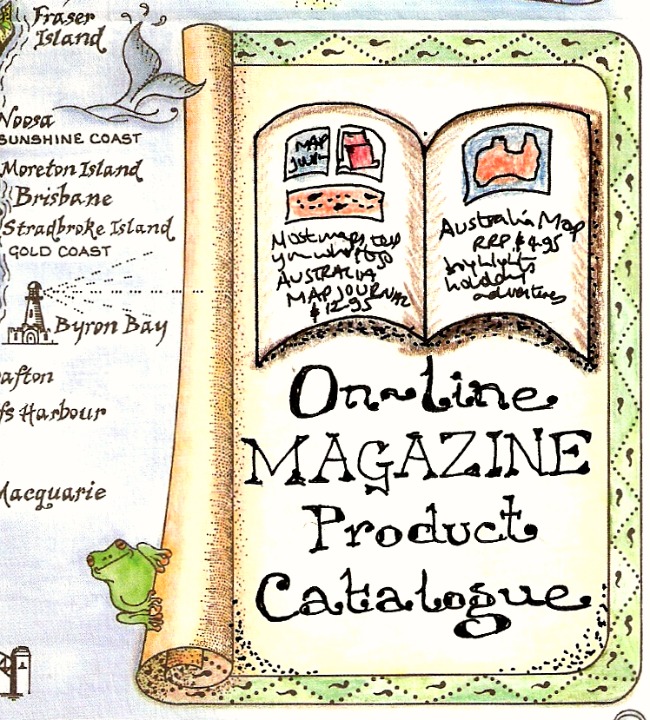 I gave a little whoopee when I saw my first on-line flip the page magazine! Although they've been around a little while now I've been busting to convert our catalogue into one…
So, in March I created our very own on-line magazine catalogue for the Journey Jottings range of products.
Here it is! What do you think?
There's a link on each page of the magazine to take you to the relevant part of our website, which is a much quicker way to get to what you want to find out more about 🙂
We worked hard in April and May to put together another product –
Our NEW Australia Journey Jotter.
It's a 32 page travel jotter cut out in the shape of a luggage tag and comes adorned with coloured string… just for fun!
Designed for postcard like jottings about your trip, there's an envelope to adhere pretty local stamps for posting home to yourself at trip's end, so your Australian holiday will be encapsulated in a postmarked folder for enjoying time and time again.
Each page has an iconic Australian illustration or pictorial map covering the major Australian cities – some pages are lined, others are left blank, leaving how you recount your trip, whether that be doodling, drawing, writing or pasting in receipts, entirely up to you and how you choose to highlight your holiday adventures!
Published in June the first copies are making their way to retailers across Australia now! (Or buy NOW off our website)
And so to June ~
This month I've flown north… 
North, to the northern hemisphere where I'm visiting family and friends in France, Scotland, Wales and England.
And while I'm here I'll be looking at whether other countries for our Journey Jottings range is a possibility?
So here's my year at a glance for 2012… so far ~
 What have your monthly highlights been to date?
And if you don't occasionally take a moment to think about where you've been and what you've done… Please do so now, and…
Share in the comments below 🙂