After days travelling in Central Australia over miles of red dirt and endless plains…
…we turned left at Charters Towers (135 km short of hitting the east coast) in tropical north Queensland
and entered the lush green world of the Atherton Tablelands.
 What a different landscape!
Malanda, our destination, is synonymous with milk and cheese, and when you see this verdant landscape, it oozes contented cows.
In 1908 John English (the Malanda Hotel's first publican) along with James Emerson saw the district's dairy potential and herded over 1,000 cattle, 2,000 km from northern NSW to Malanda ~ Only half made the arduous journey that took over sixteen months, but from those that did survive, the local dairy industry was established and by 1919 Malanda had it's own butter factory.
Malanda township was officially established in 1911 (just over 100 years ago) when the railway from Cairns arrived. It had crept its way up the range reaching Kuranda in 1890, Mareeba in 1893 and Atherton in 1903. (The line was sadly closed in 1964.)
While James English founded Malanda pub it was his wife Catherine and daughter Mary that ran the pub. Mary's husband Jack Hanrahan bought the pub from James in 1923, but in 1976 it was repurchased by Tom English, the grandson of the original owner and is now run by his son, Michael and grandson, Jeffrey.
It was officially opened on Boxing Day 19011 ~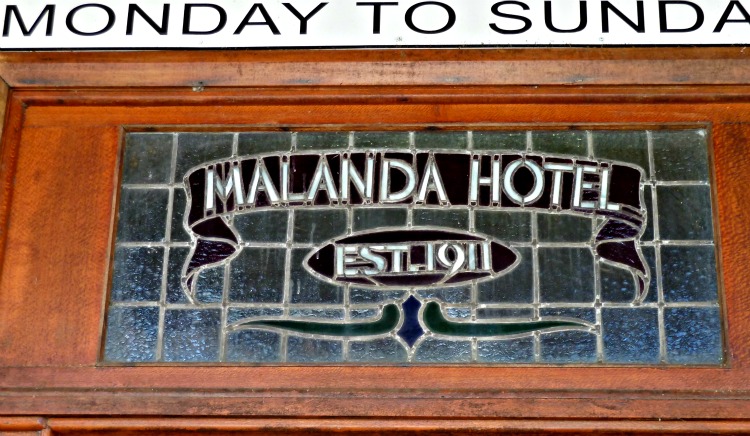 Below is a photo from this auspicious day.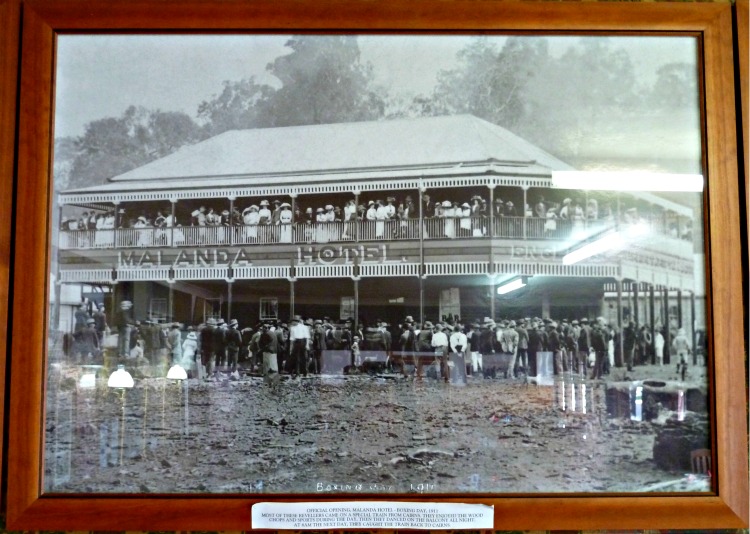 "Most of the revellers came on a special train from Cairns. They enjoyed the wood chops and sports during the day, then they danced on the balcony all night. At 8am the next day, they caught the train back to Cairns."
Walking under the verandah down the main street, this is the view you get through the open windows of where people can take a refreshing drink.
From the inside, you can imagine kicking back whilst striking up conversations with people you know as they pass running errands or picking up supplies.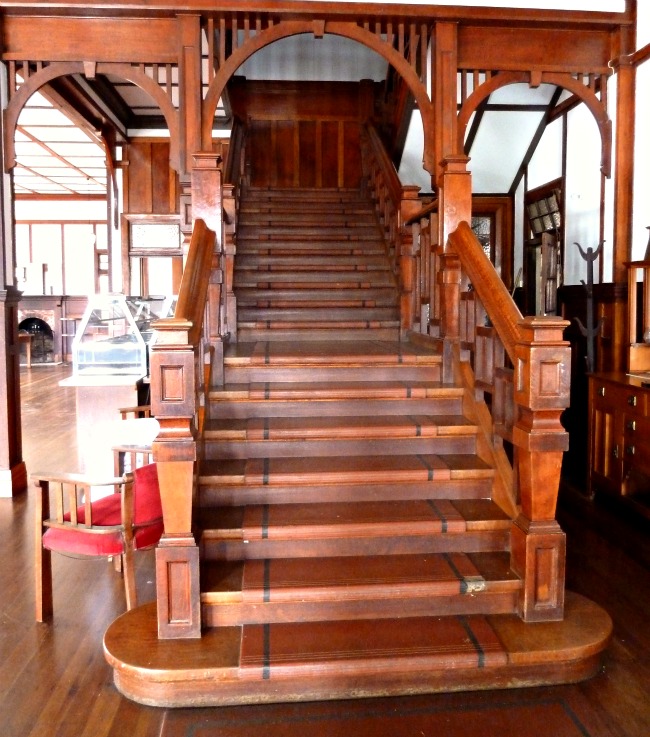 As you walk inside the Malanda Hotel, you feel little has changed since it opened. You are greeted by a magnificent staircase made from local silky oak milled at the Malanda sawmill.  There is a claim that with the stunning timber ballroom and staircase that the Malanda Hotel is Australia's largest wooden structure!
The original stained glass doors off to the right lead you into the 'Commercial Room'.
In commemoration of the opening of Malanda as a township in 1911 a picnic was held at the beautiful Malanda Falls.
Today, little has changed other than the road that now goes over a bridge.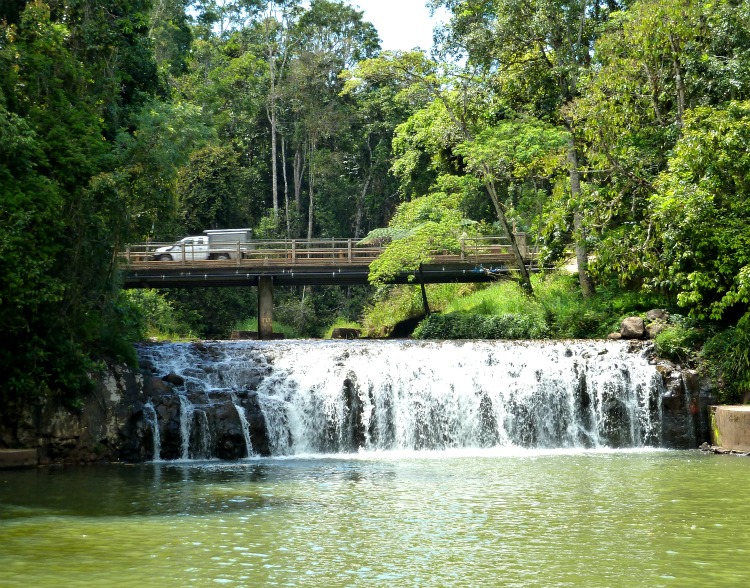 Have you ventured up onto the Atherton Tablelands?
Where did you go? What did you see?
Or is it still on the 'One Day' list? 🙂