The Curtain Fig tree, on the Atherton Tableland in northern Queensland, is an impressive and unique sight!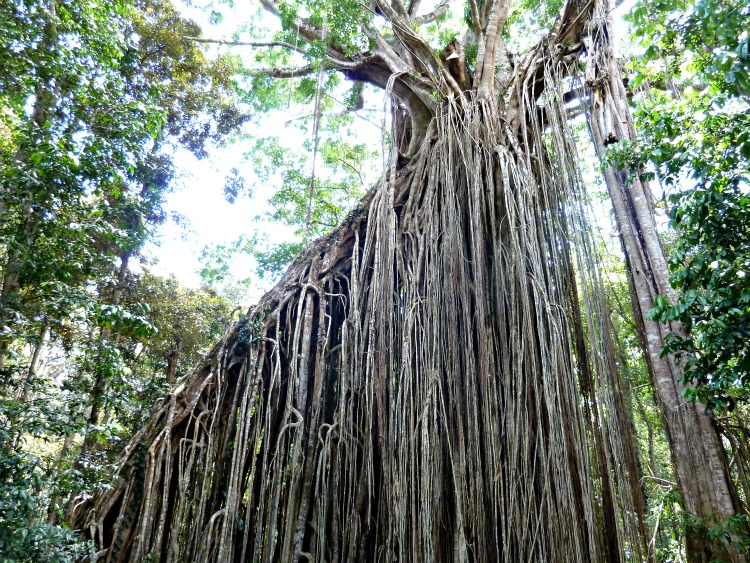 Formed by a little seed being deposited in a nook (or cranny) high in a host tree, roots sprouted and made their way to the soil far, far below.
Embedded in the ground and enriched by the soil's nutrients it developed aerial roots encompassing the host tree.
Most strangler fig trees (Ficus virens) envelop their host, which over time decomposes, leaving the strangler standing with a hollow centre.
In the case of the Curtain Fig tree, and this is its differentiating feature, is that during this early stage the host tree fell, not to the ground, but into a neighbouring tree, leaving the host propped at about forty-five degrees.
The fig tree roots continued to descend vertically to the ground from this forty-five degree angle and so create the curtain-like appearance.
Eventually, when the host tree aged and rotted away, the fig tree was left standing on its own.
The roots now drop 15 metres (49 feet) to the ground – It's scale possibly better envisaged with a human in the picture 😉
As can also be seen here, there's a platform-walkway that encircles the tree allowing vantage viewing from all 360 degrees.
The Curtain Fig tree's sculptural magnificence is awesome…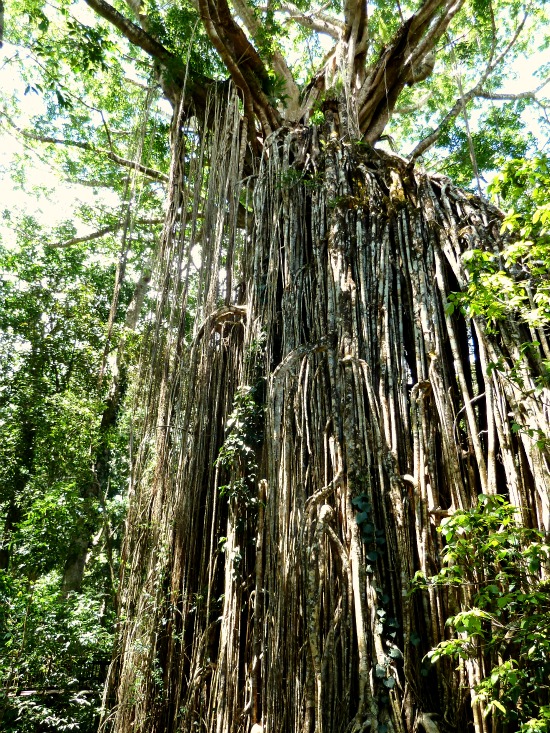 …as the roots cascade down in draping folds.
As so much land in the surrounding area was cleared for farming it's amazing it has survived for us to enjoy today – Perhaps its saving grace was the basalt boulders covering the forest floor around it's base and so the land was not as suitable for European agricultural endeavours…
Lucky!
The location of the Curtain Fig Tree is quite tucked away in the heart of the Atherton Tablelands. Found off the Malanda – Atherton Road it's not far from Yungaburra.
It is estimated the Curtain Fig tree is over 500 years old –
It certainly is a magnificent evolving creation of time, nature and circumstance.
Have you seen the curtain fig tree?