Mondayitis… When the Holiday is Over
I've just faced my first day back at work after a carefree travelling holiday.
I walked in feeling fresh faced and full of excited anticipation ready to implement all the ideas I'd been bottling up during my weeks away…
But within no time I was feeling…
What holiday?
Did I ever really go away?
What ideas?
What was I thinking while so removed from reality?
Why is it so hard?
While away, I was eagerly looking forward to returning with a renewed spate of creativity, expanding my range of holiday highlight products, putting smiles on the faces of all my wonderful customers and flying my million dollar business Journey Jottings (yes – it's hard to believe, but I've now sold over a million dollars worth of my little hand drawn products) up and over the next horizon.
But now I'm back in the studio looking out across the Bay off Brisbane, on Australia's east coast, I can't believe that while I walked in raring to go, bursting to fulfil all my pie in the sky ideas, I'd omitted to consider one little detail –
'How'?
'How' was this fresh new period of work going to flow any differently to how it had flowed before I went away?
Why had I assumed that just because I'd been away and returned with recharged batteries and a basket full of fresh ideas, that the outcome would be any different?
It's a bit like taking a photograph, then taking another – Just to be sure you captured it – Yet, instead of changing a few settings or tweaking the angle, you simply click again and expect the result to be miraculously not only different, but better!
How were all the plans and actions I'd envisaged going to be implemented when I was returning to exactly the same modus operandi?
A modus operandi that hadn't achieved the hoped for results before I left – So why, just because I'd been away, did I assume it would be different now?
I'd done the classic of walking back in with stars in my eyes, only to jump right back onto the turntable precisely where I'd left off and promptly fell back into the previously well worn groove that would take me nowhere.
So, what needs to Change? 
Change can be tricky –
Even when you're changing to a method that you know suits you oh, so much better, its tricky when you equally know its not the way most people do it!
You keep thinking, if everyone else likes to hit the ground running and get the bulk of the day's work over before lunch while they're [supposedly] fresh, surely you must too?
And why, when everyone else is tapping away on their laptop keyboard streaming out their flowing blog posts should I find myself totally disconnected to the words that float behind the LCD screen as I watch my sentences seemingly swirl in circles, a world apart from my thoughts?
Thank goodness for bananas is all I can say –
Happily – There was a banana skin on the turntable, which sent me skidding to my senses and just as I was about to free fall backwards into the abyss, never to be seen again, I caught myself on the edge…
Where, hauling myself out, I brushed myself down, and I'm now working the way that best suits me.
How to Work, is all about the When & Where
When
So, while you may be settling down to lunch, with a morning's work behind you, acknowledging my night-owl preference I'll be just starting work having spent the morning taking a kayak across the Bay and around the mangroves, followed by brunch and a short meditative-relaxation.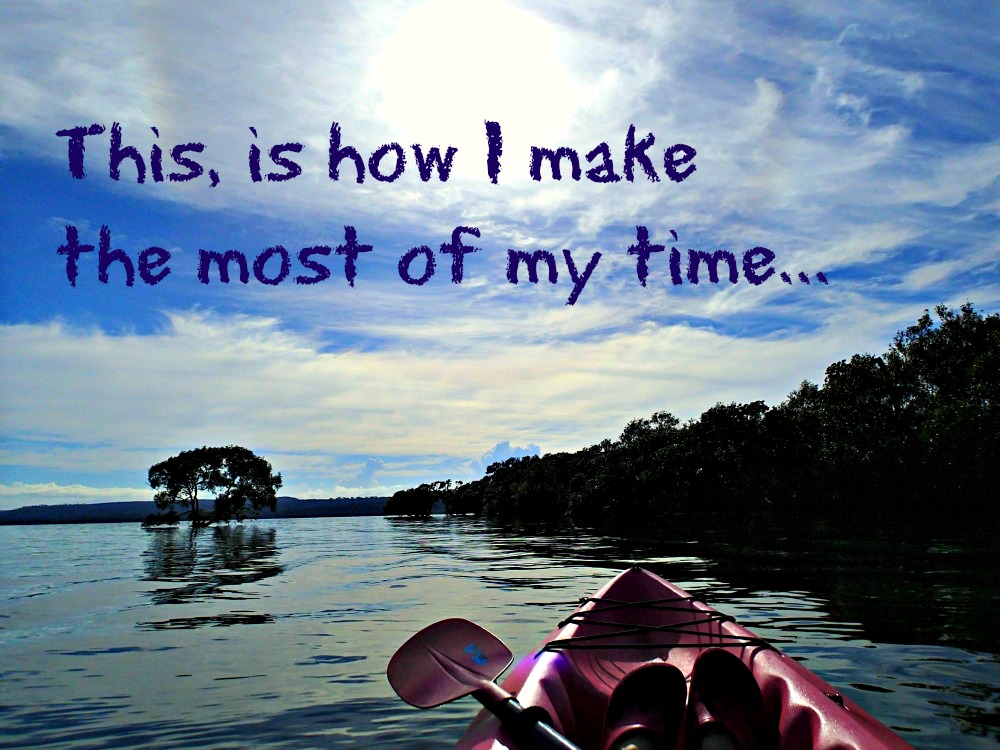 Having made the most of my time during the morning, I'm then truly ready to roll. Rather than feeling exhausted from a morning's fluffing and fearing as my prime work time comes into view that I really need to get some exercise, I can relax and let my brain run riot.
Where
And despite the trend to work on laptops in cafés, my optimum working space is on a big wooden table with a mass of paper spread out before me where I can feel the shape of my words take form as my pen rasps against the textured tooth of the sheets like a deep throated blues singer – This method for me has soul.
Dancing their way into life words are scratched and scrapped, arrowed and re-inserted with occasional doodles where words won't come and a twiddle expresses the sentiment until a translation into alpha-numerics can be formulated.
Facing Mondayitis
Do you ever find yourself full of grand plans and new resolutions only to have them thwarted at first base as you revert to old established ways that in all honesty you know really don't work for you?
Making you dread that first day back at work?
The beauty of a break away, is not only the beauty you experience from viewing contrasting landscapes a million miles from home, it's the opportunity to objectively observe your working techniques in a fresh new light on your return –
Rather than fall back into old unproductive ways next time you get back to work from that well deserved long weekend, or extended trip, grab the chance to review your working ways and turn your productivity around for the better.
Have you acknowledged you may have a different work pattern to most?
And then gone against the trend to change it?
Do share in the comments below
And throw the discomfort of Mondayitis out the window!
Want a cooee when my next post is published?
Enter your email below and hit Subscribe (and don't forget to click confirm in the confirmation email!) 😉