Yikes! When I heard last week someone say it was October, my heart missed a beat!
Three quarters of the way through the year –
Where has it gone?
What have I done?
Is the year escaping me?
I'm convinced the world is spinning faster as days fly, weeks skip and months on occasions simply disappear!
Four years ago I felt the need for a way to summarise my year.
A single sheet that would encapsulate what I'd been up to over the course of 12 months so at year's end I could see what I'd experienced – I could view my year at a glance.
I pulled out a Journal Map.
Seeing the central map on these A2 sized sheets as a representation of journeys both in general – and more specifically as a portrayal of Life's Journeys.
Above are my past 4 years of Year at a Glance –
As you can see – They're no works of art!
They're merely a pragmatic way to summarize my year on a single sheet!

Using each of the 11 surrounding boxes I record a highlight at the end of each month.
A scribbley, messy, reminder of what the main thing was that happened in the preceding 4 weeks.
Such as kicking off my How to Journal Like a Map-Maker series of blog posts…
Or ~
Heading off to the Gold Coast for the ProBlogger Conference where the lovely Rachel Devine offered new profile photos to 50 attendees.
I have to say – My Year at a Glance is a lifesaver!
As I roll my eyes saying – where did that time go?
I can reflect and recall moments that deserve to be memorable.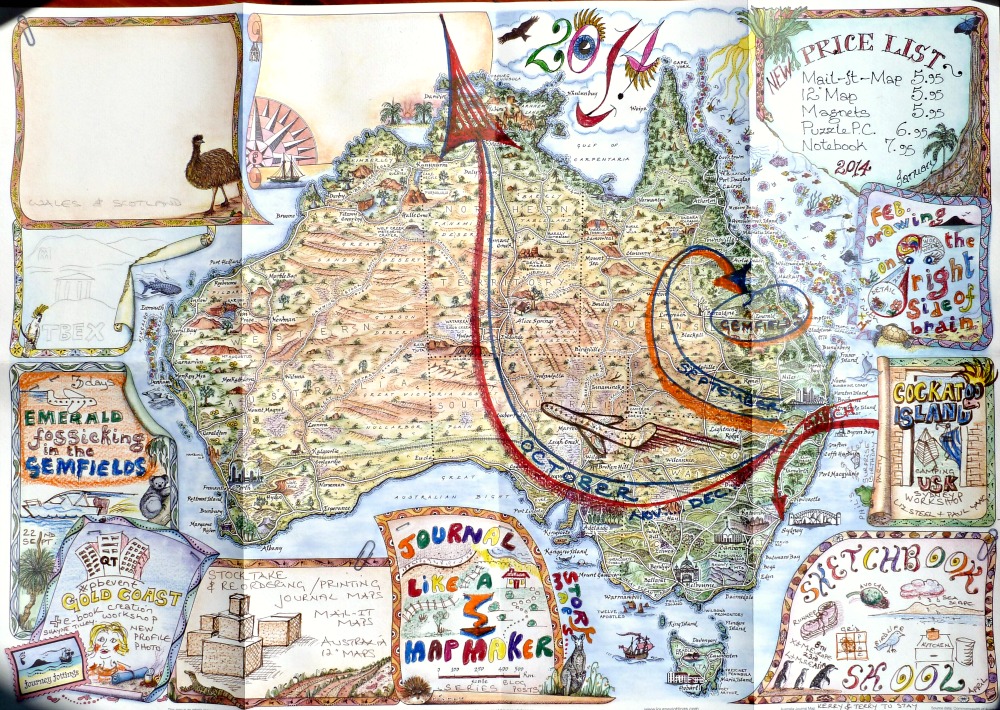 So what has happened to 2014?
Above is my year at a glance so far!
No flicking through pages and pages of diaries, or checking out some (soon to be superseded) on-line app.

And in the coming month… I'm flying to Greece for the travel blogging conference TBEX.
Where have you been and what have you done?
And how do you recall your highlights?
Have you considered creating a Year at a Glance?
Do share in the comments below 🙂