Travel Journals are generally a private affair between their creator and its pages –
It's not often one has the opportunity to take a look inside *someone else's* journal and see how they record their journeys.
I'm so grateful to Mary Morris who's opened some of her watercolour travel journals, created over the years, to let us take a peek and share the special opportunity her journals give her to "be utterly free and creative" when on the road.
This is part of a series of interviews with travellers who offer inspirational ways of recording travel memories. 
Mary…
1. Why keep a travel journal?
I wish I could say it's as simple as I want to record my experiences, but my travel journals are more than that.
While I rarely keep a diary at home, I always have done so on the road.
Indeed I have 62 travel journals thus far.
I suppose it helps me organize my thoughts.
But mainly I think that my journal is a place where I can be utterly free and creative and that pretty much only happens to me on the road.
2. What do you include in your travel journal?
I do record what happens, experiences.
It is also the place for reflections that will often find their way into my blog.
I also use it as a kind of sketchbook for my own creative writing (I write novels and short stories as well as travel narratives).
And I include a lot of visuals – collage, memorabilia, watercolors, almost all boarding passes and museum tickets, etc.
It is what I have done for years.
I recently saw an exhibition of the journals of Leonardo da Vinci and it explained how the journals were the place where da Vinci was able to bring together his writing and his drawing. So obviously this is something that creative people have been doing for a very long time.
3. How do you keep your journal?
I've sort of answered that above but I pretty much put everything in it.
I also draw and paint.  The quality of the paper is very important to me.  My journals used to be lined, but now they are unlined.
I paint watercolors almost exclusively in the journals, rarely on paper.  I honestly can't explain this, but it's almost as if I am able to become a child again when I'm on the road and when I'm writing and drawing in my journal.
One aspect of my journals that seems to interest people a lot when I give talks about my writerly life is that I create a table of contents – a kind of index in the front of every journal.  Because I work on many different creative projects at once, and often will be making notes for half a dozen different projects at a time, on the contents page I put the page numbers where all the notes on a project appear.  For example, I'm working on something that involves tigers so a heading might be: TIGERS, p. 3, 17, 23, 42, etc.  When I get home I stick different colored Post-Its on those pages.  This enables me to find the material I need as I work on different things.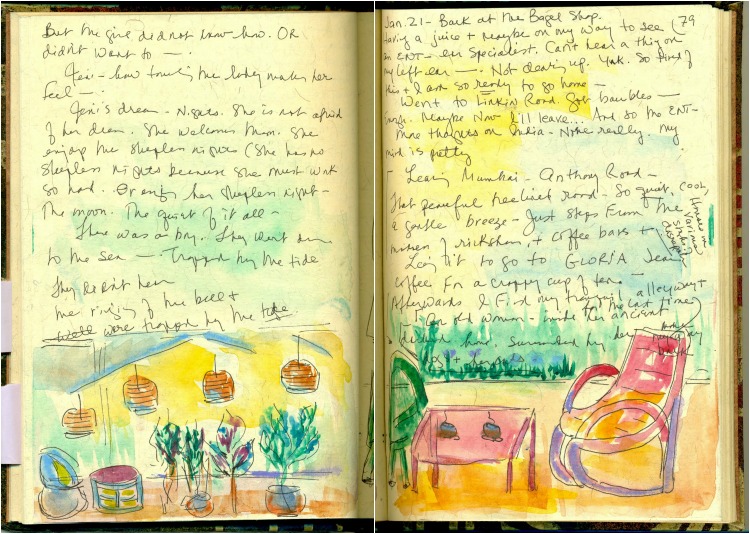 4. How often do you update your travel journal?
On the road daily.  At home rarely.
When traveling, I factor journal time into my days.
Some days, especially if I'm traveling with my daughter, we will sit all day and write and draw in them.  We can do this for hours.
And if I'm on my own I can do it all day
5. What is your favourite piece of travel journaling equipment?
I carry a very small watercolor kit and a small brush. 
Also I travel with a pencil case that includes waterproof pens, pencils, and, most importantly, a fresh glue stick!  Always.
6. Why does this type of travel journaling work for you?
My mind is all over the place all the time.
The journal focuses my thinking and, quite frankly, writing and painting in it is one of my favorite things to do in this life so I guess that in and of itself means it must work for me.
Mary's Journal: "There are no first drafts, no work in progress,
no unfinished work, no finished work.
There is no such thing as a mistake.
It is only one step along in the way of creation.
Art is not perfection. It is not a finished product –
It is ALL in the process." 

Mary Morris is a novelist and travel writer who reflects on landscapes and literature and the role that each has played in her life.
Click here: For a list of Mary's Books
Mary's Blog: The Writer and the Wanderer
Connect with Mary on Twitter: 
Do you keep any form of travel journal?
Contact me if you'd like to share how *you* recount your travel memories –
Allow us to take a peek in *your* 'journal 🙂
OR
Share a few tips in the comments below