Box Forest Track, a 10.6km circuit.
Over the last couple of weeks I've posted photo essays from our visit up to the rainforest of Green Mountain in Lamington National Park, SE Queensland ~
Here are links to:
On the second day of our visit we set out on the 10.6km Box Forest Track.
Editor's note: Which a year later I walked again and wrote:
Where Did You Last Take a Walk on the Biophilia Side?
The scale of the trees, some of which are 1,500 years old, is hard to comprehend.
Until you see the insignificance of a human in their midst,
who is literally dwarfed.
I love being cocooned in the lushness of the rainforest...
It's an experience no armchair traveller will enjoy.
We were thrilled when we heard this sound:
A lyrebird!
The photograph I took didn't show a lot more, so here is a piece of footage from an expert 🙂
Having admired the lyrebird image used on a variety of emblems (such as the NSW National Parks and Wildlife), and expectantly walked the Lyrebird path at Wollumbin numerous times, only to be disappointed by their absence…
It was heart lifting 😀 
But onward down into the valley our first view of Canunga West Creek was this inviting looking pool.
The path meandered up alongside the creek (as can be seen on the right of this photo) and occasionally crossed it – This crossing had the most enormous flat rocks positioned as stepping stones ~
Who? and
How many, had managed to lever these hefty solid lumps so carefully into position?
With what aids?
In such an inaccessible spot?
Continuing up the creek we came to Tollerigumai Boxlog Falls, tightly encompassed by sheer sided walls of rock, hosting green ferns.
While, Elabana Falls was more spread out as it tumbled down two steps.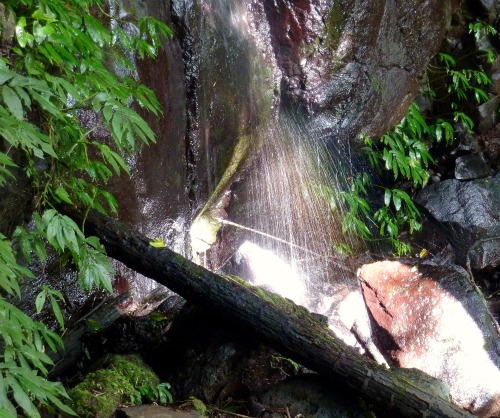 We were fascinated by the evidence of previous human occupation ~ Patches of rock ground away in mortar shapes from grinding seeds down to flour or some other food preparation?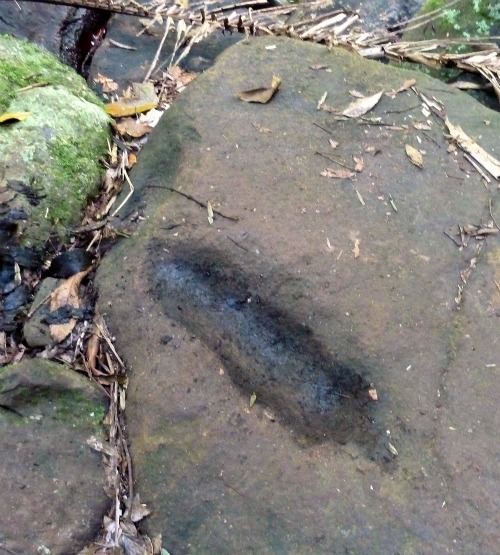 This is the Box Forest circuit we did
I can highly recommend it – It took us about 4.5 hours stopping to take lots of photographs and have a picnic lunch at Elabana Falls on the homeward stretch ~ Food tastes soooo good in the outdoors after a bit of exertion 😉
The only slight heart stopping moment was after leaving Elabana Falls seeing this…
recoil on the side of the very narrow, enclosed track as we passed.
I'm looking forward to returning to try the Toolona Creek and Mount Wanungra 18km circuit ~
Directions:
We started at O'Reilleys, which is about 2 hours south of Brisbane, and an hour and a half inland from Surfers Paradise, Queensland.
From Nerang, on the Pacific Highway you go west for 26km to Canunga, then proceed up a further 36km on a dead end road that climbs up to Green Mountain/O'Reileys, which due to its winding route takes alone, about three quarters of an hour.
Have you walked in the Lamington National Park?
Which tracks have you tried?