The Australian rainforest is an absolute delight.
Last week we took off for a couple of days to go up into the rainforest of the Lamington National Park on the Queensland/NSW border.
We walked the Morans Falls track, just 4.6km on our first day.
The path takes you down through a subtropical rainforest of booyongs and brush box adorned with thick twisted vines and birdsnest ferns ~  As well as strangler figs ~
The one below is in its relatively early stages of sending roots down from the seed that sprouted high in the host tree.
Around your feet you hear scuffling and leaves rustling… Busy scratching and raking the leaf litter for food (and therefore very hard to capture still enough not to be blurred)
are Logrunners foraging for food.
Here's a link to both a male and female logrunner foraging  ~ They never keep still!
From the enclosed confines of the rainforest the vista suddenly opens and there is Morans Falls...
tumbling 80 metres down the cliff face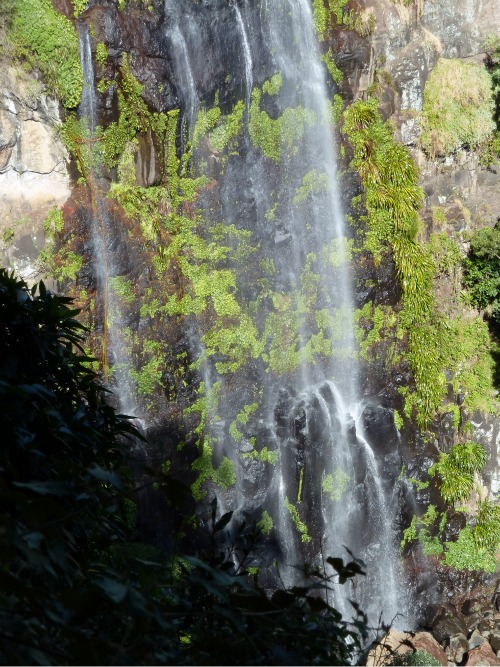 Beyond this viewing spot one can cross the creek just above where it plummets over the edge down into the valley below.
So calm, tranquil and meandering, who would guess that that tunnel of light is a window through which this creek is about to be thrust out into gravity's arms.
Ahead of us on the path was this goanna (or Lace Monitor) ~ I love their spotted and stripped markings.
On the far side of the creek, the view opens up to the sweeping Albert River valley.
West, over to the volcanic plug, that is Mt Lindesay.
 And Mt Barney
I love the layers of blue, fading into the distant horizon.
The start of Moran's Falls Walk is just 800 metres before you reach O'Reilleys , which is 35 km up a winding (precipitous in parts) dead end road that rises from Canungra  ~
Canungra is 26km west of Nerang off the Pacific Highway.
Allow 2hours from Brisbane, 1.5hours from the Gold Coast.
Have you done any walks up in the Lamington National Park?
Would love to hear which in the comments below 🙂
The following day we walked the Box Forest Track, a 10.6km hike, full of more wonderful rainforest and waterfalls.