We celebrate and enjoy
*sporting highlights*
*holiday highlights* but how often do you hear about
 *business highlights*?
Each month I notate a *Journey Jottings highlight*, which I summarize on a single sheet, so at year's end I can view Journey Jottings' year at a glance.
July's *highlight*? The development of a new product line ~ our
Jigsaw Puzzle Postcard Map
There're 8 NEW Jigsaw Puzzle Postcard Map designs: One to cover the whole of Australia, plus 7 more detailed regions in postcard sized chunks.
Australia
Each jigsaw puzzle postcard map comes with a red printed envelope, and a backing sheet to illustrate how you
write on the back of the postcard
take the pieces apart and put them in the envelope
mail it to the recipient
who then has to put it back together to read your message.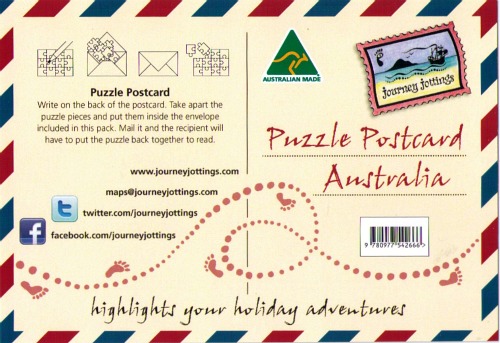 #2 Tropical Queensland and the Great Barrier Reef puzzle postcard map
#3 East Coast of Australia map in a jigsaw puzzle postcard
#4 The South East of Australia map covering Sydney, Melbourne and Adelaide postcard
Then up to
#5 the Centre of Australia for this postcard map
#6 The Top End and the Kimberleys Puzzle Postcard Map
#7 Ningaloo and the Pilbara, Western Australia map
And finally
#8 the South West of Western Australia postcard map
So this month's *business highlight* was
selecting the regions to be covered with this new map line
designing the artwork for the instructions on the backing sheet
preparing the artwork of maps & backing sheet for the press
selecting the red envelope and organizing printing of kangaroo & echidna image
and finally
bringing it all together so its all printed, collated and packaged ready for our retailers…
Its amazing how many little steps it takes to get to some finishing lines… but
Fun times 😀
What have been your recent highlights?