Postcard sized chunks from our signature Australia hand-drawn pictorial Map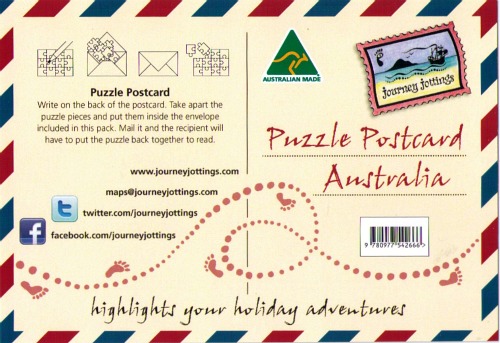 These jigsaws are each made up of 20 pieces, in a postcard size.
Write on the back of the puzzle postcard – Take apart and place the pieces in the included Journey Jottings C6 size envelope. Mail it, and the recipient will have to put the puzzle back together to read your message.
Each puzzle postcard is 160mm x 110mm

View Puzzle Postcard Maps in a larger map
These Puzzle Postcards are being discontinued so we only have a limited supply of the few remaining designs below!
Add to Cart
When finished browsing, click on View Cart to complete transaction
PAYMENTS are via PayPal – However, you do not have to login or be a 'member' of PayPal – simply enter credit card details as a Guest.
GUARANTEE: We can confidently say that everyone who's received our products has been 110% delighted with their package of goodies! However, rest assured that if for any reason what you receive is not what you'd imagined we're here to help and rectify 🙂
Select Your Shipping Area
Tasmania – Puzzle Postcard
This Puzzle Postcard covers the South East of Australia, including Tasmania –
Write your message on the back of the puzzle, take the pieces apart and pop in the envelope to post to the recipient, who must work out how the puzzle goes back together again in order to read what you have said!
Click thumbnails below to view larger images
A$6.95
ref: PPA#10