The Dance of the 7 Travel Links
The travel blogging fraternity is abuzz reminiscing over their mixed bag of gone, but not forgotten, blog posts.
Tripbase has instigated a 7 Links game of tag where once nominated by a fellow travel blogger you delve into your blog archives to select:
– Your most beautiful post
– Your most popular post
– Your most controversial post
– Your most helpful post
– A post whose success surprised you
– A post you feel didn't get the attention it deserved
– The post that you are most proud of
Having been kindly tagged by Jools over at
Trains on the Brain
, here's my blast from the past ~ 7 links that have woven their magic revealing layer by layer the essence of
Journey Jottings
.
My most beautiful post:
What could be more beautiful than walking on the beach, collecting shells and sketching them? *sigh*
My most popular post
Twitter ~ Are you all of a flutter?
Or still sitting on your perch?
 Social Media is so powerful, it would be hard for a post about Twitter not to be popular.
Twitter has been a major influence to me in so many ways ~ and the comments I got at the end of this post reiterated and reflected my positive experience of this medium.
In fact, the blogs I'll be tagging at the end of this post all came from 'meetings' via Twitter 😉
My most controversial post
'Controversial' would be too strong a word, but suggesting blogs in their virtual reality may not be all they're cracked up to be for recording your travel memories for posterity certainly was a thinking point.
My most helpful post
Spending time with travel memories is like taking a mini-break, so this post offered 101 ways to make sure, by hook or by crook you'd be jolted into jotting a few tales on a Map Journal, so when that moment for nostalgia strikes in years to come you're not left saying…
"What was the name of that little place?"
A post whose success surprised me?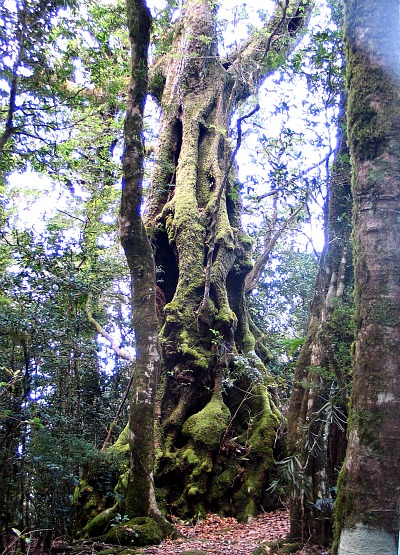 The success of this post about Australia's Antarctic Beech trees virtually pushes it up into the realms of most popular post on my blog as far as the statistics go, but its success does surprise me ~
While I think it totally amazing that we have vegetation that existed when Australia  was a part of Gondwanaland, I didn't actually think other people would 🙂
A post you feel didn't get the attention it deserved

Street Sculptures always deserve more attention ~ So although this post most probably got its fair share, I think it deserves more!
(Disclaimer: If I'm really honest my
Ron Mueck exhibition post should be here –
but I couldn't resist swapping one hand for another 😉 )
 If you didn't get to see Ron Mueck's exhibition when in Brisbane my photo essay of this exhibition is worth a quick squizz ~ Ron Mueck's disconcertingly real sculptures are truly amazing.
The post that you are most proud of:
Its fun when a blog post naturally goes full circle on its own account – as does this one!
The post I'm most proud of is the one I did last year for Tripbase's Best Kept Travel Secrets initiative 😉
My first secret was to NOT lug a generic travel journal away with you, but rather buy a small locally made journal notebook come travel diary that fills quickly, which you then post home in envelope sized chapters adorned with local postage stamps and date marked like a passport to record the time and place ~ You'll really be able to feel and smell the place when you hold this tangible souvenir in years to come – Being able to hold something both 'there' and then 'here' magically bridges the gap across time ~ Its beyond me why everyone doesn't do this!
For my other two travel secrets here's the post link  ~
My three best kept travel secrets
Part of the game is to now tag more bloggers to take over the baton so here's to four bloggers I can wholeheartedly recommend:
Charley of Secret Water who inspires you to get in, on, out and around the water (with or without a boat)
Annabel of Get in the Hot Spot who loves  travel and creative writing
Frank of Our Hiking Blog who covers all things hiking including great food advice for when on the track
Kirsty of TravelTipsPlus who shares inspirational destinations from around the world.
With over 600 blogs in the game its turning into quite a marathon 😉