Australia Photo ~
Buttress roots seen near the base of
Wollumbin (Mt Warning), Northern NSW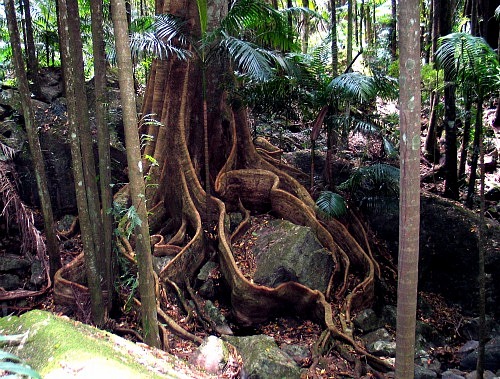 Along the border between Queensland and NSW are some beautiful sections of rainforest.
Lamington  National Park is on the Queensland side, and the Border Ranges is on the NSW side, along with Wollumbin (Mt Warning)
I love rainforest ~ Its not a form of vegetation I associate with Australia ~ but it's ancientness is remarkable. Evidence of  Gondwanaland lies here too in the form of Antarctic Beeches… but they're another story 😉
These wonderful buttress roots
have grown around a rock over aeons of time!
To get a sense of scale see this post when I returned to this spot to show an overseas visitor this area