Grass trees are found in a range of climates across Australia,  from WA to the NT and down to Tasmania.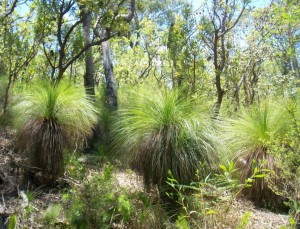 I photographed the group of grass trees above on Stradbroke Island, east of Brisbane, Queensland, but I have equally enjoyed their presence near Perth in WA and in the hinterland to Byron Bay in northern NSW.
The 28 species of  Xanthorrhoea found in Australia grow painfully slow. At only a couple of centimeters a year, it can take 20 years for the trunk to start to appear under the grassy mop, so a a grass tree standing two metres could be 100 years old. Some live for as long as 600 years.
They have in the past been known as Blackboys, which was originally based on the aboriginal name for the tree 'Balga' that means black boy, but was then colloquially applied due to the tree's silhouetted resemblance, when in flower, of an Aboriginal holding a spear. The spear like flower that protrudes out of the top of the grassy sprouting foliage can grow up to four metres tall and can just be seen in my photo above.