Are you reading this in your Inbox?
Or scrolling down your RSS feed?
Well today, I suggest you read it on the Journey Jottings website 😉
WHY?
Because we've got a NEW website full of eye candy.
If you'd dropped by our website this time last week, this is where you'd have landed –
Plumb bang in the middle of the Introduction page – where we left you to flounder around to see how many of you could find your way to the map product you'd come looking for – Surprise, surprise, through no fault of your own, most didn't do too well, to the point you'd have to email us to ask just how could you buy one of our products!
Not what you'd call user friendly.
Drop by today and you're greeted by this navigation panel asking…
Do you need to know more about Journey Jottings, by way of an Introduction?
You simply want to cut to the chase and Buy Now!
Contact us? Here every conceivable contact configuration is a mere click away 🙂
then a roll of the scroll wheel will have you here, in the lower half of the Home page screen.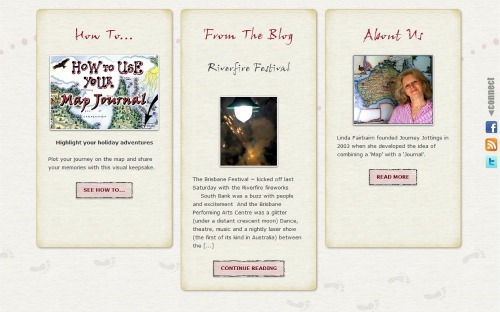 But back to the poor lost souls who we'd now received pleas of help from via email, we'd give another clue pointing to the 'maps' page, where they'd have to scrabble down the mire is search of the Add to Cart button.
Now – If you'd like to see a few more details about one of our map products  we offer a gallery of additional images by clicking on thumbnails – Here's what the Special Edition Australia Map Journal section looks like:
But more importantly, everything is navigable via the drop down menu bar along the top that's accessible from every page whether you're reading a blog post and want a quick click link to another topic we talk about…
 or want to check out another product page –
Last week, this is what you'd have seen if dropping by to read a blog post on our site
This week (if you're not already here) 😉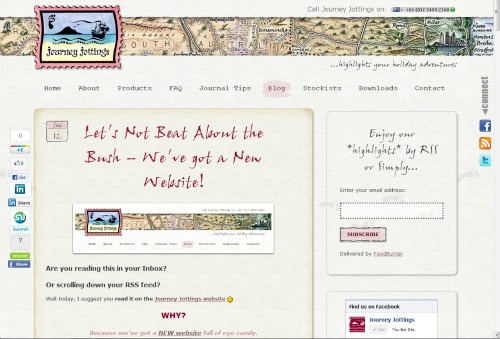 And I possibly shouldn't spoil the surprise, but if you want to leave a comment at the bottom, this is the aerogramme you'll have the fun of posting 🙂
Now, can you resist?
Of course I'd love to take all the credit for this transformation, but I'll fess up and share the glory with Simon who not only designed the quietly sophisticated layout that reflects our brand but also developed all the whizz bang widgets and pretty painterly buttons for us to enjoy pressing.
Scroll on down & post us a comment telling us
what do *you* think of the new design? 🙂