Abel Tasman National Park is named after the Dutch explorer who first sighted the north west coast of the South Island of New Zealand in 1642.
The Maoris who took up occupation about 400 years prior, defended their right fiercely and four of Tasman's men lost their lives attempting to go ashore for water.
The now named Golden Bay (just to the north of Abel Tasman NP) was thus originally named Murderers Bay 🙁
Kayaking the Abel Tasman NP
A.M. Day 1 – Water Taxi to Onetahuti Bay
When we arrived at 8.30am Abel Tasman Kayaks was abuzz with a variety of parties preparing for their individually chosen adventure –
Some were heading out on
fully catered/all camping gear supplied – guided expeditions of various lengths
some were hiring kayaks to be literally plopped in the Bay to get paddling from there –
some were doing a mixture of walking some days and kayaking others
But we selected the 2 day Park Start where a water taxi transports you (and your kayak and camping equipment) up the coast so you can paddle (unaccompanied) just the one way – which more significantly means you have the prevailing NW wind pushing you from behind on the last leg 🙂
The various groups quickly dissipated and we headed off down to the bay for our personal safety briefing and introductory lesson on how to make a mix of paddling moves!
Here's the link if you can't see this 6 sec movie!
https://youtu.be/hQV_w85ocP8
With our kayaks and gear loaded onto the water taxi we whizzed away up past a myriad of beautiful sandy bays perforating the headlands – all waiting to be explored on our homeward journey.
Kayak Abel Tasman NP Map
P.M.Day 1 – Onetahuti Beach to our Overnight Camp
The skipper of the water taxi dropped our kayaks down onto the sand, with our camping equipment, food and water supplies and waved farewell, leaving us to paddle the 20km (or so – what with all the weaving in and out of Bays and skirting rocky islands to spy on fur seals) back to Marahau.
We loaded our gear into the watertight holds, slipped on our kayak 'skirts', adjusted our life jackets and hopped into our new watery home as our toes gave a final push off through the grainy sand –
We glided out onto the glassy blue sea –
We were away… heading for Tonga Island.
Cormorants were preening themselves on the rocks…
While fur seals twirled and twisted in the water – Making them a treat to watch – but tricky to catch on the camera!
After a glorious day of paddling through clear turquoise waters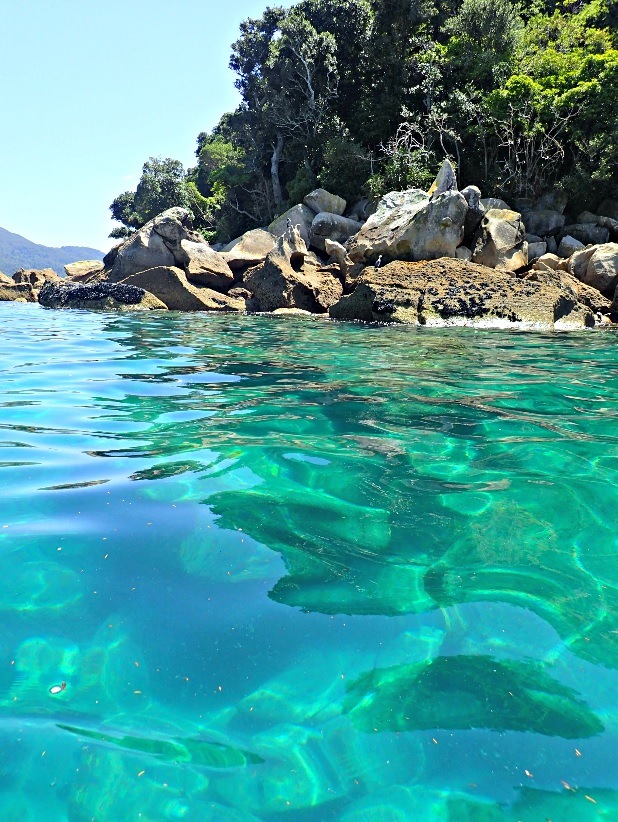 With beautiful birds (and their families) for company…
We made landfall at Mosquito Bay – not the most romantic name – but is a Bay only accessible by sea; hikers and trampers walking the Abel Tasman track cut across Foul Point and this peninsular further inland, meaning it is only kayakers who get the opportunity to camp here.
We set up our tent with this view.
Then lay back on the sand to watch the mesmerising evening entertainment of the tide slowly but surely inching its way towards our feet until the moment came that we could float our kayak up over the inundated long sandy beach (exposed at low tide) rather than have to carry it's dead weight up to above the high water mark for the night!
Sunrise at Mosquito Bay, Abel Tasman NP
I have to concede there are times it's great to have a partner who is an early morning riser!
I was unexpectedly joyful to be disturbed enough to have me staggering out onto the cool damp sand in the dawn light, where with super sleepy eyes I reached the water's edge to find this happening…
If you can't see this glorious sunrise in action – Click here
https://youtu.be/NRjrpJKVgfs
The sun and my body came gently alive in unison – building in strength, vibrancy and vitality…
Until, with the sun shining brightly above the horizon, we meandered back up across the untouched sand to pack up camp.
With still only our footprints making marks below the last high water mark…
… we watched the lapping water engulf and dissolve all traces of them, until once more the water was high enough to make re-launching our kayak a breeze 🙂
Kayak Abel Tasman National Park, NZ
Day 2 Red Sky in the Morning…
With camping gear all safely stowed once more 'below decks' in the spacious holds, we again felt the sand squish between our toes as we pushed off and hopped in to paddle back out to sea crossing Bark Bay and circumnavigating Pinnacle Island.
Where this fur seal was peacefully soaking up the early morning sun
Coming back in off the open sea we explored Sandfly Bay Lagoon (only accessible two hours either side of high tide)
And paddled up the Falls River to the swing bridge that takes hikers/trampers along the Abel Tasman track – with all of our equipment laying in our bow we effortlessly slipped silently beneath.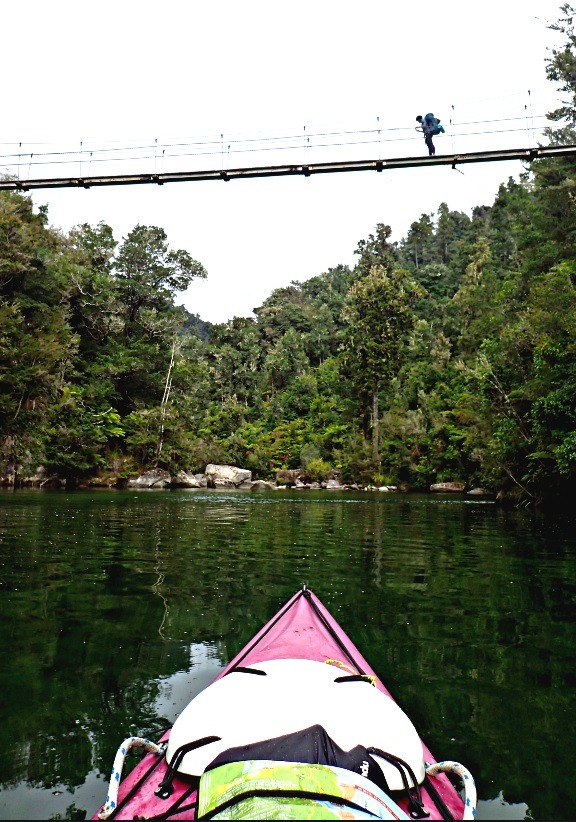 We also ventured into Frenchman's Bay, but as we came back out into the open sea, a squall hit making rounding North Head, crossing Torrent Bay and circumnavigating Pitt Head, a little more interesting!
Can you see the choppy waters above? If not click here:
https://youtu.be/AlvAUu_rh9g
We had a somewhat sodden lunch at the beautiful Te Pukatea Bay!
Then with the wind strongly behind us we got virtually blown down to Adele Island, without having to make a paddle stroke.
Crossing Sandy Bay, which was now low tide again, meant we were greeted by a row of tractors out to recover all the kayaks onto trailers and get paddlers and equipment safely back onto dry land.
Can you see the video of the tractor on the beach?
If not Click here:
https://youtu.be/l-mRDfrpzGw
The Abel Tasman Kayak crew were there – gratefully with a trailer that had space in the back for us too!
Journalling our Kayaking Adventure
It was the most marvellous two days –
We would have loved it to have been longer but there was a 'cyclone' coming in and there were to be no kayaks out on the water at all the next day.
Above is an extract from my concertina paged travel journal that I keep when on the road –
More from where that came from to be posted soon!
Have you been on a Kayak adventure?
And if not, why not?!
The best bit is you don't have to carry all that heavy camping gear –
It glides through the water with you.
Do share and tell in the comments below –
I love hearing from you 😀