"I'm going on an adventure!"
J.R.R. Tolkien
I was standing in the British Library in London looking down into a museum cabinet where beneath a layer of glass, lay an original map of Mordor.
Hand drawn on graph paper by Tolkein's son Christopher in 1948 it was used by his father as an aid to plotting out the third book of Lord of the Rings that was to be published in 1955.
Tolkein's Map of Mordor
And, My Map of Central Australia
And just to the right of it, in the very same cabinet, was my (yes you read that right) my hand drawn map of Central Australia that I'd created for Lonely Planet's 2nd edition of Australia back in the late 70's.
Maps and the 20th Century Exhibtion
It wasn't a total surprise to see it there.
But even if you know something is coming – it can still sweep you off your feet when the moment actual happens ~
And certainly the thought and the sight of my creative energies swirling around in the same cabinet space as Tolkein's – was a little heady!
Tony Wheeler had been in touch with me a few months prior saying he was in London with a portfolio of vintage Lonely Planet maps to share with the British Library curator, Tom Harper for potential selection and inclusion in their upcoming exhibition –
Maps and the 20th Century: Drawing the Line.
The overall theme being that come the 20th century, maps no longer were merely navigational for telling us where we were in the world, but rather they were being used to tell us more about who we were  – by using maps as a tool to influence our thinking via propaganda and marketing persuasion.
Tom wanted to include some travel maps from guide books, which during the 20th century had flourished in popularity, and so illustrate how maps increasingly had more than a single purpose – In the case of guide book maps, how they "were designed to stimulate the imagination of armchair travellers as much as to guide wayfarers." 
Lonely Planet and Lord of the Rings
In November 2016 I got another email from Tony saying:
"I'm briefly in London and have just been to the opening of the British Library's 'Maps and the 20th Century: Drawing the Line' exhibition.
It's open until 1 March 2017.
They said they have 4 million maps in their collection, there were several thousand they considered using in the exhibition and your 'The Centre' map was one of the 200 actually on display.
What is particularly nice is the display case with your map, the Geoff Crowther Central & South America notebook and the 1983 edition of Geoff's South America on a Shoestring, also includes a map of Middle Earth drawn by Tolkien in 1948 and used by him as he plotted the activity as he wrote Lord of the Rings.
So you're in a display case with Tolkien and the British Library also displays Gutenberg's Bible of 1455, an original Magna Carta, the Lindisfarne Gospels, the Codex Sinaiticus, Leonardo da Vinci's notebook, Handel's Messiah – in the composer's hand, Beowulf and handwritten lyrics by the Beatles.
Good company!"
The exhibition –  was on display from November 2016 through to March 2017, so when in the UK visiting family I naturally made a detour to visit London and see the show.
Maps on Display at: Drawing the Line
It was an interesting and enchanting, thought provoking and confronting selection of cartographic works –
While some were beautifully artistic and inspiring, others were heartrending as they conveyed the destruction of war; some were political and clandestine, while others took you on a hop skip and a jump back to childhood with board-games with maps as their central theme, and pages from the UK Automobile Association's personalised map itineraries (which for me brought back many happy memories of map reading in the back of the car as a real live Sat Nav directing my father to turn left and right as we headed off on summer family holidays to the hills of Snowdonia in Wales or the North Western Isles of Scotland); as well as the simply gorgeous end papers from Winnie the Pooh, with the map of 100 Aker Wood.
[If you can't see the video above – click here]
Central Australia -The Middle Earth of Australia!
Central Australia is situated, as its name implies – in the very middle of this island continent – miles from the sea in any direction.
It is a world of wonderfully unique vegetation, animal species and landscapes – not to mention, amazing people!
So as I gazed through the glass into the cabinet looking across from one map to the other – I couldn't help but find myself getting drawn into the notion that in each of their own ways, both were 'Middle Earths' of a kind.
The two maps both represented ancient lands, steeped in complex stories from long, long ago.
But it was fun reconnecting and seeing close up a map I had last seen nearly 40 years earlier when I'd popped this original pen and ink drawing on draughting film into a tube and posted it off to Tony in Melbourne where the artwork would be laid out ready for the press.
And it's also fun knowing how I've carried on being a part of peoples travels and more importantly the preservation of their memories with my signature product – the Map Journal – and particularly relevant to this story – the Central Australia Map Journal ~
But in the end, it's all about…
Going on an adventure
So while this tale started with two hand drawn maps being connected due to their close proximity in a museum glass cabinet (which in turn was due to the commonality of their history – having both been created for a 20th century publication)…
And flowed through whimsical notions as I drew parallels as to how one was indeed a map 'of' Middle Earth itself – while the other had attributes that inferred it was 'a' Middle Earth of sorts…
In the end, it's not merely metaphorical connections that bring these maps of Mordor and Central Australia so close together –
It's more that the two maps have travel at their core.
Both exude the mystery and excitement and fear of stepping out into the unknown, venturing into unfamiliar landscapes where discoveries are to be made and where…
Adventures are to be had 😀
"It's a dangerous business… going out your door. You step onto the road, and if you don't keep your feet, there's no telling where you might be swept off to." 
"Home is behind, the world ahead."
J.R.R. Tolkien
My Map Journals are designed to highlight your adventures by simply dotting your route on the map and jotting your travelling tales in the surrounding illustrated boxes – a visual keepsake that will keep that holiday smile on your face… forever!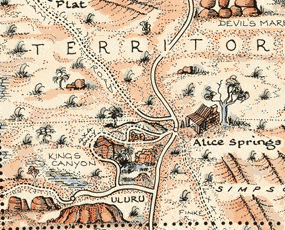 Have you read the Lord of the Rings and/or seen the films?
Or better still… visited The Red Centre –
Australia's Middle Earth!
A real life landscape where stories older than time await discovery.
Do share one of your traveling adventures
in the comments below
Other posts you may also enjoy -