…and my Top 3 Travel Tips
to be sure

you

will remember!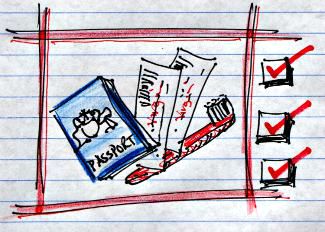 "Passport?" – CHECK

"Tickets?" – CHECK

"Toothbrush?" – CHECK

And you're off
For

months

you've been 

dreaming

 of…
faraway places and luring landscapes
sparkling sunshine and gentle breezes
escaping to a world a million miles away
For

weeks

you've been researching top travel tips and

planning 

on…
where to stay
what to see and do
who to fly with and
how to optimally pack the perfect wardrobe
At last, you're

experiencing

your travelling dream…
viewing magical vistas and iconic features
your senses buzzing with fresh smells, soft sounds and the tantalizing tastes of local cuisines
you feel that long anticipated sensation of being

A

–

L

–

I

–

V

–

E
But…
before you know it, you're back in a taxi pulling up outside your front gate.
In the pouring rain you pile out onto the glistening pavement and haul your bag back up the garden path to the front door where you fumble for familiar keys, and the door slams behind you.
The after-holiday blues starts to seep through you –
Have you even been away?
Have you forgotten something?
I often think how funny it is that we spend so long dreaming, planning and finally experiencing we focus little attention on the longest lasting part of the trip – potentially the rest of your life – on the travel memories.
I'm sure when you return to work on the Monday you'll manage to recount many a funny tale to entertain and share with your colleagues –
But in a couple of years those tales will start to go a little grey and fuzzy around the edges –
And in 5 years? Where was it you went?!
Memories
It is a fact –
Memories fade.
And sadly, if some form of action isn't taken, it is the one thing all travellers will ultimately forget.
But, who wants to give up precious holiday time to do something that has no dopamine hit in sight for another how ever many years?
Let me share a quick story –
Just the other day I purposefully went to my bookshelf when my hand fell upon something quite different and I came away with…
Some doodley scribbles from my time in Canada…
As I pulled out the concertina pages, it was such a blast to be suddenly ziplining my way through the snowy Canadian pine forests and skiing the Whistler-Blackcomb slopes from the top of 7th Heaven ski lift – I have to say playing with a few coloured pencils at odd moments while I was away was really not that much of a hardship, and well – my first dopamine hit had just kicked in!
I think sadly, many people feel the only way to record a trip is writing in a traditional travel journal – where like homework, you shut yourself away each night to get it done –
This is not my way of doing things –
And hopefully after reading this, neither will it be yours.
My Top 3 Travel Tips for Remembering your Trip… Forever
1. Start
As Woody Allen said – "Eighty percent of success is showing up" – so as soon as possible after leaving home – once through airport security is ideal – break the ice and make your first mark.
Do not have any high-falutin aspirations, which could either deter you from showing up at all, or set the bar too high making you feel you can't keep it up.
Buy yourself a drink, and as you relax back in your seat to take in your first taste of holidays, use the bottom of your beverage of choice to make a coffee ring, a wine stain, whatever – to mark the page of your travel notebook.
Hey Presto – Your adventure has begun and your first holiday memory has been recorded.
This may even set the trend – a holiday recounted in a trail of beverage marks taken at the bevy of cafés and bars frequented along the way.
2. Don't only rely on photos…
There is interesting evidence that indicates that blindly snapping away and relying on your camera to record the sights makes you remember less of that scene – Convinced you have safely secured the shot for posterity, your brain fails to be fully present in the moment and you miss out on making that all important emotional connection.
I can vouch for this scenario from my trip to Venice where over every bridge and down every alley there was such a mouth-wateringly beautiful vista I was compelled to try and capture every little bit to take home with me –
The reality being, I now couldn't tell you where any one of those images was actually taken, nor how I truly felt when standing in the scene before it –
However, the little doodle I made shortly after buying a bag of hot chestnuts in the street market (top right image) carries me instantly back to that moment in time and triggers my brain to recreate the entire scene –
But photos are so easy, I hear you say and if not photos, what then?
We all have different ways of taking in our world and expressing it, but it has been proven that text in conjunction with diagrams is the most effective way for conveying information –
Be a rebel and consider throwing your school learnt ways out of the window and have a go at story-mapping.
Anyone – even a 4 year old – can draw a stick-man so using this shorthand notation of pictograms, along with a few written details, plus the odd quirky receipt reflecting the local lingo (as well giving you the name of the café and the date) ~
What better way to get your grey matter sparking and those cherished memories highlighted… forever.
3. Stop – It's all in the detail
Have you ever re-discovered a pressed flower in a book, which the moment it's touched transposes you back in full technicolour glory, to that meadow where it was picked?
There were no words with it, no lengthy descriptions, no photographs – Just a single tactile object re-connecting you to a moment in time otherwise forgotten.
It is not the big picture descriptions that create the best memory joggers, but rather the details you've focussed on within the frame.
On my last holiday to Scotland, I was coming from Australia where most trees are eucalypts, which remain covered in silvery green leaves all year round – I was therefore totally captivated by the variety of woodland trees there.
Rather than record my walks through the woods in general terms I focused on details that caught my eye – Such as the lichen growing on bare wintry branches, the first of the catkins struggling against the cold hoping for spring, and the last remaining rusty red autumn leaves hanging on to sculptural ancient oak trees.
It is from these vignettes that the whole picture comes vividly back to life.
While my first tip stressed the importance to start, my third tip is stressing the importance that you stop (at least once each day) to be truly present in the moment while you soak up and consciously connect to the smallest of details in your foreign surrounds.
Emotional connections are the best of memory joggers.
So on your next trip be sure you are not one of the travellers who will forget:
Start

(80% of success is turning up)

Don't only rely on photos

(try a Story Map)

Stop

(It's all in the detail )
How do you ensure you remember the highlights of your holiday?
Do share in the comments below 🙂