Let's be honest, when setting off to travel Australia, despite our primary desire to see the country, the most sought after sign you have your eyes peeled for when on the road is…
Whether out on the open road, pulling into town, or about to do a National Park hike – the first thing we want to see and visit, wherever we are, is the local convenience!
Fellow ozzie aficionado and on-line friend Marion Halliday – more commonly know as Red Nomad Oz –  has been travelling Australia for years and along the way has not, it appears, just been spying Journey Jottings Journal Maps (which you can see in her guest posts here: My Journey Jottings Aussie Odyssey and also here: Joining the Dots with Journey Jottings) but she's been taking in some of the stunning views at our public Aussie loos as well!
Her ever popular series of blog posts: Scenic Public Toilets has now brilliantly been turned into a book!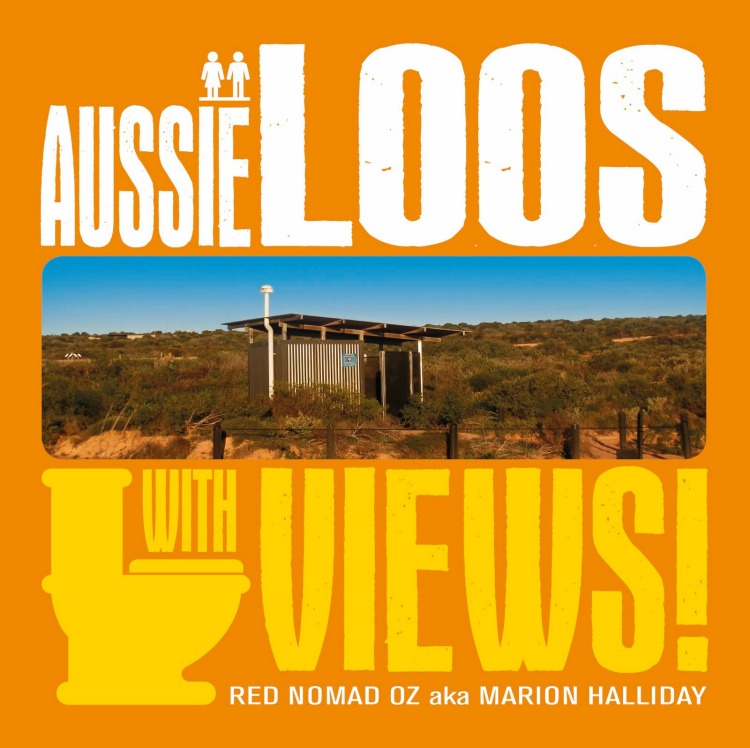 In this cute little book (17cm/6.7 inches square) Red Nomad Oz illustrates over 60 of the best!
My personal favourites?
Kata Tjuta Aussie Outback Dunny
Where Marion's quest began!
If you've been to Kata Tjuta you almost certainly will have used this loo before setting out on the 7.4km (4.5miles) Valley of the Winds Walk
When Marion stepped out, that fateful day, and saw this view she asked herself: Could this be Australia's most scenic loo?
Devils Marbles Aussie Outback Dunny
She hadn't gone far up the road (well 900km/560 miles to be exact) when she was confronted by another contender at the Devils Marbles.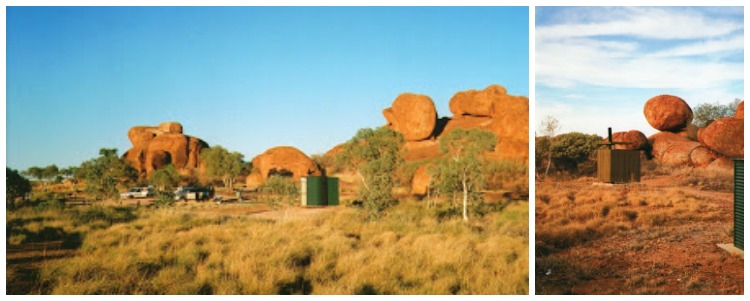 In amongst the wonderful outback landscape were these eco-composting long drops, nestled below what looks like teetering rocky marbles.
Out In the Middle of Nowhere Dunny
If you find yourself "1,300 kilometres from Brisbane, 1,400 kilometres from Adelaide, 1,700 kilometres from Sydney" and you get the call of nature?
Fear not – There's a dunny at hand between Birdsville, Bedourie and Betoota (On the junction of the Birdsville and Diamantina Developmental Roads if you weren't sure exactly where that was!)
Gunnedah – the Lyrical Loo
But for incongruity one can't drive past the aussie outback dunnies in Gunnedah because as Red says:
"Gunnedah's offering can hold its head high in the public toilet pantheon, because it offers a complete poetry-themed amenities experience!"
The toilet block is found at the end of Poets Drive that celebrates the work of 16 Australian writers –
Inside, there are a variety of poet's names painted on each door to lure you into the cubicle of your choice –
Once there, sitting comfortably you can then ponder their work in greater depth as their works are etched on the back of the door for you to read at your leisure…
And if that wasn't enough –
There's "piped Aussie poetry recitations delivered direct to your stall" 😉
Point Quobba – True Blue Aussie Loo with a View
This is my absolute favourite – a true blue long drop thunderbox, if ever I saw one 🙂 It even opens up to views of the ocean.
So, if you can't hang on any longer – here's the link to get your copy of Aussie Loos With Views – for the traveller who thought they had everything!
All photos in this post are copyright Marion Halliday
Have you come across a public loo with a view?
Or a contender for the Poet's Pee-stop at Gunnedah?
Do share your finds in the comments below!
And if you don't want to miss my next blog update, simply enter your email below and I'll give you a cooeee when it's published 😉