A couple of days ago we went kayaking across Moreton Bay near Brisbane, Queensland –
As usual I took my camera.
But we had a variety of nature encounters with fish, sea eagles, stingrays and turtles that were so fleeting (or occurred underwater) it was impossible to photographically capture them –
So I published this blog post –
How Do You Capture Moments Your Camera Misses? 
My solution?
Doodle a few cartoon-like sketches and create a pictorial 'story map'.
Most people say – "Oh, but I can't draw"
Well that's good!
Because story-maps aren't artistic renderings, which is what everyone seems to get so hung up on.
They're a pictorial mind-map where the boxes normally reserved for writing are substituted with diagrammatic symbols to represent events and, more than anything, convey an expression of your experience.
Here's the link to a few examples of story-maps I created when travelling Europe.
How to Create a Story Map
1. Layout with Pencil and go over it with Pen
I start off with a scrap of paper to outline what events I'd like to include.
As I go through the events of the day in my mind and commit each memory to somewhere on the page, the layout unravels itself.

It doesn't have to be sequential – nor realistic or logical – It's recording all the things we experienced and that happened too fast to photograph.
The visual journal I used was quite large: 23cm x 30.5cm (9″x 12″) so I created a border to work within by pencilling a ruler width in from the edge of the paper.
Then, in a simple cartoon-like doodle style I marked in the highlights first in pencil, then in a waterproof Faber Castell Pitt pen – I usually use a Fine tip in the Sepia colour as it seems not quite as harsh as Black.
The important thing with pen work is to make all your lines strong and confident. Its amazing how even where you consider the line you've made appears not 'quite right', if you've applied it with a conviction that it should be there – The wonkiness will be interpreted as being part of your quirky intentional 'style'!
If you dither, and hesitantly apply feeble lines – your lack of confidence is what will shine through and then it really won't look right 🙂
2. Colour in the Penned Outlines with Watercolour Pencils
I used to use plain coloured pencils, but I'm experimenting with watercolour pencils. 
You colour in sections, just like a school colouring exercise – remembering the watercolour technique of leaving some sections blank so the white of the paper gives the impression of reflected light.
3. Paint over the Pencil Colours with Water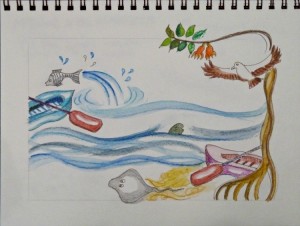 With a paint brush, simply dip into a jar of water and 'paint' over the pencil colours – As you wet the coloured lines they'll merge until they appear as though you've painted them with watercolours – and they'll also become more vibrant.
Watercolour pencils are a great way to quickly and effectively apply colour. Unlike real watercolours, which require practice to learn how to use effectively, watercolour pencils require little skill to attain pleasing results!
4. Add some Text & a Border to complete the story
I wrote the notes with the same Faber Castell Sepia Pitt pen I originally drew the outlines.
But I then felt the main characters of the story were looking a little lost so I went over the lettering of the – fish, sea eagle, turtle and stingray with a thicker calligraphy pen to make them stand out a little more.
I'd started off with a pencil border, so I loosely inked in scrolls around each corner to frame the image (and then erased the pencil line).
You can see how wonky the scroll line in the middle at the bottom went – but I kept going – and so it looks as though… guess what?
It's been done by hand!
This is the charm of story-maps!
As a final touch I added some coloured pencil to the scrolls, which again I blended with a wetted paint brush.
Here is how the story map evolved, shown in 20 seconds…
And if that went too fast, here are the stages again below:
Pencil layout
Commit with confident pen strokes (even if you're not feeling that way)
Colour in with watercolour pencils (leaving highlights blank)
'Paint' with water
Add lettering and a border
Here's the final pictorial story map, with coloured border (when I also decided to colour over the action words too) ~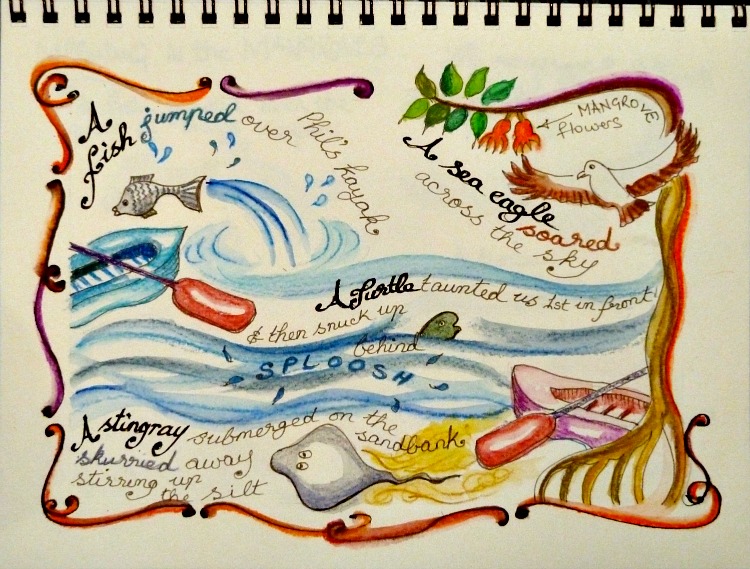 It was a gorgeous day, and I'm happy I don't have to only rely on my camera to remember it 🙂
How do you remember moments that you can't photograph?
Do share in the comments below –
Or if you have any questions I haven't answered above –
Please ask 😀