How to Capture Missed Moments
It was the most perfect of days –
A sky of pale cerulean blue across the horizon rising through wispy white clouds to a deep azure above. And a turquoise sea, which when looking into the sun shimmered and sparkled as though a canopy of diamonds was laid across its gently rippling surface.
With camera at the ready to record these idyllic images we set off in our kayaks with paddles swooshing through the crystal water, propelling us across the mill pond like Bay.
The mangroves that fringed the water's edge on the far side had elaborate water reflections like a David Hockney painting.
It was a picture perfect day peacefully paddling.
But then…
1. A fish jumped out of the water and leapt right across the front of Phil's kayak!
Not a tiddler – But a plate sized trevally!
"Did you see that?!!" he cried out.
I saw the splash!
And I too was amazed it had made its way right across his kayak and hadn't landed in the prow (which was a shame considering its size!)
When…
2. A sea eagle that had been perched in a mangrove tree ahead of us took to the skies and soared high above us –
And then…
3. As the tide started to turn and the water became shallower we spotted sting rays beneath us, semi submerged on the sandy bottom, which as we approached jetted off leaving a cloudy flurry of silt in their wake –
Oh…
4. "Did you see that?"
A turtle head had popped up above the surface of the sea to take a breath. But in the time it takes to say… "Did you see that?' it had gone back to its watery world below the surface.
However, if you're patient, turtles will resurface a few minutes later usually within 50m (or so) from the original sighting spot.
So we sat silently, eyes fixated on the spot…
and me with camera at the ready…
THERE!
And I snapped, knowing no sooner had I said 'There' than it wouldn't be any-more!
And this is the result!
Which looks something akin to a Loch Ness monster photo.
Blurry, distant and totally unrecognisable (unless you know what it is).
So…
How do you capture moments that your camera misses?
I love my camera, and love recording my adventures with beautiful images, but the amazing encounters we had with nature out on the Bay were impossible to capture due to them being either too fleeting a moment, were under water, or were simply too distant to see and so escaped my capturing them. 🙁
If you have a way with words (and can be bothered) you could write about it –
But part of the fun of taking photos is they're shareable with family and friends – you can show them so they too can experience the excitement of the moment.
This is why I love story maps!
With a few doodle like cartoon sketches,
which are quick, easy and fun ~
you can create a 'story-map'.
Capturing the Day with a Story Map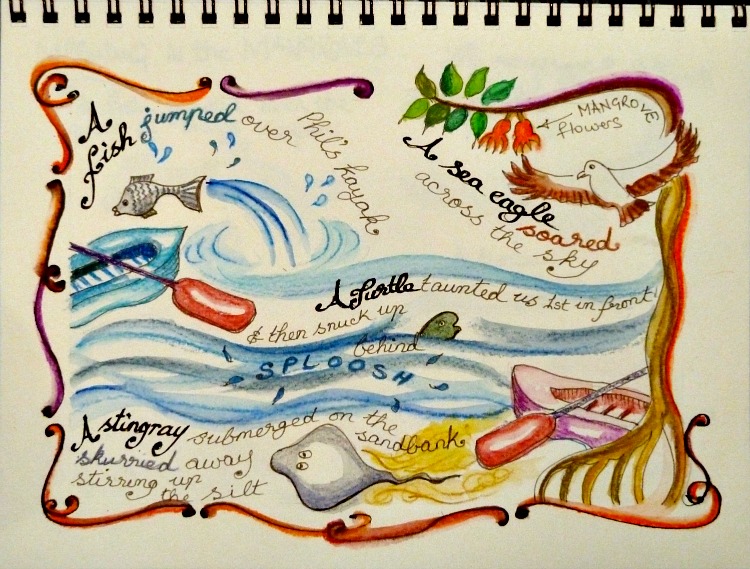 I want to remember that fun day kayaking out across the Bay, and all the wonderful creatures we saw – But I equally know that my memory is fallible!
So once home I doodle sketched the highlights.
If you want to see how to create a Story Map, click the link to read the follow up post to this 🙂
It was a gorgeous day, and I'm happy I don't only rely upon my camera to remember it 🙂
How do you remember moments that you can't photograph?
Do share in the comments below –
And if you'd like more in-depth instruction as to how to create your own story-maps?
Simply subscribe (at the top of the right hand column)
and I'll email you or RSS as new posts are published!