Its my birthday next week, and thinking of anniversaries I realised I'd missed my…
3rd Blogging Birthday!
I considered sweeping it under the carpet.
But as my overriding life philosophy is that its never too late to start anything you think you could have missed the boat for…
Here's a quick reflection of where the blog has come from over the last 3 years and where we're planning on going 😉
1. Where it all began
When I first popped a toe into the blogging arena it was inevitably a tentative, hesitant move. To get the ball rolling during that first year of blogging I guess I kind of cheated! A good chunk of the 150 posts I put up (well, 96 to be exact) were excerpts from an antique travel journal I found at a Collectables fair.
It was the travel diary of a Mr A.S.A. Whelen (whose first name is never revealed) who sailed aboard the iron clipper Hesperides from London to Melbourne in 1878. On the exact day that he'd written his journal entries, but 131 years later, I reproduced his daily tales so over 3 months his voyage across the globe to his new life down under was revealed.
Whilst not my words, it certainly conveyed my sentiments that the joy of a journal transcends time.
When I got to looking back at two years of Blog, Blog, Blogging Away it seems my first preoccupation was that my statistics had improved!
And OK, yes there has been a further improvement on those again this year – But that isn't where my heart is now, as who seriously wants to be a statistic?
This year I've had the enjoyment of your company more with your fabulous comments – which has been wonderful 🙂 Its a thrill to connect!
2. My Uluru posts, were undoubtedly the most popular posts of the year!
I went on a fantabulous road trip during the year (with some very good friends) that took us from Uluru in central Australia to the tropical north of Queensland.
I shared what I discovered along the way in a series of articles… Starting in the red centre:
The Day I First Laid Eyes on Uluru
and
Did you know there are Waterholes at Uluru?
However, I was surprised that my final summary post with the nitty gritty of all the costs involved to drive from Uluru to Cairns didn't muster a murmur from any of you! And… I even added at the very end a summary list of all associated blog posts in the one place for easy reference 😉
3. Rainforest Delights
On shorter expeditions I explored the rainforest hinterland inland from the Gold Coast. The border region between northern NSW and SE Queensland is a rainforest lovers' delight! The Strangler fig trees at Natural Arch (just 1.5 hrs SE of Brisbane) is a great starting point but I can highly recommend venturing further up into the Lamington, Wollumbin and Border Ranges National Parks.
I spent my birthday last year up at O'Reileys, Green Mountain in the Lamington National Park and did several stunning rainforest walks, which resulted in some rainforest rich photo posts:
and
4. On the Journey Jottings News front
It was fun being able to report uses of my maps other than for 'just' highlighting holiday adventures!
As part of a research project one of our Australia pictorial maps was used in a short 10 minute video to illustrate the route scientists took to find geological evidence dating from the Pliocene period, in Part 1 of Sea Change: How High will Waters Rise?
Our Australia Map appears around the 4 minute mark 😀
And the State Library of WA who is using our map as part of their 'Our Page in History' website ~ The background to the story is here: History in the Making.
We were also thrilled to have a two page spread in a German Lifestyle magazine: Spreading Across Australia.
5. Travel Journalling
I'm planning on writing more about basic journalling ideas – I was going to say 'techniques' but that makes it all sound very technical… which it isn't!
I wrote a couple of introductory posts to get this segment off the ground :
Do you Write, Draw or Collect in your Travel Journal
and
Are you an Aural, Visual or Kinaesthetic Person?
I've more recently put up two Happy Hints posts, which I plan on turning into a series.
I started with:
D is for Doodling ~ Happy Hints for Jotting your Journey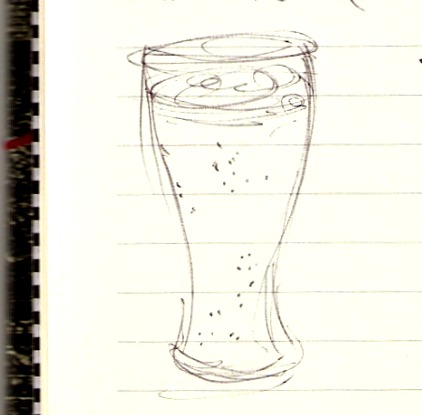 and
S is for Souvenir ~  Happy Hints for Remembering your Journey
While focussing on a letter of the alphabet helps one realise the length and breadth of journalling topics that need to be covered, I have no intention of starting at A and working through to Z.
And just because I've now done posts focussing on 'D' & 'S' doesn't mean to say there won't be more 'D's and 'S's to come when there's still dots and diagrams, date specific diaries and symbols and story-telling and scraps and sightseeing…
Do you have any other suggestions you'd like to add to those?
So how are we doing?
I'd really love to hear what you've enjoyed the most on this blog during the last year 🙂
And if you have some ideas for topics, you'd like to see here…
The comments section is right below!
Come on now… Don't be shy 😉