We're excited to show and share our Special Edition Map Journal as part of an opening spread in a German lifestyle magazine.
At the end of last year I was contacted by the German tour operator Dreamaroo who were submitting a seven page article to Linea Futura Magazine.
Frances, Dreamaroo's Munich based Business Development Manager, wanted to use our Journey Jottings Special Edition Map Journal as part of the title page…
and this is the result on the opening two page spread!
Linea Futura is a German lifestyle magazine. Copies are sold and distributed to approximately 24,000 people including Sunseeker Yachts clients, first and business class airport lounges as well as selected businesses across Germany.
In her article Frances shared some of her favourite haunts across Australia.
Starting in Western Australia these included cafes in Perth, the limestone caves and wineries of Margaret River (in the south west) and the wonderful Valley of the Giants where a 600 metre boardwalk takes you through the 400 year old tree tops.
Frances then highlighted Karijini National Park (a personal favourite of mine!)
Karijini is situated in the Pilbara region in the north-west of Western Australia. The 2.7 billion year old red rugged gorges can be explored from top to bottom 100 metres below where pools of water at the base of these chasms see little of the sun's intense rays making the water icy cold and a dip super refreshing 😉
After Broome, she highlighted an amazing walking trail on the Dampier peninsula –
…the Lurujarri Trail.
I'd never heard of this! Have you?
The Lurujarri Heritage Trail is an 80km trail that traverses salt-water coastal terrain on the Dampier Peninsula north of Broome (2250km north of Perth) in the West Australia Kimberley region.
The Lurujarri Heritage Trail was initiated in 1987 by Paddy Roe (1913 – 2001) a Njikina man who was keen to encourage members of his Goolarabooloo community to walk the Country again, as had been done for aeons by previous generations.
Here is a fascinating ABC interview with Paddy Roe (OAM, Order of Australia Medal recepient) that was re-broadcast on his death in 2001, and well worth a listen.
Paddy Roe wanted all people whether Aboriginal or non-Aboriginal people to develop a relationship with the land. In a bid to "foster trust, friendship and empathy between the indigenous community and the wider Australian and International communities" he instigated an annual walk where visitors of all nationalities are taken as a group along the Lurujarri Trail lead by members of the Goolarabooloo people.
This 9 day escorted walk, following traditional songlines, occurs only once a year – this year from Saturday 30th June to Sunday 8th July 2012 – where knowledge across cultures is shared. Spearing fish, hunting crabs, collecting honey and searching for witchetty grubs which live in the roots of the acacia bushes and camping under the stars – Responding to the weather, if it's hot the group walks at night and rests during the heat of the day, but no matter what, stories and songs are shared around the camp fire as spoils from the day's hunting are cooked.
Another highlight for her, was sailing the 74 Whitsundays Islands off the east coast of tropical Queensland, and swimming with Minke Whales on the Great Barrier Reef.
The article ended with a highlight yet to come…
The 2012 eclipse of the sun that can be seen in Port Douglas in November.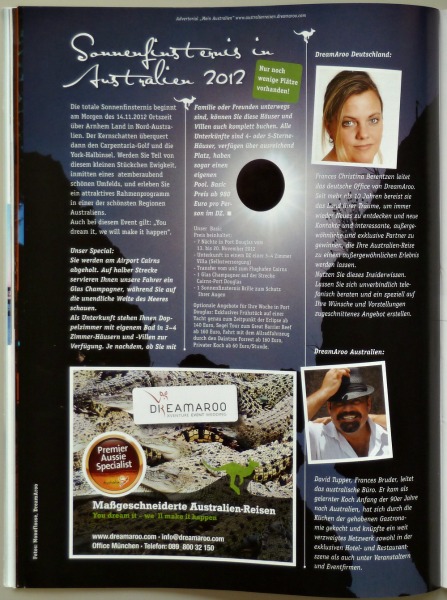 Are you going to be there to see it?
It's fun to see our products spread across a German magazine, but even more fun watching our retailer base spread across Australia!
Above are the Journey Jottings retailers that stock our products in WA, SA & NT…
Check out this Journey Jottings Stockists link to see where we also supply in Qld, NSW, Vic & Tas 😉