Millstream Falls is reputedly the widest single drop waterfall in Australia.
It is situated less than 5km from Ravenshoe (Queensland's highest town) on the Atherton Tablelands in Australia's tropical north, or… as the sign below points out:
718km as the crow flies from Mt Isa
1,376km from Alice Springs in the red centre
1,704km from Coober Pedy in South Australia, or
1,780km from Darwin in the Northern Territory 😉
The Millstream Valley was created more than 3 million years ago when the 300 million year old rhyolites & granites were eroded forming an ancient landscape of rugged hills and deep valleys.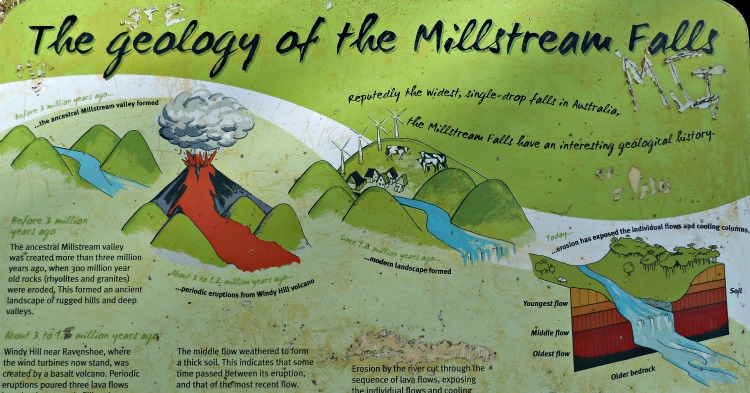 Between 3 and 1.2 million years ago Windy Hill, near Ravenshoe (where the wind turbines now stand) was created by a basalt volcano, (as seen in the diagram above) and it is this weathered black basalt rock that has created the rich agricultural soils of the Ravenshoe area.
Periodic volcanic eruptions poured 3 lava flows into the rivers partly filling Millstream and other ancient valleys.
The oldest of these flows forms the base of the falls today and the youngest flows (1.24 million years old) form the upper slopes of the valley (where the car park is now situated).
 As each lava flow cooled, the contractions formed vertical cracks and produced columns, which are visible in the cliffs and rock surfaces above the falls.
Erosion by the river then cut through the lava flow layers and cooling columns creating this sharp drop over which the water today cascades.
As the area is in the rain shadow of the eastern dividing ranges, the woodland here is dry and open and so dominated by eucalypts. A contrast to the rainforest that can be seen only kilometres away.
The walk down from the carpark at the top of the valley edge (where there is a picnic area and compost toilet) is via a paved narrow track that steadily descends through this open forest past beautiful eucalypt trees, some of which have glorious tactile trunks shedding their bark.
While the walk down is the easy part –
The climb back up afterwards is worth the effort!
I hadn't heard a lot about these falls – And unless you're familiar with their name it would be easy to drive right past the brown national park sign that simply points to Millstream Falls off the Kennedy Highway – So if you're driving that way, keep your eyes peeled!
Have you already been there?
Or what is the largest or widest or highest waterfall you've seen?