At the end of each month I notate a *highlight* so at year's end I can see the previous twelve months simply summarized on a single sheet.
As December draws to a close I've just realised I haven't posted October or November's highlight here on the blog. But with the period between Christmas and the New Year often a time for reflection its a perfect opportunity to share…
October 2011 ~
We added a ninth image to the Australia Puzzle Postcard range ~
 #09 The Nullarbor and South Australia…
November 2011… I took off on a Red Centre Road Trip…
to spend some time Journey Jotting 😉
Flying into Yulara… 1st stop Uluru…
Regulars here will have read a few posts on this already, along with some of my favourite photos, such as:
Here's the 3,000 km (2,000 mile) trip we did dotted on a map…
We flew into Yulara and after a few days visiting Uluru and Kata Tjuta we headed into Alice Springs, picking up a camperbus.
We initially headed west along the MacDonnell Ranges stopping off to see Standley Chasm, the Ochre Pits and take a swim at Orminston Gorge before an overnight stay at Glen Helen Gorge. We travelled north to the Devils Marbles, turned right at 3 Ways and headed over the Barkly and Atherton Tablelands to Cairns –
It was such a fun photogenic trip I can't wait to share blog posts in the coming months on:-
…the sheer sided walls of
…a bend in the river where aboriginals sourced their ochre for art creation –
…a perfect spot for a swim, the beautiful
…and…
Stay tuned! It was quite a trip 😀
When I got back to Journey Jottings' base, our Customer Service Manager Phil was off on a European Escapade…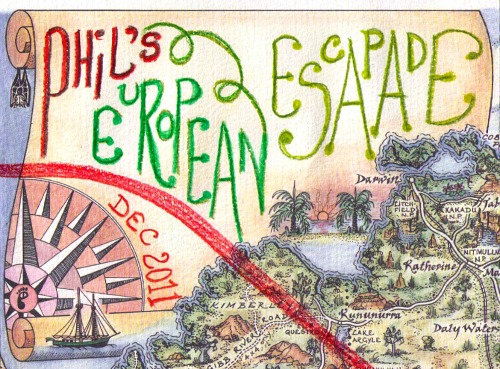 So I had the fun of chatting to some of our great retailers across Australia ensuring they had good stocks in the run up to Christmas and the summer season.
Next week, I'll reveal the whole Map Journal showing,
simply summarized on a single sheet…
our 2011 Year at a Glance
What have been your *highlights* in these last few months of 2011?
Do share in the comments below 😀