Kuniya Walk to Mutitjulu Waterhole, Uluru
Privy to a glorious sunset over 'the' Rock on the first day I set eyes on Uluru, we were up early the next morning to see the sunrise from the other side.
We left our beds with the stars still twinkling in the black sky overhead and joining a weaving convey of vehicle headlights we snaked our way across the landscape on our pilgrimage to Talinguru Nyakunytjaku, where viewing platforms and paths meander through bush food laden scrub.
The night sky faded as the eastern horizon turned orange with the rising of the Day Star.
There's a precious dawn moment of twilight tranquillity
…filled with anticipation of what the day may bring.
And with the Olgas taunting us with tantalising glimpses on the horizon…
my expectations welled as the Rock radiated red.
But as the sun gains it strength rising higher in the sky the richness of the full colour spectrum seems to subside…
  and the light becomes brasher as the sun's heat harshly pulsates,
even at this early hour.
But my attention is drawn to the dark shadow, close to the western end of Uluru, where Mutitjulu Waterhole purportedly lies.
It seems laughable…
a waterhole – an oasis – in this arid outback?
From a distance, the landscape appears to be vegetated by miles of low lying scrub, but closer in to the base of the Rock are River Red Gums.
The Kuniya Path is well worn by visitors, but there's a strong sense of intimacy ~
A feeling one is exploring hitherto undiscovered delights amongst the Rock's soft folds and crevices.
So when the path opens up to us and a pool of liquid gold reveals itself…
…it feels like Paradise.
Kapi Mutitjulu
"After Minyma Kuniya defeated Wati Liru, her spirit combined with her nephew's and together became Wanampi (water snake). Wanampi lives here today and has the power to control the source of this precious water"
Upon leaving this haven, we pass a cave like overhang…
And on the ceiling are markings by the traditional owners – Anangu (prounounced: arn-ung-oo).
Tjukurpa (pronounced: chook-orr-pa) is the foundation of Anangu culture, having many deep and complex meanings. The knowledge never changes – It refers to the past, when ancestral beings created the world, through to the present, caring for the land that supports humanity.
Even with a person in this photograph, the scale and magnificence of Uluru is incomprehensible in 2-D.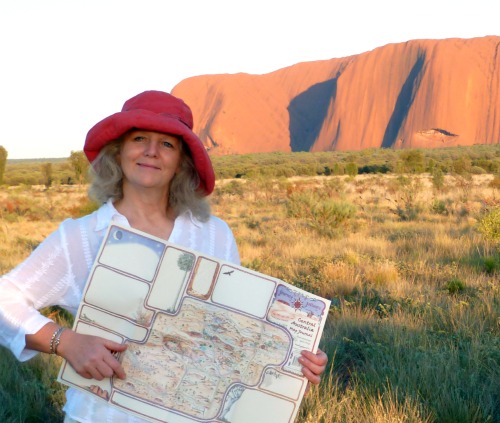 So I need to finish this post with a photo of me in front of that magical Uluru spot!
Even pinching myself its hard to believe…
Yes, I was HERE 🙂
 Have you been to Mutitjulu Waterhole?
We then went to Kata Tjuta…