Our Journey Jottings Australia road trip is coming to an end.
We've travelled from the rugged red rock of Uluru in central Australia
and crossed half the continent to the
             lush green rainforest and reef of tropical north Queensland.
This wonderful image by Lin Onus perfectly reflects our trip – A magical tour of unknowns and unexpected delights around every mysterious corner 😉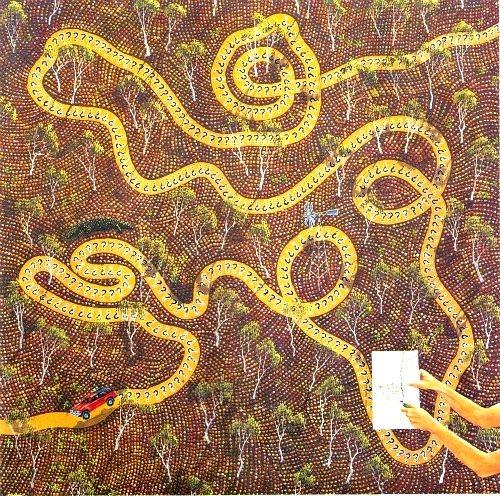 Lin Onus (1948 – 1996) was a self-taught artist who combined a western art style with imagery from traditional Aboriginal sources.
He was the only child of a Scottish mother and Aboriginal father (Yorta Yorta people, Victoria) who began painting at the age of 26, in 1974.
The painting illustrated (183cm x 183cm) was painted in 1989 after he'd spent some time at Maningrida in the Northern Territory of Australia.
I love the way it combines a portrayal of the Arnhem Land landscape and an essence of local painting techniques.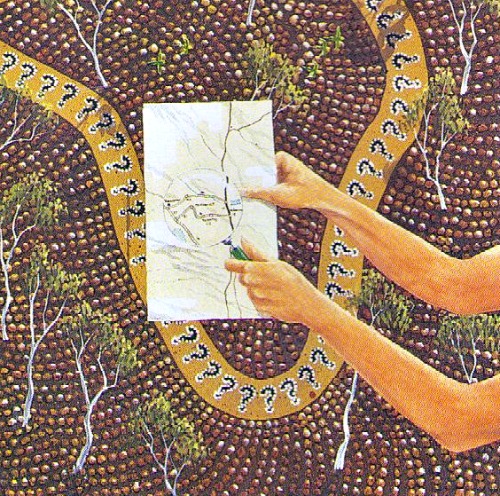 I also love the parallel landscape representations by two different cultures.
I have lots of photos and travel journal entries to be shared over the coming weeks about where we went, and what we can recommend regarding places to see when travelling Australia –
 Come along for the ride
and share your experiences as we go 🙂