In the sand dunes that back the beach, it amazes me that anything can grow ~
This is an Island Beach
No nutrients in the soil, and such good drainage no water will hold between the fine white grains of sand –
Yet, these coastal plants defy the possibility producing luscious yellow blooms.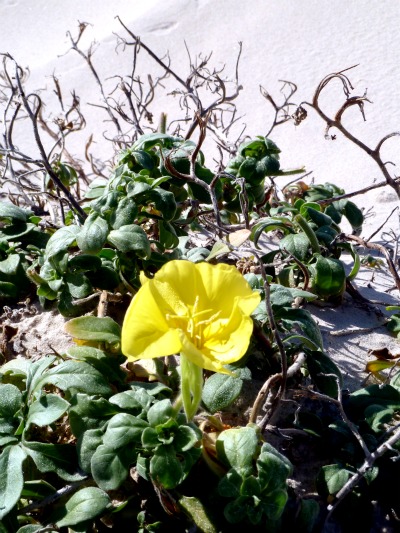 Keeping close to the ground, hugging the sparkling shard minutia, these beach flowers duck the salty sea winds.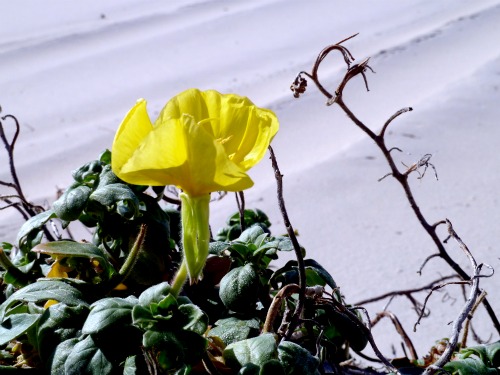 Just their pollen rich blooms stand proud to catch the attention of passing pollinators 😉
Flowers & Footprints on an Island Beach
Between the plants, signs of animal life leave their marks forming beautiful artworks with their foot prints – bird life looking for breakfast…
And lizards trying to avoid becoming that breakfast!
But not everyone is in hiding ~
Who goes there?
Who's asking?
Not sure who is taken more by surprise ~ The wallabies or us!
Wind & Waves on the Water's Edge
Then, finally, through the bushy scrub between the trees the first glimpse of the sea across the sand.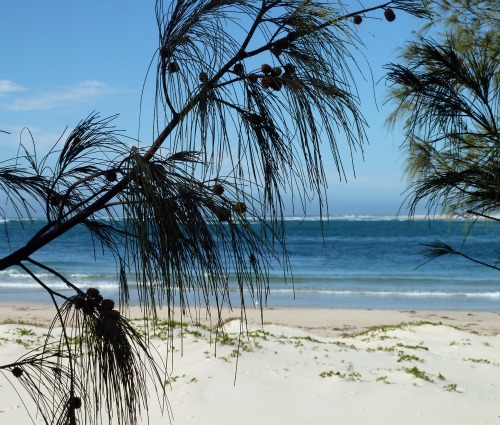 There is possibly no more beautiful a sight than that first view through the silhouetted frondy she oaks that back this island beach.
Once out onto the beach ~ I spot a patch of shade from where I can take refuge from the beating sun and lie back to look out across the sea to the infinite horizon…
And gaze in wonder at the waves and the scale of the Pacific Ocean ~
Knowing that nothing lies between me and South America.
Have you visited Stradbroke Island Beach on the east coast of Australia?
And how did you remember your visit?
Here's a fun tin Map Magnet that I drew that covers the coast from Byron Bay up to Fraser Island –
Click here to buy one for just Aus$5.95
Where is your favourite island beach?