Do you notice street sculptures when in an urban landscape?
I love them!
If I'm in the city, it usually means I'm on a quest –
My head-space is pre-occupied as I focus on:
where I've got to get to
when I've got to be there by, and
what I've got to do once there…
…busy, busy… oblivious to my physical surrounds… until I come across something like this…
Something unexpected to stop me in my tracks and take stock of the moment.
Here I am in Brisbane, Queensland about to attend a business meeting and just down from Customs House in Eagle Street lying relaxed on the pavement is this hand.  I halt my scurrying and look up to see this other hand pointing skyward – what better way to be brought back down to earth.
'Chat' by Sebastian Di Mauro
Coming across random works of art, that have nothing to do with where my brain is at at that moment in time is well… uplifting 🙂
Onward after the first meeting of the day, I head on down Eagle Street and into Mary Street where, on the corner of Felix Street I'm greeted by the street sculpture Felix by Terry Summers –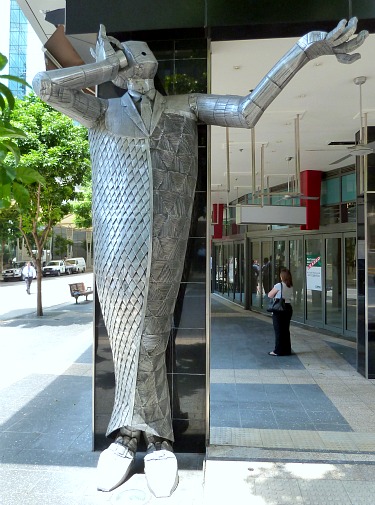 You can either say 'Hi' personally…
…or maybe give him a call on his mobile? 😉
Going on up Queen Street Mall, Brisbane a feather sculpture is seemingly floating down to earth… It makes me think of Forrest Gump and his Mamma's infamous statement…
"Life's a box of chocolates, Forrest. You never know what you're gonna get."
At the top of the Mall, in front of the Casino are 15 Spheres of Steam, a street sculpture by Donna Marcus, which are made from 7,000 steamers!
At night they are lit up.
And who said you don't see kangaroos hopping down the High Street in Australia?
This kanga was made by Christopher Trotter
Have you seen any street sculptures (public artworks) that have made you look twice?
Stopped you for a moment from going about your daily business?
Or maybe simply smile?
Where?
Editor's Note: I spotted some hidden street sculptures in Brisbane last time I was there – a few gems if you take the time to look up a few lamp posts!
Post Script: In response to this post my Facebook friends submitted sculptures they'd  come across from around the world ~
Click here to see what they've seen & where 🙂