No generic journals, please!
I never take a generic journal away with me when I go travelling , bought prior to the trip. 
One of my 'travel secrets' is to buy a small (my preference is an A6 sized) jotter/notebook in each country/region I visit so associations of the travel journal are connected to the place – It also means I get to have my first interaction with the locals as I make it's purchase.
On the first day of my recent trip to Scotland I sought out a local supplier of stationery ~ in this instance the local newsagent ~ and purchased an A6 x 80 page notebook with the blue and white cross of St Andrew Scottish flag on the front, and the yellow and red Royal flag of Scotland on the back.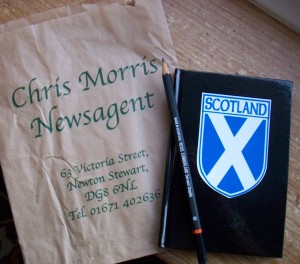 Not keen on feeling I have to make time, for what otherwise requires an obligatory evening journal writing session, my favourite way of recording my travels is to stop and take stock at pertinent moments in the day and simply jot a few words of response to:
what I can see
what I can hear
what I can feel
what I can smell and
what in the atmosphere I can taste, that will serve as memory joggers years later when the moment for nostalgia strikes.
I find this technique cuts to the chase and omits obvious mundane words such as 'I went for a walk…' 🙁
I also like to bring encounters with people I meet along the way more alive by incorporating their notations in my jotter too!
When in Cairnsmore Nature Reserve I was having trouble finding the location of a sculpture located on the top of a mountainous cliff – I met a girl who sketched this mudmap for me to follow, which being in a rugged moorland area with blanket bog of varying depths of peat, I was most grateful for ~ It's also a great reminder of my conversation with her 🙂
Once filled, or as the trip draws to a close, I make a visit to the Post Office and select as many pretty stamps as possible and post it home ~
Its such fun opening the mail box and finding a package from a far flung place…
Adorned with local stamps and precious overseas postmarks that fix the trip in time
These stamps illustrate the monarchy of Scotland – On the right is Mary, Queen of Scots 1542 – 1567 and to her left is James Vl, King of Scots 1567 – 1625 (becoming James l King of England and Ireland 1603 to 1625) ~ The stamps on the left portray the Thistle, Scotland's floral emblem and the lion rampant of the Royal Standard of Scotland
Its great, a week after returning home to receive my holiday memories encapsulated in a jotter; walleted in an envelope that is adorned with stamps from the country/region I have not long before visited and date stamped for future musings…
revealing another chapter of my travelling life 🙂