The sun was just rising over the horizon as I flipped the switch for the kettle.
Unzipping a backpack, I put in a couple of mangoes, some strawberries and two apricot danishes along with a drink of apple and forest fruits.
Downing cups of tea, we slipped on lifejackets, hats, and with sunnies atop, headed out the door to grab our paddles from under the house.
We were going kayaking in the mangroves.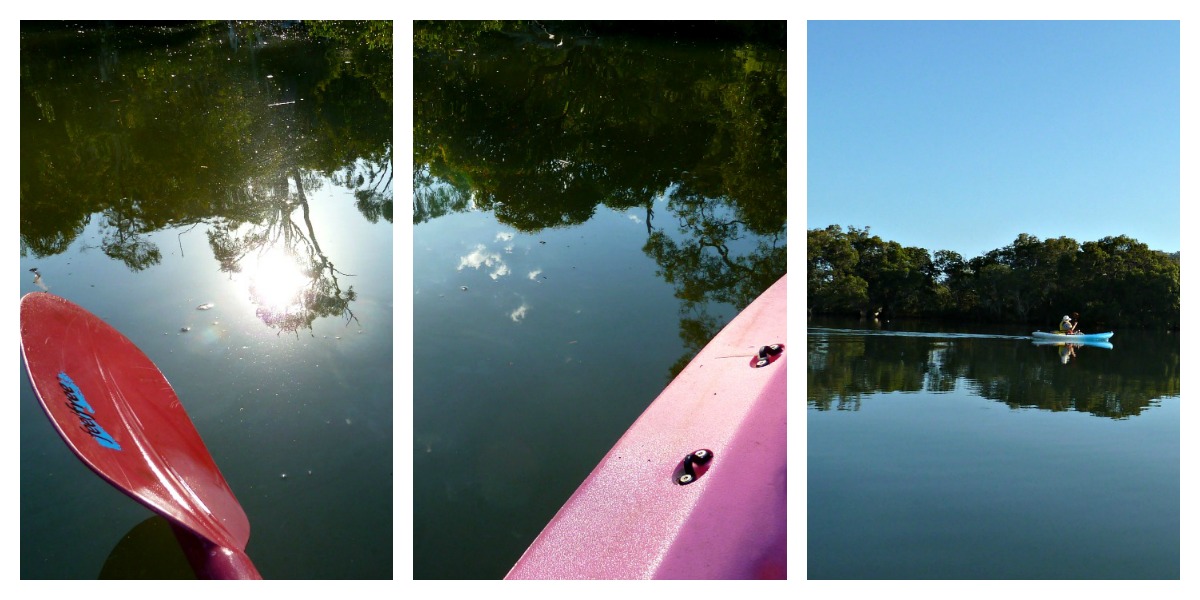 The water across the Bay off Brisbane was like a mill pond.
The air was still.
Just the sound of crabs clicking in the mangrove mud as we untied the mooring ropes to our kayaks and pushed off.
Sloosh… slosh… sloosh… slosh the paddles cyclically flowed through the glassy water down along one side, flicking droplets off as it circled up, then around and down flowing through the water along the other side – gently propelling the bow of our kayaks through the incoming tidal flow.
Most people think of heading to expansive white sandy beaches for their Australia holiday getaway…
But there's a tranquility to immersing yourself in the magical mangrove wonderland that covers 18% of Australia's coastline.
Mangroves are full of arboreal sculptural delights, which many birds and of course sea-life calls home.
Meandering through the waterways around Morteon Bay there is no greater thrill than seeing wildlife in its native habitat.
It still takes my breath away every-time I see a turtle!
And on this early morning expedition we saw not only one single turtle's head surface to take in a breath of air, we saw turtle after turtle both coming up for air and on occasions taking off through the water beside us.
All but one of the seven turtle species in the world are to be found in Moreton Bay. Five of which are year round residents – You can therefore (fleetingly) see:
green turtles
loggerhead turtles
Pacific ridley turtles
flatback turtles and
hawksbill turtles.
Moreton Bay's green seagrass meadows (which is clearly noticed at low tide) are one of the best feeding grounds on Australia's east coast – hence the high density of turtles – and dugongs.
It's fascinating to also know that all turtles you see in Moreton Bay are at least juveniles or older.
For years it was a mystery as to where they went between scampering down the beach to the ocean after hatching at Mon Repos up near Bundaberg and reappearing in the Bay about 15 years later.
After extensive monitoring it's been determined turtles go for a 20,000 km migratory swim around the Pacific – Riding the East Australian Current down the coast, across past New Zealand to South America, where they traverse up the coast to return on the South Equatorial Current back across the Pacific Ocean  -
Female turtles don't venture on land to lay eggs until they are between 30 and 50 years old – and then only between every 2 and 8 years.
However, for us land lovers, after a few hours paddling the waters we were happy to spot this sandy break upon which to pull up our kayaks and get ashore…
…to have a spot of breakfast!
Its an amazing feeling in this overpopulated world to be able to pull up on not only an unoccupied beach at the peak of the holidays, but one that is only accessible from the water
Moreton Bay and the Marine Park is just 50 minutes from Brisbane city.
Ferries operate:
Cleveland to Stradbroke Island,
Victoria Point to Coochiemudlo Island
Weinham Creek at Redland Bay to the South Morton Bay Islands of Macleay, Kurragurra, Lamb and Russell Islands.
Kayak Hire is available on Coochiemudlo and Macleay Island, where ideally its best timed to go out a few hours before high tide (due to extreme tidal variations).
Sea Kayaking tours operate on Stradbroke Island.
Have you been kayaking?
Where did you go?
And how did you feel?
Other posts you may also enjoy -