It started like any other Monday at our Journey Jottings island office. 

Phil, our Customer Service Manager, was making telephone calls to some of our 500 or so retailers across Australia to see how our Journey Jottings products were going. Updating records in the database, creating invoices and putting them out ready for packing and despatch via Australia Post.
I was responding to emails about our Newsletter that was published over the weekend, and was about to go to the warehouse to check on stock levels of our magnets and puzzle postcards that were due to be re-ordered.
But… it was Phil's birthday!
 So… instead of leaving him to dream about where he'd rather be spending his birthday… as soon as the essentials were attended to it was…
Carpe Diem…
(seize the day)
We launched the tinny and headed across the bay 😉
The beach is my haven between two worlds, and happily was deserted…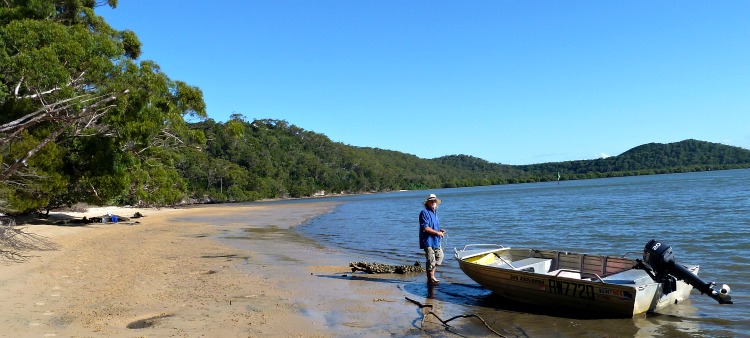 …except for the army of soldier crabs that greeted us along the shoreline.
Scurrying away from our advances along the water's edge…
As soon as we got too close and they were threatened by our invasion
They dug a hole in the sand, where they retreated underground to safety…
Until the danger of our marauding assault passed, and once again they'd re-emerge to continue their march.
The beach was just how I like it…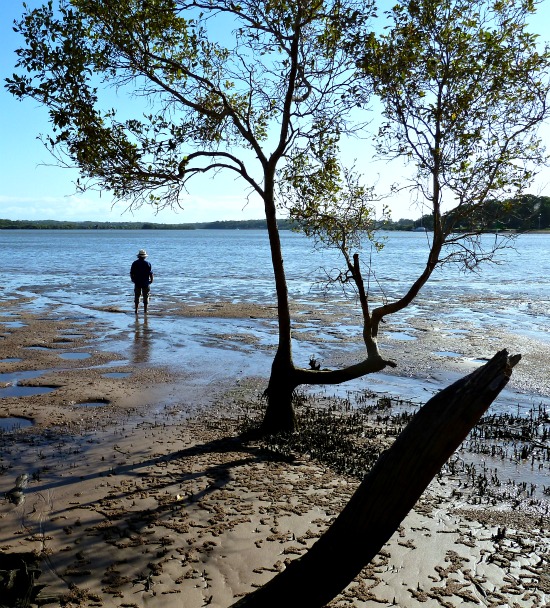 …empty
Except for the whistling kites circling overhead, a pair of turquoise kingfishers who shyly dashed out from the safety of the bushland that backed the beach to scoop up morsels
   …and a Kookaburra
Who I think was hoping to share the birthday tea.
Moreton Bay is a Marine Park just an hour from Brisbane's CBD. There are numerous islands in the Bay, most surrounded by life-giving magical mangroves and wetlands, whilst the sea-grass meadows that grow on the Bay's seabed are a haven for dugongs and turtles (one of which kept popping his head up for air just a short way from where we were sitting).
With the tide going out, it was time to re-launch the boat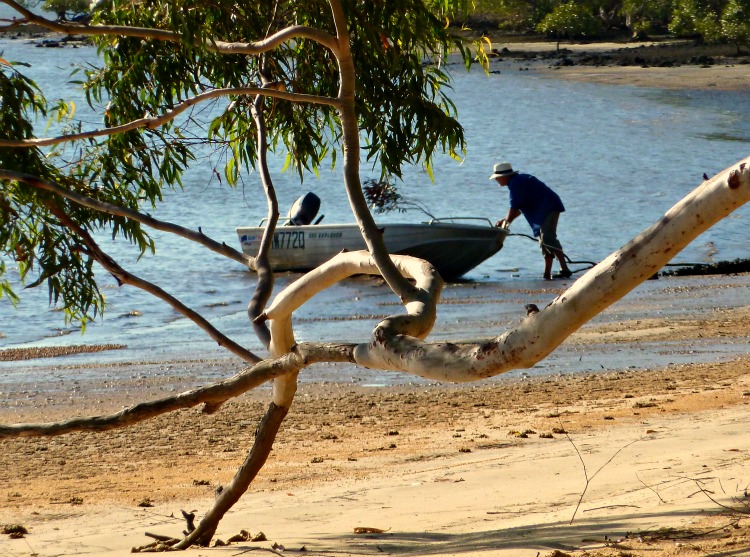 Passing, on the way back, the inter-island passenger ferry, which was bringing home the city commuters.
Birthday's come but once a year, and unlike all the other commercial 'Days' to be celebrated, it really is 'your' day.
Have you wagged work on your birthday?
Or thought about it?
Do share, in the comments below – Where did you go & what did you do?
And if you'd like to be inspired by more dreamy beaches to escape to check out this beach blog roundup giving
the Beach Wrap on BoomerWizdom 😀
Other posts you may also enjoy -